Concert Wed May 02 2007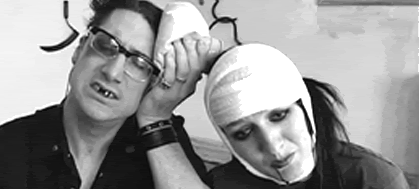 Some people mellow with age, others just grow more rancorous and bitter. The former happens with most musicians, while a good many couples go the latter route. The Detroit electro duo ADULT., which is comprised of the husband-and-wife team of Nicola Kuperus and Adam Lee, doesn't have to sweat such stuff. They've made a musical career of being spikey and abrasive, and they're not about to knock it off for the sake of pandering to the Prairie Home Companion set. In fact, as their latest LP Why Bother? demonstrates, they're just as likely to notch up the edginess by the smallest of degrees. The album, recently released on the Thrill Jockey label, reveals their music growing slightly more frayed and corrosive around the edges, with the couple tossing in more dischordant textures and tonalities than on previous efforts. "I Feel Worse When I'm With You" punches along pretty heartily on it's own, thanks to some bolstering basswork and a bridge awash in noise that sounds like someone madly scanning a shortwave radio dial. "You Don't Worry Enough" likewise benefits from some muscle and depth added with additional guitar and deeper mixing. And from beginning to end, there's the insistent sputter and thump of the beatbox, providing that very low-budget retro new-waviness feel that has been their calling card from the get-go.
ADULT. will be playing at the Empty Bottle this Friday night. Brooklynite trio Parts and Labor are playing on the bill, about which we'll have more to say later. Tussle also opens. Show starts at 10pm, tickets are $12.