Concert Wed May 02 2007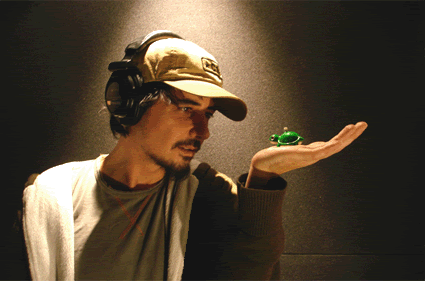 Pablo Picasso once said of his own artistic methods, "I don't seek, I find." Amon Tobin could probably say the same for his own music-making. Many consider the globe-trotting, Brazilian-born beatmaestro to be the Stephen Hawking of sampling-based music, and there's plenty to justify the ranking. Over the past decade, he's made a career of taking bold steps forward with each album and effing up the heads of his fanatically committed fanbase every time. Recent sidesteps have seen him making excursions into more cinematically-inclined domain, working with a chorus and orchestra to create scores for a video game and a Hungarian horror film. But through it all, he never strays far from his trademark style—crafting densely-layered tracks filled with polyrhythmic counterpoint, morphic beat constructions that ride and writhe on their own self-generating momentum.
When Tobin set out to record Foley Room, his recently released sixth LP, he opted for a different approach than before. The operative rule he laid down for himself: No more use of samples of prerecorded music, all material will be mic'd from live sources. He sank money into buying his own mobile recording gear, and went about grabbing sounds from whatever sources he encountered or devised, laying down the undergirdings of the LP with a tapestry of "found sound" and field recordings. These sounds — zoo animals, toys, the purr and roar of a motorcycle engine, kitchen utensils, an ant scurrying around inside a ball of tinfoil, et al.—are manipulated, mutated, and complexly interwoven. It's all in keeping with Tobin's affinity for taking sounds and "changing their direction," and the results are often stunning. The Slavic gothicism of "Bloodstone" deliriously waltzes about on the dissonant scraping and screeching of strings as laid down by the Kronos Quartet, over which Tobin places a tarantella-like piano motif that hangs like a chandelier of icicles. On "Ester's" the piano returns again, but this time in the form of a Debussian étude entangled in acrobatic sex with a Harley Davidson. Throughout, the album pivots and twists on some of the most ferocious rhythms Tobin's laid down to date. But it also features less frenzied moments, offering richly detailed and immersive soundscapes that are arrestingly, spine-chillingly beautiful.
Tobin will be in town this Saturday evening, performing a headlining set at Metro. As a DJ, he likes his beats edgy, heavy, harsh, and high-velocity, especially favoring material of the so-called "drill 'n bass" variety. But he's frequently prone to throwing in all sorts of curve balls and leftfield tangents, exhibiting the same sort of eclecticism, inventiveness, and ingenious whimsy that drives his own music. WLUW's Abstract Science DJs Chris Widman and Luke Stokes are slated to get the beats rolling. Tickets are $16, and the show is 18 and over. Doors open at 11pm, and the show gears up at 11:30pm.
[video]: Amon Tobin - "Foley Room, trailer #2"
[mp3]: Amon Tobin - "Ester's"