Concert Thu Sep 13 2007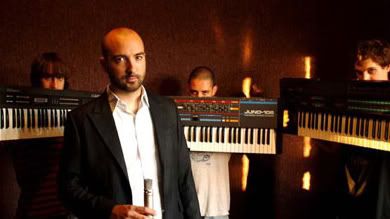 Even though Tigercity are based out of Brooklyn, that doesn't mean that they play punk-funk or any variety of electro-/blog-house fare. Instead, what they play is deeply stylized pop, the sort that some are inclined to call "loungey," perhaps for the way their music brings to mind the sleek, contempo- designerly look that so many nightspots have gone for of late -- all padded leatherette seats, gleaming contours, underlit glass surfaces, and the like.
As demonstrated on their new Pretend Not To Love EP, Tigercity aim for a nuanced and cosmopolitan style of pop that's oh-so attentive to sophisticated musical hooks and mannerisms, glossed with ocassional and mild touches of uptown funkiness. They also sound like they've taken more than a few pages from the songbook of late-period Roxy Music, opting to engage the latter's capital-r romanticism while skipping Bryan Ferry's world-wearied Casanova-isms in favor of heat-of-the-moment unguardedness. Or, as another source has it: "Tigercity play Brooklynized disco-pop by way of the Bee Gees and Prince."
Tigercity's Pretend Not To Love is available via iTunes. The band will be playing at Schuba's next Friday evening, September 21. Stylofone and LMNOP open. 3159 N. Southport Ave. Admission is $10, and the show starts at 10pm.