Review Wed Oct 14 2009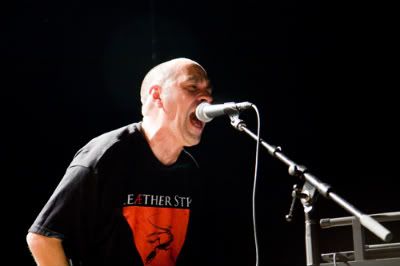 The Dead Milkmen

All photos by Brian Leli
The Butthole Surfers were fantastic Wednesday night at Metro, but the shows just kept getting better as Riot Fest raged on. Friday night at the Congress Theater, the packed-in crowd was noticeably younger and wore more outlandish outfits than Wednesday's Metro show. Riot Fest offered many Friday night options, but the Congress Theater's outstanding line-up of Murder City Devils, Dead Milkmen, Apocalypse Hoboken, Riverboat Gamblers and The Frankl Project ultimately won me over.
Apocalypse Hoboken
Unfortunately, Fridays are late nights at the office for me so I didn't arrive until the tail end of Apocalypse Hoboken. However, the crowd seemed to be digging them and I immediately regretted not being able to make it over to the Congress Theater a bit earlier to catch their whole set. The band's been broken up since 2001, but have done a few one-off shows in 2006 and 2008, and two others (besides Riot Fest) with the original line-up in 2009. I'm hoping they'll book a few more dates in the near future so we'll all have another chance to experience their live show.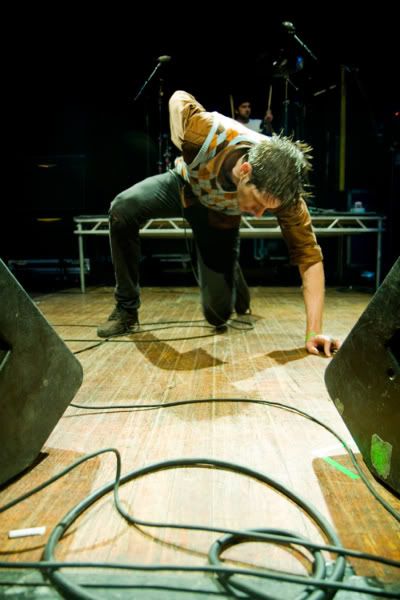 Riverboat Gamblers
Next up was another reunited act, The Dead Milkmen. I first got into this band in high school, about 7 years after they had broken up. After a 13 year hiatus, the band is not only playing live shows but also recording new material together. Needless to say, they were one of my most highly anticipated acts at Riot Fest. It seemed many at the Congress shared my sentiments, considering the giant surge of people to the mosh pit when the band played "Punk Rock Girl" at the beginning of their set. They played all my old favorites, with the exception of "Instant Club Hit", and during their entire set singer Rodney Linderman never stopped moving, between jumping about the stage and running down into the crowd. Rodney messed up the lyrics to one of their biggest songs, "Stuart", a fact he just couldn't get over for the rest of the night. He interrupted the next song to exclaim, "I fucked up Stuart. Now I have to live with myself. I'll make it up to you people. Does anyone need a kidney?"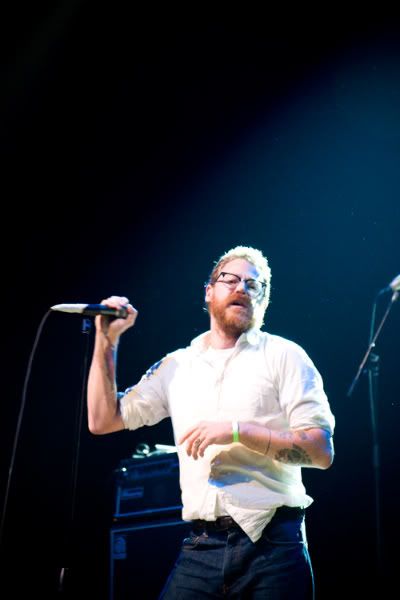 Murder City Devils
Next up were Murder City Devils, who've been defunct since 2001, with the exception of a few one-off shows. Singer Spencer Moody's raw power in his vocals hit you like a brick wall, and he'd often stick the microphone inside his mouth for some hands-free screaming action. It's all a bit shocking from a thirtysomething who runs an antique shop in Seattle. I'll admit I'm not as familiar with the Murder City Devils as I should be, but they completely floored me. They seemed like a group of debaucherous nerds who write dirty punk rock songs. As I am also a debaucherous nerd, I could relate.
Check back for more photos and updates from Saturday and Sunday's Congress Theater shows.