Film Mon Sep 08 2008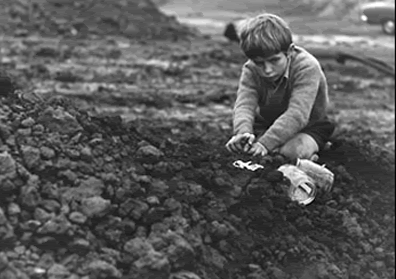 When he died of cancer in 1991, the 57-year-old Scots-born filmmaker Bill Douglas left behind a body of work that included four feature-length titles and a handful of short films. Among these films are what some critics regard as the highest achievements of British cinema from the 1970s -- specifically the series of three films that are now available to American audiences with Facets Multimedia's release of the double-DVD Bill Douglas Trilogy set.
Throughout his career, Douglas had juggled a number of jobs as an actor and screenwriter, all the while continually scrambling to find funding for his projects. It was with financial backing from the British Film Institute that he was able to produce his first three features My Childhood (1972), My Ain Folk (1974), and My Way Home (1978). As a trilogy, these films constitute an autobiographical account of Douglas's own life from the ages of 8 to 18 -- from his gritty, poverty-stricken childhood in the Scottish mining village of Newcraighall, to his escape from the slums to the deserts of Egypt via service in the Royal Air Force. As a coming-of-age saga, traumas are many and triumphs few in Douglas's story; but the narrative unfurls in a loosely episodic and bleakly poetic style.
The Bill Douglas Trilogy is currently available for sale in the U.S., and will be available for rental from Facets Multimedia in late September.