News Tue Apr 08 2008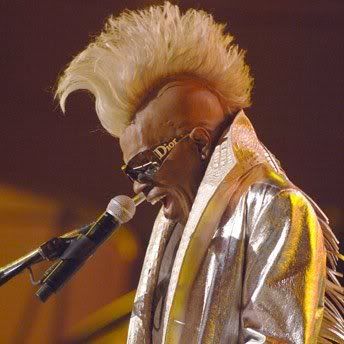 Perhaps you've seen the date listed in the Reader, and today Pitchfork has confirmed as much -- Sly & The Family Stone will be playing four select cities in the U.S. next month. This abbreviated tour includes a stop in Chicago, where they'll be playing at The Vic on the evening of Saturday, May 3rd.
The news comes after many months of speculation and hearsay about a possible comeback for Sly and the band. First, there was the 2006 performance at the Grammys that featured a majority of the Family Stone joining Sly onstage; with a feature-length profile in Vanity Fair that followed some months later. Rumors about the Family Stone reuniting to record and perform began circulating, and were (somewhat) substantiated when Sly played a European mini-tour in the summer of 2007. A handful of shows in New York this past November and December helped kick the talk of a possible comeback effort into high gear.
The problems that overwhelmed and engulfed Sly's career for the past 30-odd years have been no big secret. A couple of his recent appearances have drawn sharp comments from a few detractors, while others have asserted that Sly held the stage very well on most the dates. With the announcement of the upcoming tour, the who's-in/who's-out reports of the Family Stone's current line-up have been similarly mixed. As best as can be determined, original members Jerry Martini, Cynthia Robinson, and Rose Stone are part of the touring band this time around. Family bassist Larry Graham, who harbors the longest-running and most rancorous rift with Stone, will be sitting this one out; and there's still no word as to whether or not Freddie Stone will be coming aboard for the occasion.
Tickets for Sly & The Family Stone's May 3 show at the Vic Theater are currently available via Ticketmaster. The cost is $63 plus the usual service fees.
(Gapers Block would like to Dan Henrick for bringing confirmation of this item to our attention.)
[video]: Sly & The Family Stone - "Thank You" (live, NYC, 11/07)
[video]: Sly & The Family Stone - "If You Want Me To Stay" (live, 11/07)