Review Tue Apr 24 2007
If you're familiar with Art Brut, then you know that the band met with a lot of buzz when they released their first album, Bang Bang Rock And Roll, about a year ago. As often happens with new bands, many music fans are already wary as to the merits of the hype. That, however, did not prevent Friday's show at Subterranean from selling out well in advance. And those buying tickets and attending were not, by and large, curious-but-cautious trend-jumpers or fickle, fair-weather fans. Rather they were there because they like the band, they like good music. To demonstrate the latter point, the crowd proved very receptive and enthusiastic about welcoming Chicago's Jai-Alai Savant, the sole band on the opening bill.
The Jai-Alai Savant took the stage and plunged through a set that was — much like their new debut LP, Flight of The Bass Delegate — brisk, exciting, and unflaggingly on-point. Their more uptempo, rock-ish numbers got the crowd charged up, and folks continued to bounce and dance about as the band segued into some of their more reverb-drenched reggae material. "As I'm sure you can tell," frontman Ralph Darden admitted between tunes, "We also like to branch out and sink into the rub-a-dub." And that they did, with the impeccable rhythm section keeping it sinewy and propulsive throughout. They were joined for much of the set by the Eternals' Damon Locks and Wayne Montana, who provided additional vocals and some back-up Moog, respectively. Darden introduced himself and everyone else on stage at one point, telling of Jai-Alai's recent transplantation from Philly to Chicago. By way of paying tribute to fellow-travelers The Eternals, to Locks and Montana's former band Trenchmouth, and to the Chicago indie music scene in general, they all performed a cover of Trenchmouth's hauntingly impressionistic song "Onus."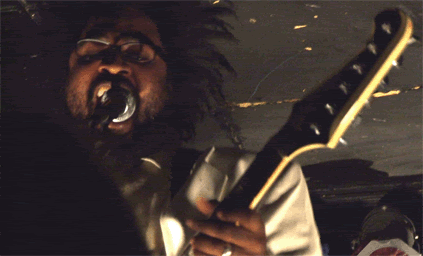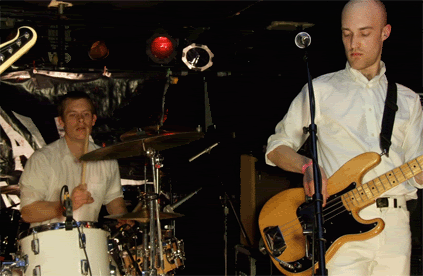 Soon enough, Art Brut were commandeering the helm. They kicked off with "Pump Up The Volume," a move-by-move account of a romantic evening neurotically derailed by the narrator's own triffling obsessions: "I know I shouldn't, and it's possibly wrong / To break from your kiss to turn up a pop song?" From there, they notched up the tempo and launched straightaway into "Bang Bang Rock & Rock," with guitarists splaying their stances to hunker down and flail into the downstrokes, hammering out licks that blazed and kicked up dust like something via Damaged-era Black Flag with a dash of the Buzzcocks thrown in for good measure. And so it was for the remainder of the show, the band sounding much more raw and vigorous and punchier than their records suggest.
And through it all was the foregrounded persona of frontman Eddie Argos. Quite the character and always "on," his narrative delivery is part confessional, part rant, terminally self-depricating, and he's always talking directly to you. (To YOU!) Sensibility-wise, he's as English as they come. As far as Anglo pop songwriting goes, he's no craftsmen of the Ray Davies or Andy Partridge stripe, but more like a cross between The Fall's Mark E. Smith, comedian Eddie Izzard, and some teenage boy jumping about his bedroom while listening to "Teenage Lobotomy," trying to shake off the tortured conclusions he's drawn about girls, sex, familial relationships, and the "meaning" of rock'n'roll. Do those rock stars really mean all that stuff they say? Are they being truly expressive of themselves, or are they all a bunch of narcissistic tossers, and it's all just some big cynical ploy so that they can get a good bonking from the girls? "Stop listening to people in bands!" he implores the audience at one point, "They're drunk all the time! They don't know what they're talking about! Don't listen to them!!!"
So it went for much of the show. Lots of stop-start banter from Argos — yammer, yammer, yammer by way of setting up the songs, followed by repeated calls to the band of "Go, Aht Broot!!" and off they'd go again. Their set reached an ecstatic pitch when they ripped into "Modern Art." Having reached the end of the first verse, Argos jumped from the stage and began thrashing amidst the jostle of the audience, hollering into the generously-shared mic which he then flings aside. Next thing you know, he's plowing through the throng and up the stairs to run along the balcony, triumphantly bellowing the chorus ("Modern art! Makes me! Want to rock out!") at everyone in his path, then charges down the spiral staircase to re-emerge stage left and join the band onstage by the tune's finale.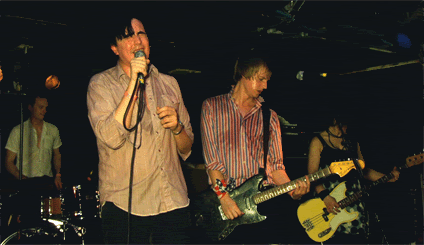 By set's end, Art Brut had played a good portion of their debut album and about a half-dozen songs from the sophomore album that's due out in a couple of months. They returned for an encore that included the new tune "Nag Nag Nag Nag," an archetypal teenage anthem of epiphany and determination. "A record collection reduced to a mixtape," Argos proclaims on the chorus, "Headphones on, I made my escape. / I'm in a film with a personal soundtrack / I'm leaving home and I'm never! gonna! come! back!" By the time it'd all wound down, the band and the crowd had equally enjoyed themselves.
Most surprising of all was the reminder that Art Brut are a far superior and more thrilling band in person than on plastic. If anything, their sound has been a bit overly tempered and reined-in on their debut. Advance tracks from the band's forthcoming album, It's a Bit Complicated, unfortunately find them straying further in that direction, with the punch of the guitars further blanketed — pushed back and glossed-up for a radio-friendly temperament. Live, however, they kick much harder and more harshly, adhering to a classic 1979-style DIY ethos. That being: Tear it all down and start from the basics, the ideal platform from which to launch with a maximum of vigor and volume. And that, after all, is what everyone was there to hear.
- - - - - - - - - - - - - - - - - - - - - - - - - - - - - - - - - - - - - - - -
Author's digressive and overly-analytical aside, at which point you should probably stop reading:
Are Art Brut a bit too, um, schticky? Without a doubt. But it's a schtick that they play brilliantly. The bite and wit of Eddie Argos's irony is likely to be lost on many, due to age or cultural distance. Anyone who was vaguely aware of what was afoot in 1990s London is, however, in on the joke.
The preoccupations with music, fashion, identity and such, it can all be attributed to the fetishisms of a self-proclaimed zeitgeist now past — an era of BritPop and YoungBritArt and the reinvention of "Swinging London," with all of its accompanying heavy-breathed and ecstatic (and, ultimately, overhyped) celebration of novelty and self. It was a cultural moment satirized so killingly by critic Michael Bracewell in his book When Surface Was Depth, especially in his account of the successive waves of this or that '90s cultural trend (New Labor, soccer, opera, stand-up comedy, nouveau Foodie-ism, the pop-conceptualist art of Damien Hirst and all who sailed with, etc.) that were hailed by British culturati as "the new rock'n'roll." That is, Bracewell pointed out, up to the point that the likes of Oasis and Blur and Elastica came along and then, all of a sudden, it was rock'n'roll that became the new rock'n'rock. It was an epoch that smacked of overly-compensatory confidence — the sort that masks an awkward self-consciousness, much like the fondlings for individual identity that make adolescence the mess that it often is. Hence the pop-cult obsessive tropes about art, rock, attitude, and naively "uncool" emotional divulgences that thread Argos's lyrics.
So granted: If you weren't vicariously there or aware of any of it back when, then the ironic and satiric sting isn't likely to cross the Big Pond, let alone the time-lag. We are, after all, talking about the country that invented — in the '90s, no less — that phenomenon now known as "reality" TV, and we're all still bobbing for air in the sewage-strewn wake of its birthing, with the questions of Authenticity and Spectacle and infantilized cultural obsessions that it dumps on the table. And, to his credit, Argos takes those questions and plays a pretty clever endgame. So: Bang Bang Rock'n'Roll, indeed.
(And I warned you about reading this last part, didn't I?)
- - - - - - - - - - - - - - - - - - - - - - - - - - - - - - - - - - - - - - - -
Many thanks to Sid Sowder over at Too Much Rock for providing the photos.