Artist Wed May 16 2007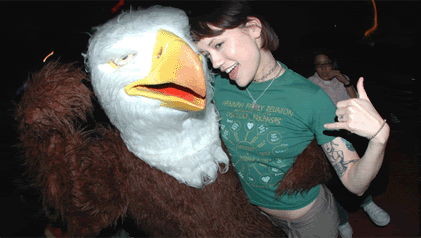 Four more years!!!: DJs Bald Eagle and Mother Hubbard
It's been four years since the Life During Wartime DJs crew came together and started spinning at clubs in Chicago. They're still at it, and their chosen moniker is, unfortunately, still relevant. The duo of DJs Bald Eagle and Mother Hubbard currently bills its homebase monthly appearance at The Hideout as "Chicago's Dance Party." While that may sound like a bold claim, it's certainly apt. The past two years have seen LDW move to the top of the local popularity index, having proven themselves to be one of Chicago's most reliable homegrown party-sparkers. This weekend sees them celebrating their four-year anniversary with a two-night dance party at The Hideout.
"When we started neither one of us knew a ton about DJ culture, equipment and so on," Chris Baronner (aka DJ Bald Eagle) admits to me, "But we knew that there was a need for a 'new kind' of dance party where our friends could open themselves up to not just other music, but also other people." After four years of steady work, he says, "I think that still holds true, and luckily for us we've both picked up some skills along the way, so the music trainwrecks are kept at a minimum."
Chess Hubbard (aka DJ Mother Hubbard) echoes Baronner's account. She describes herself and Baronner as "just music nerds that have a passion for making mixes and playing records." But yeah, she asserts, they chose the name of the crew with a specific idea in mind: "We do try to make people just a bit more aware of the importance in being involved and voting, whether in a national or local capacity."
Over the past three to four years, LDW have been holding things down with residential nights at both the Hideout and at Darkroom — two clubs that Baronner says they're very attached to. Until recently, the crew usually worked as a trio, but partner Josh Young (aka J2K) bowed out this past year to focus on the demands of his work in Flosstradamus. Since then, the remaining pair of Eagle and Hubbard has forged alliances with other local DJs, most notably Popstatic. Both DJs admit that the political subtext of their efforts has slightly waned of late. For Baronner, this wasn't so much a conscious decision as a simple matter of getting absorbed in the commitments of work, life, and DJing. With all that's going on in the world, he's come to regard LDW's dance parties as more of "a safe refuge, a place to connect with others and a chance to be excited about old and new music."
For Eagle and Hubbard, that array of music includes a cross-spectrum of crowd-pleasers that spans many genres. Their style of casual but savvy eclecticism is the linchpin of the duo's popularity about town, and they spin sets that include funk, disco, hip-hop, 80s pop, club cuts, and the latest remix tracks from the internet. Baronner has just released a mix-CD of his own, and Hubbard is about to release one herself (her second), which she promises will be "a double-disc set of summer jams." Hubbard says that as the 2008 election season heats up, she expects that she and her co-hort will be stepping up their awareness-raising efforts once again. "Buttons, stickers, posters, etcetera, are all in the works," She tells me, "As well as some special shows for a certain presidential hopeful from Illinois."
As far as the group's politically-minded premise is concerned, Baronner waxes philosophical. "The only thing the war did was bring back the fact that life is going on," he muses. "Good and bad shit is going down and people have to take control of their actions, whether it affects them or other people around them." Ultimately, he doesn't see the duo's activities ending anytime soon. "People will ALWAYS want to dance and celebrate their lives — war or no war. If you give them the basics, that's all they need. And as far as I know, we'll be spinning the records. I think we'll have life after wartime."
The Life During Wartime DJs fourth-anniversary dance party will be held this Friday and Saturday night at the Hideout. The Friday night event will also feature performances by Sybris and Apteka, while Saturday has Popstatic joining in on the decks. The parties start at 9pm and 9:30pm, respectively. On June 1, they'll celebrate the third anniversary of their residency at Darkroom, with special guest Tigercity on the bill.
[download]: DJ Bald Eagle – "Live in the F_ck Hut #1" mix (via zShare)