Review Mon Jul 16 2007
As reported last week, the Empty Bottle was hosting a weekend-long shindiggity series of afterparty shows to coincide with the Pitchfork Fest. The cornucopia spilled over, proved too much for yours truly to take in to its fullest. And while there's nothing like a "scene report" thing to rub your face in the business about the party that you missed, couldn't get into, etc., this one leaves plenty of room for reciprocal nyeh-nyeh payback…
Friday: It's All Good Fun Until a Bystander Gets Pegged
So: It's Pitchfork Music Fest weekend and there's so much, too much, happening around town. With all of the afterparties going on, it's like half the clubs in the city are putting their best feets forward. By evening's end, I'm at the Hideout, there to meet up with a friend who's in town and will be crashing at my place for the weekend. The Hideout is Friday night's spot for the official Pitchfork staffer afterparty, and everyone's out front on the patio drinking, gabbing, and enjoying the nice weather; leaving Josh Abrams to spin to an almost-empty room inside. "Seems like I heard a lot of people from the Fest talking about heading to the Empty Bottle's afterparty," my friend tells me. Yeah, I tell him, I was just there. Gravy Train!!!! was headlining. "Gravy Train!!!!," he asked, "Why them? Aren't they, uh, kind of awful?" You wouldn't know to look at how the crowd was into it, I tell him. But more about that later….
The Bottle's weekend series of "We (Heart) Chicago" afterparties got underway on Friday evening. The combined billing of The Cool Kids and Bay-area "queercore" electro act Gravy Train!!!! brings out an intriguingly mixed crowd, the sort I don't think I've ever seen at the Bottle or any other venue around town. No traumas, though, because everyone is there to have fun. Things start off slow, even though GutterButter DJs Logan Bay and Ben Fasman are cueing up a top-notch selection of club cuts. The influx of attendees is steady, the beat's lively, and eventually folks begin to peel themselves off the wall and move onto the dancefloor once the DJs bring the perculator and drop some Baltimore house tracks. The punching bass and rapidly staccato-stuttered beats of "Put Your Leg Up" never fails, and it proves just the proper prepping for The Cool Kids' set.

The Cool Kids: Gettin' gangsta like a bowl of Fruity Pebbles
Cool Kids emcees Mikey and Chuck take the stage and get it all started with "Gold and a Pager," the slow and deep bass rolls notched up to a level that stops short of distorting but still manifests itself on a tummy-thumping level. It's a fairly short but very substantial set, only about 8 songs in duration, and by the end of it they've gone through "I Rock" and "88" and up'd the ante with an accelerated version of "Pump Up The Volume" that gets everyone jumping and waving their hands. After having seen them before in less ideal settings, Friday's set confirmed my prior impression that these guys are definitely in their strongest element when they're live on stage--a hell of a lot more energetic and crowd-sparking than the easy, low-riding style of their recorded tracks suggest. If you haven't heard them, believe the hype and don't wait for the release of their Bake Sale debut. Catch them while they're still playing smaller venues around town, so that you can get right up front and center.
Thanks to The Cool Kids, the place is officially in full-fledged dance-party mode. The GutterButter guys keep it going with a set that's eclectic but steadily uptempo. People are getting all sweated-up on the dancefloor. After a good half-hour or so of moving the crowd, Logan Bay is scrolling through tracks, seeking something that'll keep the beat bumping, and comes up with...Cutty Ranks's "Limb by Limb"? The two DJs look at each other and Bay throws his hands up and blurts, "Fuck it!!" Fasman laughs and tells me: "There's nothing that can clear a floor faster in this town than dropping a dancehall cut." Yeah, I've noticed. But no matter, it's showtime.

GutterButter DJs Logan Bay and Ben Fasman
I catch whiffs of cloves meshing with herb from where I'm standing, and suddenly the stage is a display of lamé and fake leopard skin as Gravy Train!!!! crank things up. The crowd surges forward to pack themselves stageside and begins bouncing about wildly as the keyboard's beatbox presets sputter and thump into action. From there on out, the evening has it's own momentum. It's very SoCali, from the bounce-around West Coast pop beat to the between-song trash-talk about which band members have been fucked or fingered by which rock-world celebs. They're all over the stage and all over each other and there's even a little bit of suggestive "Bend Over Boyfriend"-styled pantomime mixed with the onstage dancing. The crowd is loving it. The lead singer/dancer guy bounds around the stage, eventually strips down to the skimpiest of tighty whities, which he teases at taking off as he dances over the crowd atop one of the speakers. A number of somersaults are executed throughout.
So, back to the question of why Gravy Train!!!! as the headlining act? Well, for one because they're touring to support their new album that was just released earlier in the week. But I'm reminded of what a friend of mine who ran a community arts cinema once said when The Rocky Horror Picture Show was released on video: "Maybe now that everyone can sit down and actually watch it, they'll realize what a boring movie it is." Well, perhaps and perhaps not, because for some it's definitely about a shared communal experience in some instances—of mutual, group-effort excitation and comradarie or whatever. The fact that Gravy Train!!!! can draw a crowd outside of their indigenous Bay-area home turf might evidence as much. That and the fact that when you're good and properly torn out the frame, your standards definitely succumb to some lateral flexitude, if not outright slippage. Sort of like the musical equivalent of "beer goggles," I guess. And admittedly, while reception of their recorded output has been—how shall I say it?—unfavorable, I have to admit that much of the group's campiness and 'tude and energy—the essence of their act, effectively—isn't the sort of thing that's gonna transplant to record. Whatever the case, a good portion of crowd was enthusiastic—laughing and dancing and thoroughly enjoying themselves.
Saturday: Maximum Occupancy
Flosstradamus and hot-shit Vice Records recording artist Chromeo are on the bill tonight, making a stop-over in the course of their current tour. The night is sold out in advance, and for the duration of the evening there's a constant sidewalk gaggle of folks who are trying to sneak or hustle or argue their way in.
First up is Chicago emcee, DJ, producer, and Flosstradamus associate Vyle, who cues up his backing on a laptop and steps to the front of the stage to start kicking verses. It's a mixtape-style set of short tracks that all segue into each other, threaded by an edgy hybrid of punchy club beats fused with leftfield electronic swerves and effects. His lyrics are filled with prismatic, multi-perspective narratives and his rhyme scheme rides on fidgety metres that expand and contract, constantly unfolding and collapsing, switching back and forth all within the course of a just a few bars.

Beat science navigator Vyle
Just the night before, I had been talking to a friend and local promoter at the Hideout, and her opinion was that Vyle is "very much a linchpin" for the current cadre of burgeoning Chicago electronic and dance-music artists. Since emerging from the Southside underground hip-hop scene a few years back, his development has taken a peculiar arc—one that equally engages both musical experimentation and lyrical abstraction, but somehow manages to stay savvily floor-friendly at the same time. Presently, he's linked up with other like-minded musicians and producers across the U.S. and abroad and has been working with TTC's Teki Latex, Eliot Lipp, the Trouble & Bass crew in NYC, as well as a number of others. Will he be the next Chi artist to break on the electronic/urban music scene? A number of people I've talked to are hopeful, if not expectant, that that'll be the case.
Soon enough, Flosstradamus DJs Autobot and J2K take to the decks to wild applause and announce that it's great to be back home. They say they're going to a do "a little warm-up" for Chromeo and end up spinning for well over an hour, knocking out a set that progressively builds and works everyone into a dancing frenzy. The dancefloor is packed and there are large clusters of people who are perpetually bouncing up and down and waving their hands in the air. At one point the Floss guys tell the crowd that there's a "special guest" in the house; and they're joined by Kid Sister, who jumps up onstage to join brother J2K on the mics and bang through a couple of tunes.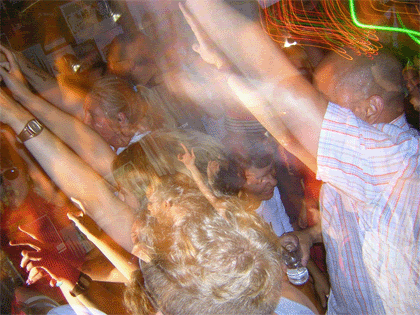 Hands in the air for Flosstradmus
By the time Chromeo take over, the Bottle is pretty much SRO—plenty of folks have gotten really sweaty and the ay-cee's got a tough row to hoe as the air in the main room is getting swampily heavy from the density of the crowd. The place is almost, but not quite, as packed as I've ever seen it. Chromeo do a nice, lengthy set that's filled with funky licks and twists, eventually steering things into a more breezy finale that's heavy on the synth-pop and vocoderized vocals, and then they polish it all off with their crowd-pleasing hit "Fancy Footwork."
On the way out: The side door is open for the sake of ventilation, and the bouncers are still having to diligently police the entryways for latecomers who are trying to get in without tickets. Thanks to the Floss guys, I now have Kriss Kross's "Warm It Up" stuck in my head. And my feet are beginning to hurt.
Sunday: Mission Aborted, Thwarted, or Something Like That
Day three, in which it all catches up with me…
For some, the best thing about Festival VIP passes is the free beer; and for others the worst thing about VIP access is the free beer. Halfway through the afternoon, one of my weekend houseguests is telling me that he and his brother have learned from the previous day's mistakes and are not going to be drinking today. But two hours later he's beginning to slur his words from swigging Goose Island on an empty stomach. Truth be told, I might've paced things a little better, myself. Three straight nights of dancing at the Bottle and the Festival? What was I thinking? Or was I even? A bit overly-ambitious on my part, perhaps. By the time De La Soul start up their headlining set on the Aluminum stage, I know that there is simply no way I'm going to make it to the Bottle to catch My!Gay!Husband!, Marjongg, and Yo! Majesty. De La tell the crowd to meet them at the Funky Buddha afterward. Ugh—what was I saying earlier about there being too much going on for one weekend? Instead, it's an excursion to the Pitchfork staff afterparty at Lumen, where a bunch of Hood Internet mash-ups are being spun. And my guests insist that they are not leaving town until they have some proper Chicago-style pizza—like right now!! Bloody tourists. Oh, well...two out of three ain't bad, I guess.