Review Sun Aug 26 2007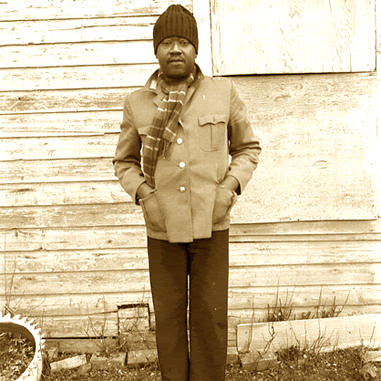 For some time now, Marvin Tate has been keeping a diminished profile on the local music scene. As of this month, that appears to have finally ended.
Those who've been around a while might recall his appearances at the Hot House and other venues around town with his former bands Uptighty and Marvin Tate's D-Settlement, or they might know him as a denizen of the city's spoken-word circuit. Since the break-up of D-Settlement, Tate has spent the past few years dwelling of the periphery; but now he's returned with Family Swim, his debut CD as a solo artist.
The album finds him joined by a band of friends and associates, and the whole thing was co-written and produced long-time collaborator and former Wilco member LeRoy Bach. Tate's traded in some of the funk of his D-Settlement days for a more eclectic musical style -- a move that's prompted some to describe Family Swim (and his recent performance at the Hideout) as "cabaret" and "Tom Waits-ian." Fitting enough, perhaps, considering the way Tate engages theatrical conceits and narrative personae.
Over the course of the album, you get doses of gospel, country blues, some vaguely psychedelic hoodoo-funk, a couple of spoken-word pieces, and even some stuff that sounds like an Andrew Lloyd Webber musical tailored for the House On The Rock -- all of it put across via the band's style of ragged-edged, junk-shop urban minstrelsy. But for Tate, music is only one part of the production -- it's as much about the story being told and voice that tells it. The stories that thread Family Swim are the stuff of classic allegory and exposition in contemporary settings: tales of human folly and frailty, betrayal, perseverance and happenstance triumphs, insanely effed-up relationships, and about a lot of the big-picture shit you just can't control or understand yet learn to simply live with.
The collaborative chemistry between Tate and Bach is at its strongest on the latter half of the disc, with the album's two jewels falling dead center in the batch. "My Technicolor Garden" is flat-out hilarious. Executed in the style of a sloppy high-school musical (with sketchy upright piano and drunken doo-wop backing vocals), it's the story of a relationship that starts out all g.t.'s, with Tate bellowing how the early days were Like a big dog sitting on your chest… / Like a big, ripe tih-tayy hangin' out of a blouse... / Like hot sex on a rainy day… / Like the first ride on a Ferris wheel. But eventually it all unravels, the woman up and runs off with their only child, and in the end the narrator gloats and mocks: Now you're on the 'Most Wanted' list in fifty states / Just because you couldn't face the fact / That I was right and YOU! and YOU! and YOU! / You were WRRROOOONG!
And then there's the album's greatest moment of heavy-hearted beauty, the Kurt Weill-ian "Town of 500" -- a sparse and deeply haunting song of abjection and loneliness as told from the perspective of the sole gay resident of Nowheresville, USA. By the time the album finishes with the full-blown gospel of "Upstairs Neighbor," you feel like you've turned the last page of a solid anthology of collected fiction, having visited a number of lives and landscapes in the process.
Marvin Tate will be performing sets of r&b covers under the name Bobby Albright at the HideOut for the next two Mondays (August 27 and September 3). His accompanying band, Baby Alright, will feature LeRoy Bach, Azita Youssefi, Dan Britney, and Emmett Kelly. See the Hideout's schedule for more details.