Artist Thu Aug 30 2007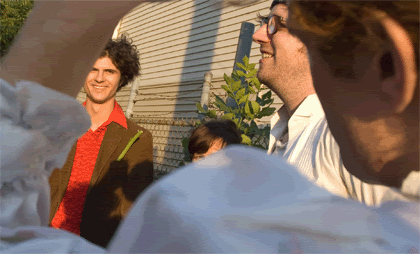 What was it that André Breton said in one of his Surrealist manifestos, that "Beauty will be compulsive, or not at all"? Or wait…maybe he said that it would be convulsive. It's been misquoted so often that I can't remember which it is. But anyway, nevermind -- it's neither here nor there. For the Chicago band The Bird Names, the answer is that it will be both.
The Bird Names are about to release their third album, Wooden Lake/Sexual Diner, and chances are this is the first you're hearing about them. They've been around for about four-plus years, and have been playing in lofts and art spaces and clubs around town since the start. At first, they changed their own name many times over; and have had a number of members, friends, and valued contributors pass through their ranks all the while. On some evenings there's only a core group of about four or five people on stage when they play, on others so many of their extended family show up and join in that they can barely fit everyone on the stage. Sometimes they play plugged-in and very loudly, and on some occasions they perform much more subdued acoustic sets.
They're abrasively amiable and agreeably obtuse. Some might call them "freak-folk," which would be both somewhat accurate but also unforgivably lazy. Some might also call them "difficult" and "noisy," and ditto doubly so. Admittedly, were they to follow up on the whole New Weird America faux-pastoral thing and truck their gear out into the woods to commune with the natural, un-urban realm, then the racket they'd kick up with might send all the wildlife -- bears, bunnies, and (yes) birds –- scurrying to get out of earshot. But that's all surface, which is what a lot of people like and can't get beyond (especially when it's shiny). And while their music may sound chaotic and clangoring at first, what lies beneath is simple and direct and unabashedly celebratory -- so much so that one might suspect it of being deceptive, but it isn't. There's plenty of pop and prettiness to be found throughout, and you don't have to strain all that hard to hear it. Just know in advance that The Bird Names are the types who'll hide their light under a bushel, but only because they like the patterns the light makes when it's beaming through the mesh. They fall well short of reverting to washboard and diddley-bow primitivism, but they somehow capture its spirit and energy by their own means.
So what does Wooden Lake/Sexual Diner sound like? A lot of things, actually. It sounds like what you might hear if you told eskimos all about Hawaiian music but then gave them all the wrong instruments to play it with. And it sounds like the Beach Boys inventing punk rock with a bunch of pygmies circa 1955. Also it's the sound of a singing-telegram lullaby as heard through the reach of 5-mile string-phone. Sometimes it sounds like the music Arthur Brown might've been hearing in his head, were his head also full of peyote while he was dancing and hopping around naked inside a big inflatable Moonwalk thingy while contemplating a big comeback move with an album of children's songs. Or -- going back to the laziness thing -- you could say they kind-of sound like Animal Collective in a good way, but also manage to make Animal Collective sound like a bow-tied and tight-arsed barbershop quartet by comparison.
The Bird Names will be playing at the Empty Bottle this coming Monday, to celebrate the release of Wooden Lake/Sexual Diner. And Monday at the Empty Bottle means admission is free. Chandeliers and Golden Birthday will also be on the bill.
Wooden Lake/Sexual Diner is available through your local indie music store, or directly from Unsound Records.
[mp3]: The Bird Names - "Smoovebiz"
[mp3]: The Bird Names - "Nobody Loves Me"