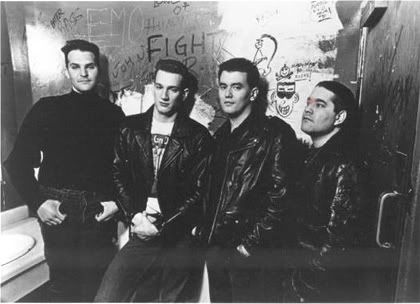 Okay, Chicago Punk Rock 101 time. Anyone with a sense of this city's indie music history knows Naked Raygun. Formed in 1980, they were once this city's most formidable reps on the national punk scene, banging out their own brand of "blast furnace monomania" and influencing the sound of countless bands around the country. Strictly textbook, as they say. And by now, even the half-attentive know that the band has reunited "for good"--back in action for the past year or so, playing occasional in-town shows and doing a little touring from time to time.
This month Naked Raygun will be playing Riot Fest at the Congress Theater for the second year running, headlining on November 17. But next week sees the release of What Poor Gods We Make, a DVD overview of the band's history. An exclusive screening of the documentary will be held at Reggie's this Sunday evening, with copies of the two-disc set will be available for sale before the thing properly hits the streets on November 6. The band will reportedly be on hand for some hobnobbing, as well. An afterparty featuring a bunch of other noisy young things will follow. 2105 South State Street. 7pm. The screening is all ages, the afterparty is 18 and up. (312) 949-0125.
[video]: Naked Raygun - "Rat Patrol" (from What Poor Gods We Make)
[video]: Naked Raygun - "Surf Combat"