Feature Thu Nov 29 2007
It's getting to be gift-buying season, and whether you're shopping for friends, loved ones, or just out to reward yourself for surviving the checkout line at the grocery store, don't forget to bring the retail love to your neighborhood record store. This week, we give you the skinny on Groovin High records, found on Belmont in the Lakeview neighborhood, and Hyde Park Records, found in...well...Hyde Park. (If you're looking for our past record store reviews, just click over to the archives. If you'd like to nominate your favorite place to find music, just shoot us an email.)
Name: Groovin High, Inc.
Location: 1047 W. Belmont Ave.
Phone: (773) 476-6846
Hours: 11 am–8pm Monday through Saturdays, "sometimes on Sundays" (call first)
Website URL: (none)
First opened: 2003
Approx. Size (sq. feet): 1200
Owner/Operator(s): Joe Bruce
Types of music sold (genre): Soul, Jazz, R&B, Rock, Classical, Electronic, Country, World
Types of music sold (format): CD/Vinyl
Buys/Sells used CDs/tapes/albums: Buys/Sells CD/Vinyl
Lakeview can get, well, tedious. The area bears both a Wrigleyville beer gut as well as a hefty dose of Boys Town morning-after glitter, an odd mix that renders many of the shops along Clark and Belmont a little Too Cool for School.
This goes doubly so for record stores. As vinyl's popularity ebbs and wanes, more and more independently owned music shops are going the way of specialization. And while I understand that, yes, a store with a focus entirely on jazz is going to be the expert (cross your fingers) on all things Thelonious, but what about those of us who want a little bit of country, a little bit of rock 'n roll? What about rock 'n roll that isn't of-the-moment indie rock? But attempting to carry all genres — and having plenty to choose from within those genres — is an expensive endeavor for a store owner. Perhaps having a general-needs record shop is going the way of the eight-track cartridge — nice in theory, but a bit bulky and unrealistic.
When you do find that general record store, hold onto it for dear life. Enter Groovin High, a tidy little shop on Belmont, just a couple of blocks west of the red line stop. And I mean tidy — while the shop is pleasantly cluttered like all good book and record shops should be, it's also well lit and easy to maneuver around. And the organization! Owner Joe Bruce keeps everything impeccably alphabetized and in order. It made my compulsive soul sing.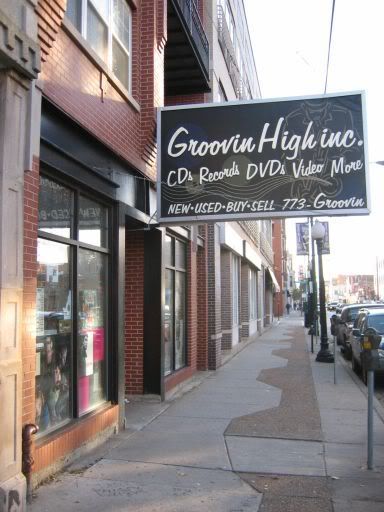 The store carries a bit of everything in both new and used vinyl and CDs, although it seems there's more vinyl than CD. It also appears the inventory leans toward whatever piques Bruce's interest, namely blues, jazz, and soul. There's a healthy rock section, as well as doses of classical, hip-hop, dance, latin, reggae, world, and country. Prices for new vinyl run around $15 and up, and about half that or lower for used. New CDs fall around $13, used for around $7, and there's a bargain CD rack to rifle through. A small wall filled with used movies (mostly VHS), a rather large selection of live performance and band DVDs, and a selection of music-themed books round out the wares.
Bruce makes sure Groovin High does not suffer for lack of customer service. There's often not more than one copy of anything, and he doesn't seem to carry many of the smaller labels. It's not really too much of a worry with Reckless nearby, and Bruce is happy to fill special orders.
In fact, the only really complaint I could come up with is the irregular store hours — a byproduct, I suppose, of Bruce being the shop's sole employee. Don't necessarily believe the posted shop hours — if you're making a special trip, call first.
-Kara Luger
Name: Hyde Park Records
Location: 1377 E. 53rd Street
Hours: 11am–8pm daily
Website URL: http://www.hydeparkrecords.net/
First opened: 2004
Approx. Size: 1500 sq. feet
Owner/Operator: Boomer Lowe
Types of music sold (genre): Rock, jazz, funk, soul, hip-hop, world, soundtracks, spoken word & "oddities"
Types of music sold (format): CDs, LPs, 45s, DVDs, VHS
Buys/Sells used cds/albums/DVDs?: Yes


If you gave a hundred monkeys a hundred musical instruments and unlimited studio time, would they be able to create the equivalent of, say, Pet Sounds or Loveless or Return To Cookie Mountain? Don't know, I'm not a primatologist, and I wouldn't know how to approach such a thing scientifically. But thanks to the crew at Hyde Park Records, I'm now one step closer to finding out.
Located on the main drag of the Hyde Park neighborhood, Hyde Park Records sports some of the best bins in the city. Those who know the spot might remember that it has long been a record store — previously occupied by the gritty, scrappy, cluttered digs that used to be the south side outpost of the defunct Second Hand Tunes chain. All of that changed in 2004, when the location was taken over by new ownership that included present store manager Boomer Lowe, local artist Derek Erdman, and John Brearley. Improvements were the first order of business when it came to renovating and resurrecting the place under its new auspices, and props are due to all involved for how they turned the place around. First being that the floorplan was drastically remodeled, and it now allows for easy, optimal circulation and far less squeezy and back-strained browsing.
The second major improvement is the selection. The staff's way savvy when it comes to buying and stocking the bins. When they took the storefront over, they new owners found themselves starting from scratch with the inventory. They beefed up the rock inventory, especially for CDs, in order to bring in some clientele from the neighboring University of Chicago. The rock CD selection is a solid mixture of recent indie-rock mixed with some classic staples, with a good assortment of vintage punk and psych rounding things out. The stock for jazz and soul CDs always yields a lot of choice titles, enough so that you might quickly find yourself wrestling to keep your spending within budget. And for hip-hop heads with a sense of history, there's no shortage of good throwback joints to be found while flipping through the vinyl and CD bins.
The bread and butter of the store's daily business, however, is the stock for jazz, soul, and dance 12"s. Benefiting from a central location on the city's south side, a constant flow of quality second-hand titles are always coming in the door, and the bins and walls of the place are always sporting an array of prize finds. Sure, the store carries a good number of new and reissued releases on CD and LP; but the bulk of their inventory — over three quarters of it — consists of second-hand titles.
As I trolled the bins on a Saturday afternoon, Brian Eno's Taking Tiger Mountain (By Strategy) was spinning on the in-house system. A quick thumbing-through of the New Arrivals bin yielded a number of essentials and surprises. There were lots of vinyl editions of recent titles in the Numero catalog, a copy of recent reissue of PiL's Metal Box (yes, complete with film canister packaging), a pristine copy of Mile Davis's Nefertiti going for an easy $10, several Impulse titles by Yusef Lateef and plenty of scatterlings from the Kudu imprint, as well as a number of old, cheap offerings by south side favorites like Bohannon, Sonny Stitt, Roy Ayers, Minnie Ripperton, and Curtis Mayfield.
Beneath the record bins that line the walls is a second, lower tier of browsing possibilities — the "Cheapo" bin, where you can rifle through deep stacks of LPs priced at a dollar each — thousands of titles that are either less sought-after items or simply aren't in the best of the condition. "It's the one thing from the old store that we decided to keep," the owner, Boomer Lowe tells me. "We'll have guys who'll come in here and spend hours going through those bins and then walk out of here with dozens of albums." Some of them, he tells me, are customers looking for unexpected bargains, while more often they're DJs and track-makers digging for breakbeats and samples. Pull up a stool and do some digging of your own and you might find a copy of The Devil Made Me Do It by Rasputin's Stash, Eddie Harris's The Reason I'm Talking #%$@, or an instructional LP Teaching Your Parakeet To Talk which I knew had once been sampled by Negativland, each selling for 99 cents.
And the best thing yet: Sit down at the listening station by the front door, tray up a CD of your choice or drop a stylus on the grooves of some classic, coveted wax, and you're welcome to take your time checking out a potential purchase.
As for myself, after about an hour of browsing, it was decision time as I sifted through an armload of finds. I passed on a collection of Percy Mayfield sides for the time being, and likewise with an Anthony Hamilton CD that I'm wary about since it has some DRM bullshit encoded on it. With everything sorted, I took my remaining stack to the register.
"How's that Lancelot Link & The Evolution Revolution LP?" I asked, pointing to a curiosity that was displayed on the wall by the entrance.
"It's really weird," said Larry, who was manning the counter, a befuddled expression crossing his face as he said so.
"Good enough for me." I removed the album from the wall and added it to my checkout stack. "A friend of mine from wayback once had a copy of the Banana Splits LP. As I recall, some of the tunes on the thing were co-written by Barry White."
Boomer laughs at the thought. "Yeah," says Larry, "That Banana Splits album is crazy hard to find."
As I'm leaving, the swollen, doleful strains of an all-too-familiar throwback tune fill the store. The opening moments of the first jazz album I bought when I was a teenager, it turns out. Within 30 seconds a customer approaches the counter. "What's this that's on right now?" he asks. "This is John Coltrane's Blue Train," Boomer replies. "Do you have a copy?" the customer asks. "Absolutely."
Me, I have a date to check out the musical offerings of Lancelot Link and his evil-preventing, bubblegum-singing zoo crew. I grab a free copy of Arthur magazine on the way out, and step into the first sunny, clear-skied afternoon that's graced this city in weeks. Sure, it's late November — and there's trees, but no bees or flowers. But hey, everybody loves the sunshine.
-Graham Sanford