mp3 Tue Dec 04 2007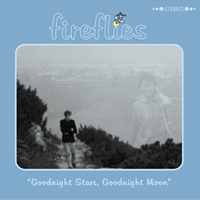 I hate to be the only geek on Transmission posting Christmas Music. I'm not trying to be festive, in fact quite the opposite, as the first two songs I posted by Dick Smith were more anti-Christmas if anything. Today's song is not overtly about Christmas (despite it's title - "X-Mas Song"), in fact it's more of an ode to winter love by the one man Chicago-based group Fireflies.
I've written about Fireflies (just one guy named Lisle Mitnik) before and noted how it seems a bit odd that this transplanted Chicagoan records for not one, but now two Swedish labels (Music Is My Girlfriend and Lavender Records). Why can't some great Chicago label snatch this guy up? I bet the advance could even be paid out in hot soup rather than cold hard cash. His new record Goodnight Stars, Goodnight Moon, was just released in Sweden but is available here through Tonevendor.
[mp3]: Fireflies - "X-Mas Song"