Review Fri Mar 28 2008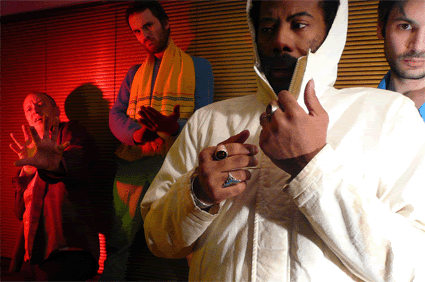 Composed of seasoned veterans from Chicago's avant-rock heyday of the mid-late 90s, the band Singer has just this week released their debut album, Unhistories, on Drag City. And if there's one thing that should be established from the start, it's that Singer don't "do" linearity.
This should come as no surprise, given the band's collective cee-vee. Bassist Robert A.A. Lowe was previously a central member of math-rock/no-wave/prog-revisionists 90 Day Men, currently performs and records under the moniker Lichens, and has -- as a studio and touring sideman -- contributed keyboard work to TV On The Radio. Ben Vida was formerly part of the minimalist chamber ensemble Town and Country and has recently been producing work as Bird Show; while Todd Rittman and Adam Vida are erstwhile members of the defunct Chicago "rock deconstructionist" unit U.S. Maple.
Much of Unhistories unfolds by way of country-blues(ish) guitar riffs that sidewind and meander, sometimes get bogged down in briars, but are more often striking ahead in a hunting or explorative mode. With Singer, songs don't develop or progress so much as charge up to a threshold, pause, and double back to strike out on alternate courses. Theirs is a music that involves the tightening and release of torques and tension, always playfully teetering on the edge of clamor and collapse. But the guitars never roam too far from the campground, so it ends up being drummer Adam Vida who probes at the outermost perimeters, his kitwork often dancing around a rhythmic center of the song without engaging it directly. While the whole band routinely steps in with some woozy harmonizing, bassist Robert Lowe's vocals -- often straining into the upper registers in a faux-falsetto that suggests mimicry or mockery -- drape the tenuous melodies like lilies wilting under a blistering sun.
The group's handling of melody and structure is deliberately slight and furtive. Musically, if you were imagine Neil Young and Television getting tangled up in the abstruse cadences of Gastr del Sol you'd be in the right neighborhood.There's plenty of cohesion to be found on Unhistories, it's just never of the overt variety; and what mainly ties all of its tangential elements together is the degree of crafty and quixotic musicianship involved.
Admittedy, listeners who expect their rock to, well, rock might find it difficult going. From song to song, there's a lot there even when it initially seems like there isn't. Musically and lyrically, it's all oblique strategies -- like approaching an idea or mood or state of mind on the sly, with the hope of catching it at its most naked and untempered.
[mp3]: Singer - "Dumb Smoke"
{Unhistories is currenty avialable from Drag City records.}