Artist Sat May 03 2008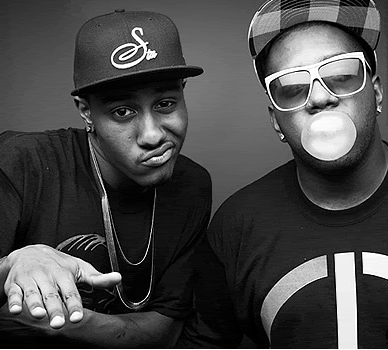 "Kickin' it like kickstands": Cool Kids emcees Mikey Rocks and Chuck Inglish
Those who've caught local hip-hop duo The Cool Kids at their shows around town in the past year will be quite familiar with a number of their signature tracks already; especially "Gold and a Pager," "Mikey Rocks," and "Black Mags." It appears that now -- many, many months after the announcement of it's pending release -- the Kids' debut EP The Bake Sale is finally slated to hit the streets. Running ten tracks deep, the EP will see an exclusive electronic release via iTunes on May 20, with the hardcopy version properly dropping on June 10.
From the looks of their schedule, The Cool Kids will be keeping busy for the summer. As of this writing, they're going out on the road, kicking off a tour that'll include the U.S., Europe, an appearance at Lollapalooza, and dates on this year's Rock The Bells roster.
As far as local, non-Lolla dates are concerned, The Cool Kids will be playing at the University of Chicago's outdoor Summer Breeze festival on May 17, as well as sharing the bill with All Natural for the Darfur Now benefit show at The Abbey on May 21.
The Bake Sale EP is being released and distributed by the Chicago-based leftfield indie-rap/electronica label Chocolate Industries. The label reportedly has plans to release The Cool Kids' debut full-length CD When Fish Ride Bicycles some time in autumn of 2008.
The Bake Sale track listing:
1. What Up Man?
2. One Two
3. Mikey Rocks
4. 88
5. What It Is
6. Black Mags
7. A Little Bit Cooler
8. Gold And A Pager
9. Bassment Party
10. Jingling
[video]: The Cool Kids - "Black Mags"
[track]: The Cool Kids - "Mikey Rocks"