News Sat Jun 21 2008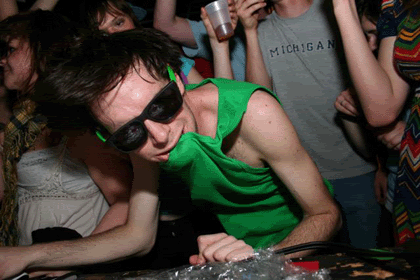 Between his quickly sold-out 2007 New Years Eve appearance at the Empty Bottle and the overwhelming crowds that swamped his third-stage appearance at the Pitchfork Festival last summer, it's fair to say that Pittsburgh-based mashup maestro Girl Talk (aka Gregg Gillis) has a solid fanbase in this town. And in case you were too busy to catch the news as it spread across the web yesterday, he's now making his forthcoming album, Feed The Animals, available in advance by way of a pay-what-you-want download via his own website and label, Illegal Art.
As far the download is concerned, Gillis is giving his fans three options. For the interested, any price will get you high-quality mp3s of the album, five bucks will get you the same plus one additional continuous-track version of the entire album (which is how Gillis claims he'd prefer people listen to it), and ten dollars gets you the downloads plus a physical copy of Feed The Animals when it's officially released in September.
Since the Illegal Art site was inaccessible at the time of this writing, it appears that traffic might be heavier than the site can handle. Whatever the case, it looks like there's now a mirror link for the download here.
Girl Talk hits the road later this summer and will be making his appearance in Chicago at Lollapalooza on August 3. Feed The Animals will see hardcopy release on September 23.