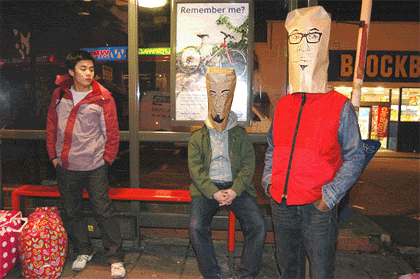 Darkside navigators: Kode9 (center), traveling incognito with emcee Spaceape.
Brooding, bleak, sleek and spacious, the sound of dubstep is a heady concoction of noir-ish urban atmospherics and hauntingly expressionistic, textured melodies intertwined with fat and warmly visceral basslines. A mutant South London brew of two-step garage, grime, minimal techno and post-jungle beat science, dubstep has become the defining sound of the outer fringes of electronica over the past two years. And DJ and producer Steve Goodman, who records under the moniker Kode9, has been at the forefront of trackcrafters that've been spearheading the music's recent evolution.
Kode9 first pricked up ears back in 2004 with the single "Sign of the Dub." An eerie, foreboding versioning of Prince's "Sign O' The Times," the track featured Goodman's frequent collaborator Spaceape on vocals and sounded like an excerpt from some supremely dusted collaboration between Tricky and Linton Kwesi Johnson. More recently, Kode9's released his debut album, Memories Of The Future, and has pitched his tent on the pioneering edge of the subgenre as proprietor of his own Hyperdub label -- a label that netted a huge amount of praise for releasing the two album's by "outsider" dubstep mysterioso Burial (including last year's much-lauded Untrue LP).
This Saturday night, Kode9 will be putting in a headlining appearance on the decks at Sonotheque. DJs Chris Widman and Phaded spin in the opening slots. 1444 W. Chicago ave. 9 PM – 3 AM. Admission is $15.