Venue Tue Jul 15 2008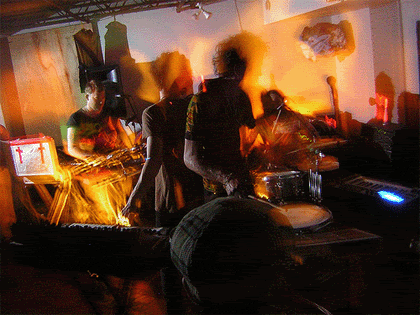 Drums and wires: Mahjongg
The guys in the L.A.-based noise-rock outfit HEALTH haven't exactly made things easy for anybody, least of all themselves. First there's their choice of a Google-that-again name, and the fact that their debut album of last year threw the trend jockeys for a loop with all of its abrasive jolts, asymmetrical arrangements, and spectral vocals. Throwing another curveball into the mix, the band managed to somewhat placate pop-minded listeners when they recently released the follow-up HEALTH//DISCO -- a bubble-wrap remix affair in which artists like Crystal Castles, Acid Girls, and Drop The Lime gave the band's debut a club-oriented workover.
HEALTH will be playing this Friday night at the Hideout. Better yet -- in an act of astute matchmaking for the evening's billing, they'll be appearing alongside Chicago's own electro Afro-funk experimentalists Mahjongg. Both groups will be performing early on the Sunday schedule for Pfork Fest; but if you'd rather experience both groups in the more cozy and conducive confines of a club, Friday's show makes for an ideal opportunity. Alex & the Drummer are also slated to play. Doors open at 10 PM and tickets are $10.
For Saturday night's post-Pfork soiree, the Hideout will be hosting a special edition of their Saturday night dance party event. To celebrate being named "Best Dance Party" by the Chicago Reader, the Hideout's throwing a big eight deejay pile-up of a throwdown. Scheduled to spin for the evening (in order of appearance) are: DJ Treetop Lover, the East of Edens Soul Express DJs, Gutterbutter DJ Logan Bay, Bald Eagle and Mother Hubbard of the Life During Wartime DJs, and Smashing Time DJs Mary Nisi and Carrie Weston. It all gets underway starting at 9 PM and admission is free.
For further details, see the Hideout's website, and our own feature run-down of this year's Pitchfork lineup.
[video]: HEALTH - live (via Pitchfork TV)
[video]: Mahjongg - "Teardrops"