Feature Thu Aug 14 2008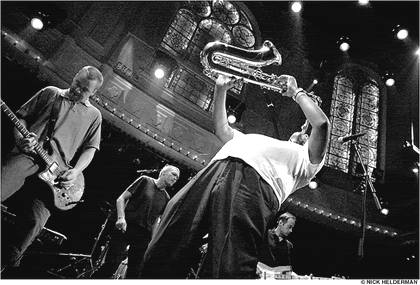 Over their 29-year history, the Dutch anarcho-punk collective The Ex have covered a lot of musical ground -- from liberatory agit-punk to scabrous free-form tangents to collaboration with a diverse range of inventive, like-minded artists.
Along the way, they've also established a strong Chicago connection -- attracting a large and dedicated cult following in the local underground music scene and forging an alliance with the Touch & Go label for stateside distribution of its recordings. This weekend, the Ex are returning to the Windy City to play two shows on their new U.S. tour, and this time they'll be bringing along their latest collaborator and musical kinsman, veteran Ethiopian jazz saxophonist Getatchew Mekuria.
The Ex have long explored influences from the folk music of various countries and cultures. Their 2004 double-CD album Turn showcased the band's affinity for the music of the Northern African region, and was soon followed by Moa Anbessa, an album that resulted from sessions that The Ex recorded with Mekuria and a host of other musicians. Gapers Block had a chance to speak with Ex guitarist and composer Andy Moor to discuss the band's excursions to Africa, the unique allure and beauty of Ethiopian music, and how the band came to work with the venerable Ethiopian reedman.

GAPERS BLOCK: As I understand it, The Ex first played with Getatchew Mekuria during its 25th anniversary event a few years ago. How was it that The Ex first came to know Mekuria's work, and how did the band first make contact with him?
ANDY MOOR: Terrie and I had found a very old, 15th-generation copy-of-a-copy tape of Getatchew's music in 2001 while we were wandering the cassette shops in the mercato [the enormous outdoor market] of Addis Ababa. We first met Getatchew in person in Addis while The Ex was touring Ethiopia with drummer Han Bennink in 2004. We were introduced to him by Francis Falceto, the producer of the Éthiopiques series. All of the music on that cassette appeared later on the Éthiopiques CD The Negus of Ethiopian Sax, which was a reissue of a 1972 LP plus two 7" singles. Luckily Francis managed to find the original recordings. It sounded great to us, even though sometimes music sounds better exactly the way you first hear it -- rough, distorted wobbly tapes included.
So yes, we invited Getatchew to our 25th anniversary party; but it was important to meet him before working with him. He's a great man with a big heart and an even bigger sense of humor, and that was enough for us. When he came to Amsterdam to play with ICP [the Instant Composers Pool Orchestra], his saxophone was in pretty bad shape -- all the valves and plumbing were well worn-out, and his reeds sounded like he hadn't changed them since Haile Selassie times. [German saxophonist and participant] Tobias Delius gave him a few reeds and that immediately helped. But Getatchew's sound is so rich and warm and enormous, he can really sing with his instrument.
He played with ICP at our party and joined the Ex as well to play one song. It was a song which we'd titled "Getatchew" -- which was a version of "Yegenet Musica," the first song on the Éthiopiques release. Then he played this song with us every night of the 25th anniversary Convoy tour through France and Belgium, which we embarked on after the party in Amsterdam. And I think Getatchew must have enjoyed it because it was he who suggested that "the Ex Band" (as he called us) should make a whole set of his songs together with him. We were very excited by the idea that a 73-year-old legend from Ethiopia would want to play music with us, especially as he really had never heard any punk or rock music before.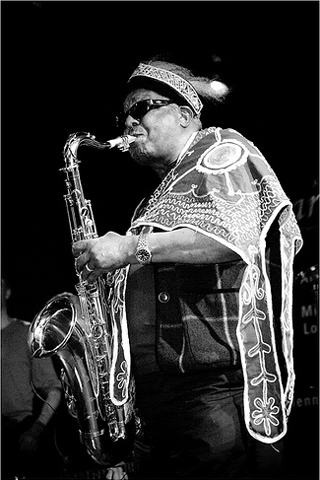 GB: I know The Ex has explored the folk musics of various countries and regions over the years, but noticably gravitated toward the music of Africa (specifically Ethiopia and Eretria) on the its prior album, Turn. Was there anything in particular that tipped the focus in this direction -- or was it just an inevitable part of the band's natural musical evolution?
AM: We'd been listening to African music for years; particularly East African music, which is less popular and less known in Europe. And Ethiopian music was one of our favorites. In Amsterdam there are about 10 Ethiopian restaurants, so we would often go and eat and talk to the owners who were always playing these mysterious, very muddy, wobbly tapes of great music. We would ask the names of the musicians, but usually found it hard to remember them.
In 1992, I saw a great gig of Mahmoud Ahmed in Amsterdam. It involved three one-hour sets -- which is quite common with concerts in Ethiopia -- with the band playing three long sets, often finishing at 5 o'clock in the morning. The music has a different effect on your body and spirit in the small hours of the morning. I think it goes deeper into your system and you never forget such moments. That gig had a big impact on me. That often happens -- you hear music on a cassette or CD and somehow it triggers something deep in you, but you aren't always aware what it is. Then you see a live performance and everything clicks into place and you become madly obsessed and passionate about the music.
Then in the mid '90s, Terrie and Emma were traveling all over Africa for a year, and Ethiopia was definitely the place that had the most impact on them in every way. One thing led to another and, before we knew it, we were playing there. But the music we play in The Ex has always come from very wide sources -- Hungary, The Congo, Uganda, Gnawa music from Morocco. It happens quite organically. We listen to the music for a long time and then at some point it trickles into our own music; sometimes deliberately and consciously and sometimes without us noticing until much later. So calling it a natural or inevitable musical evolution is exactly what it is.
Ethiopian music, especially the music from this post-Haile Selassie/pre-Communist period, held a real fascination for us. It was a burst of exuberance and a celebration of a new-found freedom, not so different from the punk explosion in the late 1970s. Combine that with beautiful, incredibly catchy melodies -- using soul, Motown beats and rhythms, but then with incredibly bizarre and wonderful vocal lines on top -- that makes it unmistakably Ethiopian and like nothing we'd ever heard before. Yet, in some ways, it also sounded very familiar to us. And the slower, more hypnotic songs in very specific scales are some of the most beautiful trance music I've ever heard. You could feel right away that this music has a depth to it -- way beyond anything we knew.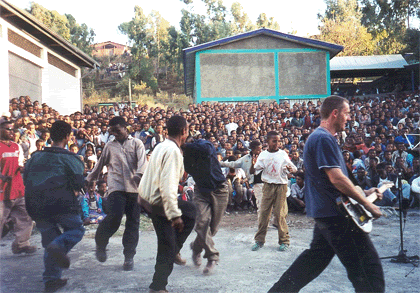 Andy Moor, playing with The Ex in Ethiopia, 2004

GB: How does this recent focus on music of Africa and Ethiopia fit in with the Ex's exploration of folk influences in general? Was the attraction strictly musical, or was there a political or historical interest as well?
AM: I always consider our exploration of music to be more a celebration and a big search for great songs as well great music. In fact, I think when I search for great music, I realize that what I'm actually looking for are amazing songs -- in whatever style and from whatever country. That search has taken us from Romania to Morocco to Madagascar to Uganda to the Congo to Brazil to Cambodia to Angola to Columbia. But I think Ethiopia and North and East Africa were the places where we found a lot of great music, and probably where we've ended up digging the most. But every few months we discover music from another place and start a new search there. The difference with Ethiopia is that we decided to travel there and really developed something very deep and long-lasting.
There is great music out there, and it isn't the stuff that we are force-fed 24 hours a day on the radio and MTV. If you want to find that music, you have take time and dig for it. But it's there and the people making it are nearly always fantastic people. It's political in the sense that we choose what we like. It isn't a passive acceptance of merely taking what we're given. And it's important to let people know that there's all this other music out there, that exists and that has nothing to do with units sold or hip videos. Ten years ago, people didn't know about Ethiopian music. As far as most people were concerned, Ethiopia was the country where everybody was suffering from drought and starvation. Nobody imagined there was such incredibly rich music, food, art and religious culture.
GB: The album you recorded together, Moa Anbessa, is primarily attributed to Mekuria with The Ex in a backing role. But to many ears it chiefly sounds like an Ex record. How did the occasion to record together come about?
AM: It was Getatchew's brilliant idea. He invited us after he'd seen us play a few times and had played with us -- so he knew exactly what he was getting himself into. I think he must have loved our energy and enthusiasm and musicality; and for him those things are more important than virtuosity, or our ethnomusicological knowledge. In that sense we are kindred spirits and have more in common with each other than you would imagine considering how contrasting our cultures are.
So we went to Addis to record him playing some sax lines. Afterward, we took the recording and played along with it in rehearsals -- without Getatchew or the horn section, just the guitars and rhythm section. From that we slowly built up some basic structures and arrangements, then we invited Getatchew and the horn section to really put the songs together. This was a great spectacle; with French, Canadian, Dutch, English and Scottish musicians all trying to build songs with an Ethiopian who couldn't speak any of our languages and vice versa. So there was a lot of sign language, laughing and just playing. From that we pulled it together.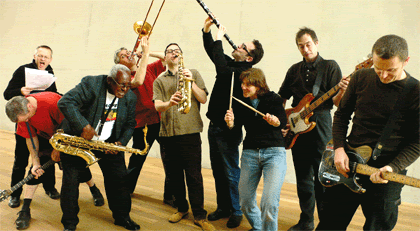 GB: How did Getatchew respond to this process of collaborating? I imagine working with a Western rock/punk band is quite different from he's done in the past.
AM: He was so open to our ideas and they must have been pretty bizarre for him, because we approached our music making from an "Ex" point of view -- very different from what he was used to. But he loved it and it evolved very naturally into something that isn't any sort of "fusion," but really a sound that is both very clearly an Ex sound but also very identifiable as being Getatchew's music. The key, I think, was in both parties keeping their sound and identity intact while finding a way to make them work together. We'd taken the same approach in the past when we decided to do a version of a Hungarian or a Turkish song; so it was clear for us how to approach this project with Getatchew. I guess we've learned some things in 28 years of playing together.

GB: Improvisation and free-form approaches to playing have long been an element in The Ex's music. How much of a role did improvisation play in working with Mekuria and the other musicians?
AM: It happens at two points. First, it begins while we were constructing the pieces and figuring out arrangements. None of that happens on paper. It happens by ear, in the rehearsal space. Most of the parts are invented by the musicians who are playing them, in response to Getatchew's melodies. And that begins from an improvisation, and later becomes more concrete as we find ideas that we like. The other point is during the concert itself, as the music evolves. We change things as we become more familiar with the music.
There are also moments within each song when different musicians improvise either in the form of solos or within the structure of the song. So the music remains fluid and exciting to play. Of course, there are also very structured and set parts -- horn arrangements, verses and choruses, as well. I think we found a good balance.
_ _ _ _ _ _ _ _ _ _ _ _ _ _ _ _ _ _ _ _ _ _ _ _ _ _ _ _ _ _ _ _ _ _ _ _ _ _
Getetchew Mekuria and The Ex play this Sunday evening at the Logan Sqaure Auditorium. Tickets are $15 and are available through the Empty Bottle's website. The doors open at 7:30pm, and Icy Demons opens. Mekuria and The Ex will also be giving a free lunchtime performance at the Pritzker Pavilion in Millennium Park on Monday, August 18. Monday's show starts at 12:15pm and is part of the "Audible Architecture" music series.

[video]: The Ex - live in Sodo, Ethiopia, 2004
[mp3]: Getetchew Mekuria & The Ex - "Almaz yehararwa"
[mp3]: The Ex with Han Bennink - live in Ethiopia, 2004
[mp3]: Andy Moor & DJ /rupture - live in Amsterdam