Album Thu Aug 28 2008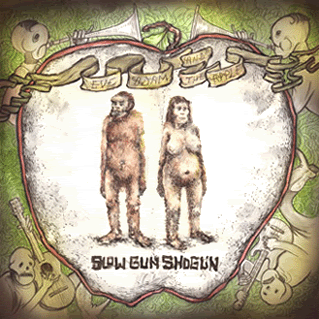 We here at Gapers Block Transmission aim to cover the local music scene and emerging Chicago artists as much as our resources permit. What follows is the transcript for a proposed review of the new CD Eve, Adam & the Apple by Chicago-based artist Slow Gun Shogun. The editors fanned the CD out to a potential contributor (PC) and an unaffiliated party (UP) in a focus-group styled experiment. What follows is a transcript of the results. Believe it or not, the transcript that follows was heavily edited and abridged in order to remove the more pedantic, digressive, and profanity-strewn passages. Needless to say, we will not be hiring either party for any future assignments.
- - - - - - - - - - - - - - - - - - - - - - - - - - - - - - - - - - - - - - -
PC: You want another beer?
UP: Yeah, but I don't feeling like getting up to get it just yet. What have we got?
PC: Some new CD by an artist who calls himself Slow Gun Shogun.
UP: Can't say I'm familiar.
PC: Local guy, apparently. It's a seven-song EP called Eve, Adam and the Apple. Judging from this, he plays a lot of the instruments himself -- one-man band style -- with the help of one "Miss Palanti" on drums. Appears to be self-released, on a label called Devil's Bedpost.
UP: Well, color me intrigued.
PC: It came with some other stuff in the package. A flyer and -- here, here's a sticker.
UP: Huh. Those emblems are the veves for ancestral deities from the pantheon of Haitian voodoo. Invocational diagrams for the loas and orishas is what those are. Damballah and Agwé, present and accounted for. And that one there's for Erzulie -- the voodoo goddess of love, beauty and all things feminine. Oh, Erzulie. Most tender, comforting and gracious on the one hand; endlessly flirtatious, vain, and easily consumed by jealous on the other. She demands the sweetest of tributes, and settles for no less than the fanciest of footwork from any suitor who deigns knock at her door.
PC: They have that where you come from -- voodoo?
UP: Naw. Just hoodoo, which is another thing entirely. Hoodoo's just mojos, and burning black candles, and superstitions and such. Bullshit, mostly. Not the real thing.
PC: So maybe this guy's on some Dr. John or Screamin' Jay Hawkins type trip.
UP: No idea. Put it on and we'll both know.
[Puts CD on. First track kicks up.]
SLOW GUN SHOGUN: "She stands on the banks of the mighty Mississippi / Alone in the pale moonliiight..."
PC: Hm. He gets it going with a standard. A gritty country-punk rave-up of "Evangeline," no less.
UP: Listen to that boy holler. He's got my attention already. He sounds like the sort of guy who's known his share of Erzulies in his time. Except this time she's Evangeline. Good move.
PC: Isn't starting out with a cover or a traditional tune a bad move? Like wrong-footing it?
UP: You been brainwashed, son. That's never been the case in the country, blues, or folk domains. All sorts of bands used to do that -- play a full set of top-40 covers and familiar stuff before they'd trot out any of their own songs. So this is totally apropos.
PC: On to the next song. This one's called "Evan Williams' Blues."
UP: Now that's more like it. The riffs have that necessary hungover, heavy-lidded heft to them for this sort of number. Fitting enough, seeing how these are songs that are less about what you did last night while you was drinking, but about those times in life that have you drinking first thing out of bed.
PC: Speaking from personal experience or something?
UP: Nah. Just sayin'. It's not exactly uncommon subject matter for such stuff, is it? [Sings along] "I beeen thurrrst-y for so lawwwng...." See what I mean? "And I drowned. / I stayed down." That's pretty much par for the course.
PC: Quite a downshift in tempo on this next tune.
UP: This one's got some harmonizing on it, with a female vocalist. What's this one called? "Even Outlaws Grow Old in Utah," eh? I rather like it. It's a little pretty in its own way. Plus there's a level of tragic absurdity to the narrative.
PC: The protagonist they're singing about apparently rides a "hog" and still worries about what "all those assholes back home" think about him.
UP: Which is where the tragic irony enters in. That's the wrong kind of luggage to be hauling around with you. Whether you succeed or not, you're inevitably doomed if you got that mess going around in the back of your head. You're losing even while you think you're winning.
PC: A classic fatalistic trope, that. The stuff of epic literature.
UP: If you say so, professor. Everyone knows that country and blues are predicated on the fallibility, the imperfectability of human nature - failures and foibles and such. They're almost entirely about that and nothing else.
PC: Like I said -- endemically fatalistic. Country's almost like opera in that respect.
UP: Except opera don't count since it's based more in theater than music in the first place. And by theater I mean drama, with all its artifices and whatnot.
PC: "Arty feces"?
UP: Fuck you. Anyway, these sorts of songs are about another kind of drama. Sometimes they're songs about people who can only vaguely imagine life beyond the county line -- or even beyond the next tree line -- because they have enough to contend with right where they are. Some people get a bellyful of ugly early on, whether it's from from being taught to handle the kick from a handgun before they can find their way around a See 'n Say, or from watching Mom get all twisted up over -- and maybe even bruised by -- some sorry loser who'd had to be fixed with set a full set of dentures by the time he was 35.
PC: Sounds like personal experience again.
UP: Let's just say I grew up around my share of Bocephuses, alright? And I've known a few David Allen Coe sorts in my time -- hell, I even have some in my family. I've known enough of a certain sort of person -- the sort who habitually made my life and the lives of those around them fuckin' miserable. So you'll have to excuse me if I have no truck with those who casually romanticize certain kinds of stuff. 'Specially when they have little to no idea what they're talking about.
PC: And where do you think this Slow Gun Shogun guy fits in with all of that?
UP: None of the above, best as I can tell. Ah, next tune...
SGS: "Lilly Fields had to blossom in the wrong time. / She's been a pill-poppin' ponderer since she turned nine. / She spills her guts to her doctor, he keeps her hiiiighh..."
UP: Hahahahaha! That's excellent. I do love storytime.
PC: Pretty basic, nuts-and-bolts alt-country blues stuff, arrangement-wise. The business with the flailing acoustic guitar backed up by some buzzing punky electric guitar is always nice.
UP: Yeah. Sounds a bit sweaty and restless -- as it should. This one's even got some good bass on it. If this had the added muscle that some bigger-moneyed recording would provide, it'd be pretty killer. Wow, that was a good one. I think we're gonna have to come back to it again later.
SGS: "Monday I fell asleep drinkin' / Tuesday I walk the floors thinking of youuuu..."
UP: Now what was I saying earlier? Toldya. Hahaha!
PC: Whoa! Feedback! And the guitars really kick in on the first chorus. But, I have to admit, dude doesn't have the greatest of voices.
UP: Forget it, doesn't matter. He can holler -- which is the next best thing for the business at hand. Holler, groan, yarble, wail. You don't need to be an Eddie Arnold for this sort of stuff. In fact, it's better this way. A certain lack of pretention and polish works best, especially when played off some faux honky-tonk conceit. Proper form don't count for two tears in a bucket if you ain't got spirit.
PC: That one was called "Spite." Next one's "One Big Ache." I'll bet -- waaahghh!!
UP: Now there's a kick to your kiester. Full-on hick-punk onslaught! This thing just keeps getting better. But...what's this? Huh, that one wrapped a bit too soon.
PC: And now closing with a more tender, much slower number. A heartsick ballad type thing. Complete with a part about being left "empty and confused."
UP: "I want more from you / Than yer trifflin' ass can give." Heh. Love it.
PC: So, you liked this CD?
UP: Well, it sure as hell didn't suck. In fact, since it went by so fast, I'm half inclined to turn around and listen to it again -- even though I think I have a couple of the tunes already stuck in my head. So yeah, I guess I did.
PC: The flyer that came with the thing says he's playing here in town this Sunday night. Wanna go?
UP: I'd love to. But unfortunately I think I got prior, uhhh, obligations.
PC: Where else do you have to be?
UP: I'm sure you'd like to know. It won't be church -- I can tell you that much.
- - - - - - - - - - - - - - - - - - - - - - - - - - - - - - - - - - - - - - - -
Slow Gun Shogun plays a headlining set at The Abbey this Sunday evening, August 30. Also on the bill are the Nashville outfit Six Gun Lullaby, Fil, and Leaf Bird. 3420 W. Grace (corner of Grace and Elston). Tickets are $6 in advance and $8 at the door. Doors open at 8 PM, and the show starts at 9 PM.