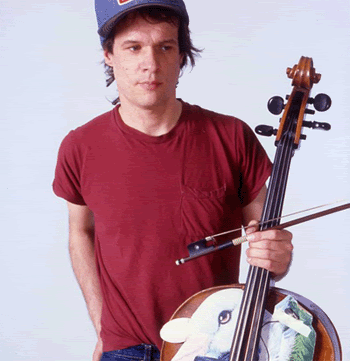 At the time of his death in 1992, the 40-year-old cellist, composer and experimental dance-music auteur Arthur Russell left behind an enigmatic musical legacy -- one that included a few (largely overlooked) albums of songs and compositions, a string of quirky disco tracks, and a backlog of some 1000 tapes of unreleased and unfinished recordings. Having connected the dots between American minimalist composition and disco's dancefloor permutations, Russell created music that rode on chromatic shifts and dislocated rhythms -- a music that seemed at the same time both insular and expansive in mood, that existed like a lover's whisper that fills your head, like the melodies of a man singing softly to himself as he drifts across an ocean of sound on a boat of his own making.
It would take much of the rest of the music world a decade or more to catch up. Thanks to the recent efforts of the Audika label, more of Russell's work has become available in the past five years. Still, so long after the fact, Russell's music continues to amaze and baffle listeners; influencing a new generation of songwriters, while leaving fans and critics alike wrestling with descriptives.
And now comes Wild Combination: A Portrait of Arthur Russell, the new documentary by filmmaker Matt Wolf that arrives in Chicago this weekend for a limited run. The film offers an overview of Russell's life and work, featuring rarely-seen archival footage and interviews with various friends, family, and collaborators who knew and worked with Russell throughout the years. Also among the interviewees are Jens Lekman, composer Philip Glass, as well as author and sound artist David Toop.
As it's made the rounds of film festivals and selected screenings in the past six months, Wild Combination has received unanimously glowing reviews. Writing in the Village Voice, critic Andy Beta remarked that Wolf's film "resonates on an emotional level, much like Russell's most profound music does." Nathan Lee, in his review at the New York Times, calls the film "a tender, fascinating documentary...that will delight the cult and instantly convert new members;" adding "that it's impossible to hear [Russell's] strange, soulful music without wanting to hear more, immediately, preferably on high-end headphones somewhere glamorously desolate: the rim of a volcano, a moldy loft in Bushwick, Brooklyn; sand dunes in December."
Wild Combination arrives in Chicago this week for a limited engagement of three screenings at the Gene Siskel Film Center -- the first this Friday, October 10, at 8 PM. Subsequent viewings will take place next Monday and Tuesday evenings. Check the Film Center's schedule for times for full details. An after-show dance party will be held at the Hideout following the film's screening on Friday night.
[video]: Wild Combination - film trailers 1 & 2
[video]: Arthur Russell - "Terrace of Unintelligibility" (1985 performance)