Album Thu Oct 09 2008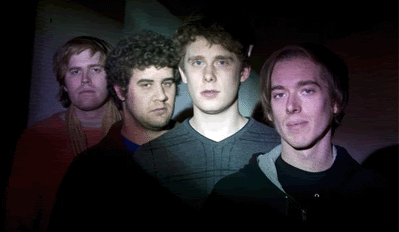 Make no mistake, the Chicago quartet Chandeliers are enamored with keyboards and tricky beats in a big way; but thankfully they don't have much truck with the sort of electro or that chincey, flat blog-house fare that's so glutted the indie market these past two years or so. Comprised of various members of local outfits like Icy Demons, Bronze, and Bablicon, they're one of many local projects that's spiraled out of the South Loop-based Shape Shoppe network. After numerous appearances about town and putting out a 3-song EP, Chandeliers have made their full-fledged recording debut with the recent stateside arrival of their debut LP, The Thrush.
With the opening track "Mr. Electric," Chandeliers lay their aces on the table, giving the listener a strong sense of what's in store. The music glides on a spacey shimmer inspired by vintage Italo-disco, with slight electro and synth-pop nuances billowing to the fore every now and again. The more crafty and complex underpinnings of the band's em-oh, however, reveal a deeper debt to early 70s jazz-fusion and astro-funk (a la Headhunters-era Herbie Hancock). Beneath all the sheen and shimmer, Chandeliers delight in the interplay of contrasts and balances -- the interplay of playing warm tones off versus cold, luster over grit, hefty riding shotgun with lite, and often floating crafty rhythmic shifts and sleights-of-hand against stark drones and subtle modulations.
Given the group's affiliations, one has to expect at least a few touches of eclecticism and oddball mutations -- which is exactly what you get on the 60-watt exotica of "Mango Tree." Then there's the bubble-and-bleep of the album's title track, which gradually moves from a deeply danceable beat into more shadowy passages before drifting off into a star-strewn void, only to immediately double back with the synth-pop bounce of "Big League." Steering toward the finish line, the band moves into more impressionistic and cinematic territory on the album's latter half; especially with "Bamboo," a slice of futuristic spy-movie soundtrack fodder that weaves its way around an ominously tolling synth motif and reverb-drenched marimbas.
As with anything connected to the Shape Shoppe, The Thrush is a family affair -- featuring contributions from friends and fellow travelers that includes members of Mahjongg, Mucca Pazza, and Icy Demon's Griffin Rodriguez. While the album's been available in the UK for several months via the Picked Egg label, it's recently been released stateside via the Obey Your Brain label.

Chandeliers play a free show at the Empty Bottle this coming Monday night. Rainbow Arabia and Gangi open. 1035 N. Western Ave. The show starts at 9:30 PM, and admission (once again) is free.
[mp3]: Chandeliers - "Mr. Electric"
[video]: Chandeliers - "Bamboo"