Event Wed Dec 10 2008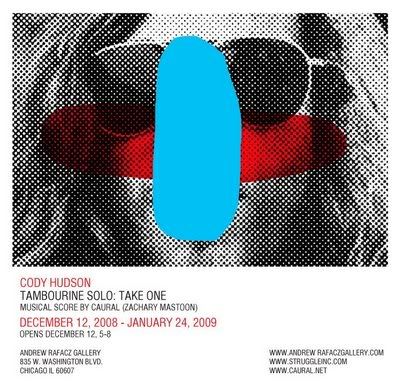 Chances are you're familiar with the work of local visual artist Cody Hudson by now; either by way of his silkscreened posters for various events and venues, his public art installations, or perhaps even his work as in-house designer (under the moniker Struggle Inc.) for the Chocolate Industries record label. Or you might know him -- along with Mike Genovese and Juan Angel Chávez -- as one of a core cluster of this city's most notable street artists.
This weekend, Hudson will be trotting out a new batch of work at a show that opens this Friday evening at the Andrew Rafacz Gallery in the West Loop. Entitled "Tambourine Solo: Take One," the exhibition will also feature musical accompaniment -- a musical score crafted by local musician Zachary Mastoon. In recent years Mastoon's released albums of shoegazey, downtempo tunes under the name Caural. The score for "Tambourine Solo," incidently, was originally done in collaboration with Hudson for a show that took place at New Image Art in L.A. this past August. So peep the work, hear the soundtrack, maybe even buy a print of something. 835 W. Washington, 5-8 PM. 312-404-9188 for info. The exhibition is scheduled to run until January 24.