Benefit Fri Dec 19 2008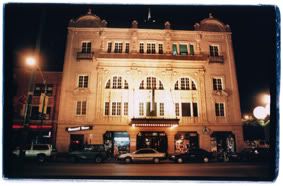 What better way to spend the holidays than to see some great live music and give back to the community? The Greater Chicago Food Depository distributes donated food to almost 500,000 adults and children in need per year. This year, the Metro is teaming up with the Chicago Independent Radio Project (C.H.I.R.P.) for a series of concerts to benefit the food depository. Concert-goers are encouraged to bring canned food items to the show, and on December 22nd a canned food item will get you $3 off the ticket price of the show!
Home for the Holidays kicks off tonight with The Hush Sound, Treaty of Paris, and This is Me Smiling, and runs until December 28th with the Midwest Ska Fest. All shows will be at the Metro, 3730 N. Clark Street. Tickets will be available at the Metro box office.
Please note that the Greater Chicago Food Depository is most in need of canned chicken and tuna, canned corn beef, canned fruit, canned vegetables, dried or canned beans, fruit juice, jelly, macaroni and cheese, pasta, peanut butter, rice, and whole grain cereal.
Come check out what's new in the Chicago music scene while giving back to those in need. Full schedule to follow.
Friday, December 19:
THE HUSH SOUND * TREATY OF PARIS * THIS IS ME SMILING
$18 adv. - $20 day of / All Ages / Doors: 6PM / Show: 6:30PM

Saturday, December 20:
Kill Hannah's New Heart For X-Mas 6...
KILL HANNAH * INNERPARTYSYSTEM * GO MOTION * DARK WAVE DISCO DJs
$20 / All Ages / Doors: 6PM / Show: 6:45PM

Monday, December 22:
DR. MANHATTAN * THE FELIX CULPA * TRUMAN AND HIS TROPHY * TALL TALE * THEY FOUND ME, THEY NAMED ME
$10 ($7 with canned food item) / All Ages / Doors: 5PM / Show: 5:45PM

Friday, December 26:
Songs From A Scene...
LUCKY BOYS CONFUSION * SIMPLE SIMON (reunion show) * HEART SET SELF-DESTRUCT * CONTEST WINNER TBA
$17.50 adv. - $20 day of / 18 & Over / Doors: 7PM / Show: 8PM

Saturday, December 27:
Songs From A Scene...
LUCKY BOYS CONFUSION * MARK ROSE (ex-Spitalfield) * LOVE ME ELECTRIC * CAVASHAWN
$17.50 adv. - $20 day of / All Ages / Doors: 5PM / Show: 6PM
Sunday, December 28:
Midwest Ska Fest 2008...
MUSTARD PLUG * DEALS GONE BAD * DAN POTTHAST (of MU330) * WASTE BASKET * DJ CHUCK WREN
$11 adv. - $13 day of / All Ages / Doors: 5PM / Show: 5:30PM