Feature Thu Dec 25 2008
We're passionate about music here at Gapers Block: Transmission, and we decided to give you a couple of different perspectives (well, more than just a couple, really) on what we heard in 2008. On the one hand, we love new releases by bands far and near, and on the other hand, we love hitting live shows in Chicago. Some of our favorite things this year included festivals, unique collaborations and those special small venue performances you just want to bottle up and save for your greyest days. Keep on reading to get a little dose of nostalgic sunshine, courtesy of your friends at Transmission.
Transmission's Favorite Albums, 2008
(In Alphabetical Order by Artist)

The Black Keys
Attack & Release
Year end lists are always hard to narrow down, but if I absolutely have to pick just one album for 2008 it's The Black Keys' Attack & Release. It was produced by Danger Mouse and I'm beginning to think anything he touches turns to gold. I listened to no other album for about a month this spring; at work, at home, on my iPod, on the bus...It has a down home feeling you could just wrap yourself in; raw '70s-style rock that makes me feel like it really is sometime in the '70s and there are no cell phones, no email, no Google Chat—nothing to pull you out of the feeling that you're totally stoned and totally lost in the music. It's almost surprising how much emotion goes into some of those songs, especially "Lies" and "Things Ain't Like They Used To Be." And that's just the slower psychedelic tunes! Then there are the grittier tracks like "Strange Times" and "I Got Mine" (which contains one of my favorite rock lyrics ever: "when I roll, I roll deep"— is there any other way?) that shine with Dan Auerbach's guitar riffs and gritty vocals. I love the new poppier songs and dance bands of 2008, but sometimes I wish there was a little more stripped down rock and roll (seriously, you can't get much more stripped down than simply drums and guitar....).
-Michelle Meywes

Los Campesinos!
Hold on Now, Youngster
Voltaire once said something about God being a comedian playing to an audience too afraid to laugh. In a truly ironic turn of events, the artists that compiled my two favorite albums of 2008 (Youth Novels by Lykke Li and Hold on Now, Youngster by Los Campesinos!) will be simultaneously performing in Chicago on Feb. 7th, 2009 at the Logan Square Auditorium and Metro. In effect, my decision of which concert I will attend became intertwined with picking my favorite album of the year. After much internal debate, I decided that the catchy, delicate crooning of Lykke Li just couldn't live up to the teeming energy of Los Campesinos! After all, I haven't heard an album quite like Hold on Now, Youngster in years. For one, the song titles are very bizarre, often rivaling the titles of elaborate papers in a scientific monthly. The seven members of Los Campesinos!, who met at Cardiff University in Wales, have released an album that is absolutely packed with musical influences. Hold on Now, Youngster features quirky, humorous lyrics about such topics as Spiderman, list-making, and poor dancing skills that sound markedly like indie pop. On the other hand, the album has so much emotion and vulnerability it bursts with punk and garage band energy. It's such a blazingly quick listen, it never quite lets me catch my breath. The barrage of guitars, violins, bells, keys, and even glockenspiels splashes into my eardrums like a tidal wave, leaving me to gather myself for a minute before embarking on another listen. Hold on Now, Youngster contains a mélange of clever, refined, and catchy songs that are punctuated with exultant choruses and induce flashbacks of younger, simpler times. There's a lot here, in this album. The harshest critics may deem this effort as a grizzly shooting spree of meaningless and corny pop songs, but I believe Los Campesinos! have created a sound that sticks with you like a barnacle.

[video] Los Campesinos - You! Me! Dancing!

-Raf Miastkowski

Nick Cave & The Bad Seeds
Dig, Lazarus, Dig!!!
It's difficult to settle on one, but I'll go with Dig, Lazarus, Dig!!! [video]. The Grinderman album from 2007 was surprisingly good; but for the second year running, Nick Cave demonstrated that he's eased into a mid-life renaissance. As far as noteworthy artists, I think that Danger Mouse was on a roll this year — quickly producing three consecutive solid albums while working with Gnarls Barkley, Beck, and Martina Topley-Bird. There are some strikingly gorgeous tracks on each of those releases, with Danger Mouse superbly crafting tracks that covered a lot of retro-'60s pop/soul/psych styles very well.
-Graham Sanford

Cut Copy
In Ghost Colours
I had absolutely no reason to believe that Cut Copy could turn out such a strong electronic rock album. Well, maybe, but not yet. "Saturdays" and "Going Nowhere" were very promising tracks in 2004, but Bright Like Neon Love screamed of another indie-rock singles band with a touch of synth who'd flood their full-lengths with filler. However, with DFA's Tim Goldsworthy on the boards for In Ghost Colours, Cut Copy trimmed the fat and found a way to expand their strengths across more than a few minutes at a time. It's not jamming thick grooves into your ears every second, nor is it too relaxed. The light segues between songs (and sometimes in the middle of them) are effective as cooldown periods and the band knows when to bring the heat on tracks like "Out There On the Ice" and "Hearts on Fire." The result is one of 2008's best pop albums with songs that are catchy, danceable, ethereal, and even anthemic at times. (Now if they ever learn how to harness the same talent live, they'll be super.)
-James Ziegenfus

Al Green
Lay It Down
Picking an album of the year is a touch one this year. There were so many great ones. So in choosing one, I thought about playback value, gravitas, and (of course) quality. With those items in mind, I've chosen Al Green's Lay It Down. Produced by The Roots' ?uestlove, this album really sticks with you. It was a reminder that ?uestlove has a particular love for the good Reverent Al Green's style of music, harking back to the drummer's mix-tapes, "Babies Makin Babies." The album also asserts that Al Green hasn't lost a step in 30 years, the man can still belt out notes that the rest of us will only dream of ever hitting. Guest artists include Jon Legend, Anthony Hamilton, and Corrine Bailey Rae; all of which fit perfectly in with their old mentor. Whether you're looking for an album to get you moving on the dance floor, an album to get that late-night visitor in bed, or even an album to give your spirits a lift on a cold and snowy winter's day, pop in Al Green's Lay It Down. I assure you, it'll do the trick.
-Gavin Robinson

Hauschka
Ferndorf
Perhaps this was my year of anachronistic musical favorites, but the album that I kept finding myself returning to was German composer Volker Bertelmann under his Hauschka alias. On Ferndorf, his second full-length and first with Fat Cat, Volker explores the world of prepared piano, as recently pioneered by John Cage (and even more recently utilized for several tracks on Aphex Twin's divisive Drukqs album). While a deeper look reveals the intense effort and artistry used in simply preparing the pianos, Haushka's end result is one that needs no history lesson to be deeply felt. Orchestral, cinematic, fully-realized compositions are presented for each track within Ferdorf (which translates to "remote village"). The accompanying videos to several songs on the album, directed by Overture, are appropriately graceful stories of woodland beings interacting. Whether you choose their lush vision or your own life experiences as accompaniment for these sweeping songs, Ferndorf has a singular talent for whisking you away to somewhere lovely.
-Dan Morgridge

The Kills
Midnight Boom
(our only duplicate pick)
The Kills have been putting out their brand of gritty garage rock for years now, but they have fully elevated themselves as artist and expanded their sound with their 2008 release Midnight Boom. You still get a heavy thumping guitar rock sound, yet the production and addition of some subtle new sounds really bring the band and their music full circle. Midnight Boom sounds more polished and sure of itself, more a labor of love then their past releases that sometimes seemed like they were trying just a little too hard to be something that wasn't natural. The album itself barely clocks in over 30 minutes, but the songs all resonate with a driving force without sounding rushed. Midnight Boom is catchy, infectious, and sexy, everything that I enjoy in a good record and traits that guarantee I'll be playing an album on repeat for a long time.
-Lisa White

The Kills
Midnight Boom
For years, VV (Alison Mosshart) and Hotel (Jaime Hince) have been peddling their sexy, sleazy blues-rock swagger. The Kills' third and latest album, Midnight Boom, takes the duo in a slightly different direction. Low-key beats (often courtesy of Spank Rock's XXXchange) are often added to fill out their sound, and Mosshart's vocals sound better than ever — she's finally growing up from the feral kid in Discount, and becoming a cigarette-stained junior PJ Harvey. And trust me, that's a good thing.
-Kara Luger

Lykke Li
Youth Novels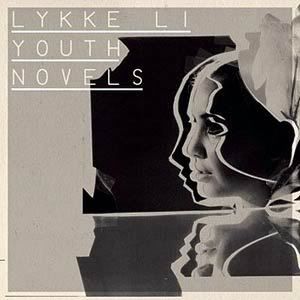 Swedish artist Lykke Li's album Youth Novels is so damn catchy that I frequently catch myself humming her tunes as I'm walking along the sidewalk. The album is sexy, fun, and very cheeky. Her minimalist electropop is the perfect music for a relaxing el ride, and has been my soundtrack for the past several months. This is one debut that will leave you wanting more.
-Stephanie Griffin
Megafaun
Bury The Square
2008 belonged to four friends from Eau Claire, WI who relocated to Raleigh, NC to continue recording as DeYarmond Edison in 2005. Justin Vernon, Joe Westerlund and brothers Brad and Phil Cook set out with a specific vision for their band, but by late 2006 Justin Vernon had returned to Eau Claire and locked himself away to record somber folk music as Bon Iver. The remaining trio began to call themselves Megafaun, and continued to examine the blending of traditional folk idioms with modern experimental sounds. The two bands were offered record deals on almost the same day, Bon Iver with Jagjaguwar and Megafaun with Table of Elements/Radium (now signed with Hometapes), and both albums were then released on February 19th 2008. Bon Iver has become a nationally know pseudo-pop star and Megafaun's Bury The Square has been virtually overlooked. Yet, for all that the nine tracks on For Emma, Forever Ago were, for me Megafaun was more experimental, more adventurous, and more enjoyable. In just six songs, this trio is able to explore everything from gospel to electronic noise to free jazz, and it is this diversity that makes Bury the Square one of the best albums of 2008.
-Jason Behrends
Nicolay and Kay
Time:Line
Nicolay and Kay's Time:Line came out of nowhere, which makes the music it contains that much more remarkable. With the digital age, one is not limited to what's played on the radio, but through word of mouth and covert mp3s sent through email. Holland-born Nicolay's backing of relative newcomer and Houstonian Kay is rife with lush instrumentation and smart sampling. In the age of bitches, blunts, Benzes, and whatever passes for "fun" rap, Time:Line is a concept album, chronicling the birth, coming-of-age, peaks, valleys, and ultimate end of the fictionalized Kay. Nicolay does an exceptional job at making every track different and thematic. For more, you can watch their four-part "Making Of" series on YouTube. I really enjoyed this album, and I feel better about having found it amidst what the average hip-hop fan "had" to like this year.
-Troy Hunter
The Sea and Cake
Car Alarm
An album from Chicago Thrill Jockey artists The Sea and Cake always makes me a little giddy, but this year's Car Alarm made me positively twitter in my seat upon first listening. Upbeat, playful, and ultimately extremely danceable, Car Alarm offers lovers of Archer Prewitt and Sam Prekop's delicate arrangements something of which to stand up and take notice. The eighth studio album from this local powerhouse, Car Alarm's tracks include the beautiful electronic squelch-driven "CMS Sequence", the breezy roadtrip of "Down in the City" and the heavy-hitting title track that at once promotes a indie head bob and a rocker fist pump. An thrilling album (no pun intended), especially coming so soon after 2007's Everybody (after a lack of releases since 2003), Car Alarm gives Sea and Cake fans great hope that this band is not only not disappearing anytime soon, but they'll continue to provide us with perhaps annual gifts of genuinely solid entertainment.
-Anne Holub
Transmission's Favorite Chicago Live Shows, 2008
(In Chronological Order)

Atmosphere at The Metro — April 22, 2008
As I said in my preview back in April, Atmosphere isn't very stereotype-able. But their show was definitely the most fun I've had at a live performance this year. Going on a "Atmosphere Karaoke" theme, Slug, the emcee invited people up on stage to do tracks. I originally thought this was going to be a trainwreck waiting to happen, but not only did the guest emcees not suck, they actually rocked the house. He alluded to the quality afterwards, wondering "At last night's show (the all ages one), I was throwing kids off the stage and stopping them mid-song. Y'all are actually doing all right!" Playing cuts off of the newly released album When Life Gives You Lemons, You Paint That Shit Gold, the cat had everything you'd want in a show; breath control, crowd mastery, and getting the throngs of fans hyped up.
-Troy Hunter

Foals at Subterranean — April 26, 2008
One of the better shows I attended this past year was seeing Foals headline at Subterranean. They proved that, as I'd suspected, they possessed a lot more energy and edginess than the pop streamlinings that indie star producer Dave Sitek had imposed on their debut album suggested. Seasoned by their post-/math-rock origins, the group's set showcased an intense interplay and musicianly bravura, and there were many moments of beauty throughout — many of them intricately tangled up in galloping fretwork. Their tightly-coiled energy reaching a borderline frenzy at peak moments, teetering on the verge of an eruptive chaos yet keeping it all deftly controlled the whole time. Quite impressive and exciting.
-Graham Sanford

Drive-By Truckers at Taste of Randolph Street — June 21, 2008
Outdoor shows in Chicago need to be over by 10PM to abide by the noise ordinance. So acts must use their time on stage efficiently. The Drive-By Truckers are a prime example of a band that needs a little, um, encouragement to keep their performances from going on too long. Their shows have a tendency to become bloated with extended jams and reprises. But when they need to play an entire set in an hour and a half, it's a little different. From "That Man I Shot" about American soldiers in Iraq to "Sink Hole" about foreclosures to "Puttin' People on the Moon" about desperate economic times (anything sound familiar?), the band rolled through 15 timely songs (as opposed to 28 at Metro the month prior) and never lost the audience's attention or adulation. Patterson Hood and Mike Cooley shined when they led and the rest of the band followed in excellent form with a perfect split of sticking to album forms and veering off into diversions.
"18 Wheels of Love" was epic from its initial appearance on their first record, but it's evolved quite a bit since then with Hood's addendums that typically push it past a reasonable point. However, the abbreviated version kept it on course. And the closer "Lookout Mountain" with its heavy driving riffs and speculation about suicide was an interesting to choice for the crowd to either get lost in the music or contemplate the lyrics. On this gorgeous evening, though, Drive-By Truckers could've ended any way and still deserved the raucous ovation. (Oh, and it should be noted Bobby Bare Jr. was incredible as their opener.)
-James Ziegenfus

Alkaline Trio at The Lakeshore Theater — July 1, 2008
For me, 2008 was a year marked by huge festivals rather than cozy small venue shows. Splurging on a ticket to Bonnaroo, I was rewarded with loads of awesome music, as well as uncomfortable heat, in rural Tennessee. I later followed that up with a similar, yet less inconvenient, experience at Lollaplooza. However, my favorite local show of 2008 was Alkaline Trio's performance at Lakeshore Theater this summer. It wasn't as energetic as their legendary Halloween performance at Metro, or as memorable as the time I caught a drumstick at their Goose Island Fest performance. I guess it was purely nostalgic. After Alk3 moved to California and lost a bit of their edge, their Chicago fan base gossiped about how their shows just weren't the same anymore. Perhaps Alk3 became a little less disillusioned with the world, perhaps they stopped drinking so much, or perhaps their nice houses next to the beach softened them up. Who knows? Maybe their fans just grew up. None of that mattered when I arrived at the Lakeshore Theater, ready to relive the Alkaline Trio shows of yesteryear. Fueled by copious amounts of alcohol and accompanied by two fellow Alk3 fans, I rocked out with a level of enthusiasm that hasn't been matched since 2002. It may have been the scotch, but it was a fun time either way.
-Raf Miastkowski

Radiohead at Lollapalooza, Grant Park — August 1, 2008
Serendipitous things tend to happen in a live setting, and sometimes you are lucky enough to experience a memorable moment during a concert. Such was the case this past summer when Radiohead played Lollapalooza . It just so happened an entirely different event was going on at Soldier Field, and fireworks were set off during the middle of Radiohead's set. I remember standing in Grant Park as the "Fake Plastic Trees" swelled and fireworks exploded as Thom sang "She looks like the real thing, she tastes like the real thing." It was incredibly moving and beautiful, and was my favorite concert of 2008, and one of my favorite live music moments ever. Music is clearly an important aspect of life, but when accidental incidents like this one happen, it just makes the music that much more amazing.
-Lisa White

Girl Talk at Lollapalooza, Grant Park &mdsah; August, 3, 2008 and at The Congress Theatre — November 8, 2008
(photo by Tankboy/Jim Kopeny)
I'm actually glad that I get to mention Gregg Gillis (aka Girl Talk) here, because on a personal level, Feed the Animals was up there with the best albums of the year. I was lucky enough to see him twice this year, first at Lolla and just last month at The Congress Theater. I reviewed the Congress show for Transmission, so you already know how much I loved it, but here I'll tell you why it was the best of the year. You know those party pictures you see where everyone looks like they're having the time of their lives, but you know that it couldn't have been that fun the whole time? Or that one part where that one song played and the energy just blew up? Well, Girl Talk was like that one part, but stretched out for three straight hours. I was part of a music video once that was set at a party and everyone told me, "it looks like you're having so much fun!" In reality we were getting sprayed down with water and dancing for three seconds at a time—not even long enough to finish a musical phrase! Girl Talk live is basically the party that that music video would be if it were real.
-Michelle Meywes

Joanna Newsom and the Chicago Symphony Orchestra — August 22, 2008
On a warm August night not really so long ago, a parade of thrift store gowns and tweed vests smoked conspicuously on Michigan Ave., holding suit jackets and tastefully anachronistic purses in their free hands. The crowd of twenty-somethings were dressed to their best for an event of curious proportions — indie oddity Joanna Newsom was bringing her orchestral critical darling Ys to Chicago. While she had toured the UK on a similar tour in 2006, it took her almost two years to bring the show to her label's hometown — but it was well worth the wait. The crowd took to their seats, the lights dimmed, and Joanna and her core began the lovely story of Ys. As a special treat, Newsom friend Ryan Francesconi — the man who helped convert the album splendor of Ys into something that could be performed live — was allowed to conduct the orchestra himself for the first time on tour. Five epic songs later, the audience broke for intermission, and came back to Joanna's own band — Mr. Francesconi on banjo and other delights, barefoot drummer Neal Morgan and talented vocalist/violin player Lila Sklar. They delved into refreshing versions of Newsom's catalog favorites, including a quiet, building, Western-epic version of "Peach, Plum, Pear". Newsom finished the night with two encores — the latter being one of the few I've seen all year that seemed to have been genuinely unplanned. She played a new piece for the audience — "Sweet Esme" — a near-lullaby that probably melted every heart and ice cube in the house. (Come to think of it, maybe she's due for a return sooner rather later... )
-Dan Morgridge

David Byrne at The Lyric Opera House — October 26, 2008
By leaps and bounds, my favorite concert of the year was David Byrne at The Lyric Opera House. This was my first trip to one of the most magnificent venues I've ever watched a concert in, and it couldn't have been for a better artist. Byrne's youthfulness and charm was the star of the show as he plowed through new music from his latest collaboration with Brian Eno, Everything That Happens Will Happen Today, and even found some time to play everybody's favorite Eno/Byrne collaborations from the Talking Heads days. One of the highlights of the show was a team of dancers that not only danced, but interacted with the band in ways that only David Byrne & Co. could imagine. After three encores and even a house lights-on performance of "Burning Down the House," I left feeling the most content I've been in a long time.
-Gavin Robinson

Yea Big & Kid Static, Best Fwends, and Matt & Kim at The House Café — November 14, 2008
The keyword was energy, and it all began with Chicago's Yea Big and Kid Static. This was the second time I had this duo command a crowd with just a laptop and rhymes. Whether rapping about mega man, sandwiches, or just the life right here Kid Static controls the crowd. Meanwhile, mad beat genius (our very own) Yea Big moves to the beats he created, and you can't help but join in. After a furious set, which included tracks from their forthcoming release The Future's Looking Grim, they brought a chair on stage and sang to the sickest remix of "The Golden Girls" theme song you will ever hear. It was a hilarious ending to a great performance. That was a tough act to follow, but armed with inflatable gargoyles, armchairs, and an iPod, Fort Worth's Best Fwends did their best. With blasts of punk, comedy, interpretive dance, Satan worship, blood drinking, and free jelly beans, these proto-iPod-punks (with one looking an awful lot like Bill Heder), won me over. Finally, what can be said about Brooklyn's Matt & Kim that hasn't been said already? They genuinely enjoy themselves on stage and it shows in the huge smiles on their faces. With "Shaun of the Dead" projected on the ceiling they unloaded their catalog on the small DeKalb crowd and bartered for an audience member's shirt. Post set Kim set the dance floor on fire with her moves and a special mixtape.
-Jason Behrends

The Sea and Cake at The Empty Bottle — November 15, 2008
As the only Transmission staffer to pick the same album and live show as a favorite for the year, I suppose you have to get that I really loved the latest release from Chicago's The Sea and Cake, but honestly, the live show they put on at the Bottle this year was one of the most engaging live performances I've seen in a long time. Not only a stellar Chicago show, the night was colored bright gold by the energy and joy positively oozing from the amps (and, indeed, the very pores) of the band. An excited crowd (comprised of both diehard and newbie fans) and some great new material to present was the solid base upon which the evening's entertainment was constructed, making me want to absolutely grind up the band's 2008 release Car Alarm and stir it in my coffee every morning for a great start to the day. If you have the chance to see them at one of their upcoming shows at Schubas (both NYE and NYE-eve), I can't recommend these boys live and in person enough.
-Anne Holub

Kid Sister at The Metro — November 26, 2008
Perhaps it's just because it was one of the last shows I saw this year, and thus is freshest in my mind, but Kid Sister's single-release show at The Metro was damn fun. ("Get Fresh" is currently available at RCRDLBL for download.) Fellow Chicagoans Flosstradamus opened (with super fun video accompaniment) and set the tone for KS's energetic, house-party style show. I fell in love with her Fly Girl-era dancers, and despite my previous hesitation toward Kid Sister, fell for her charm and addictive hooks. Now if only her album Dream Date would finally release — I'm beginning to think it's the unicorn of hip hop.
-Kara Luger

The Smashing Pumpkins at The Aragon Ballroom — December 7, 2008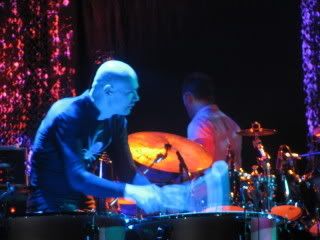 I've seen many amazing live acts this year (Radiohead, Nick Cave, Beck, etc) but The Smashing Pumpkins at the Aragon stands out as the perfect evening and a fantastic culmination to 2008. The band played many surprises, most of which I thought I'd never have the chance to see performed live. The crowd was pumped, the band was pumped, and I was pumped, which made for an overall unforgettable experience. Best of all - Billy didn't yell at us for twenty minutes after the show.
-Stephanie Griffin

Note to our readers: What you just read was simply one (and one only) pick for a favorite album release and live show in Chicago of 2008by members of our staff. It's by no means the definitive list of all that was good in the world of music or live performances in our favorite town. But, hey, if you've got your own picks for favorite Chicago show of 2008, or your favorite album release, let us know in a comment below. We'd love to hear from you. Thanks.