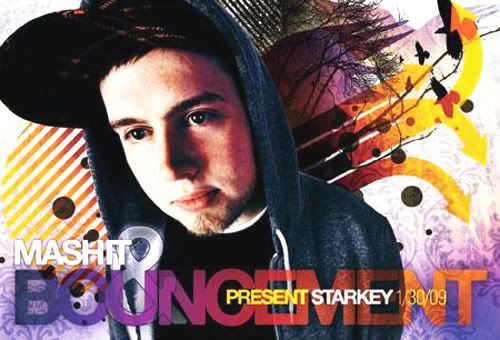 As dubstep came into it's own in 2008; and one of the potential breakout artists that some had their eye on was 27 year-old Philadelphia DJ and producer Paul Geissinger -- a.k.a. Starkey. This Friday night, DJ C and the Mashit Records crew welcome out-of-own guest Starkey to Lava for an evening of dancefloor bouncement, dubstep, electro-crunk and street-bass boom.
Geissinger first immersed himself in the grime scene after encountering it while residing in London in the early aughts. After returning to his native Phillie, he quickly hooked up with fellow grime enthusiast Dev79; and the pair launched a monthly series of DJ parties at an area club. A series of "Street Bass Anthems" mix-CDs soon followed, and by 2005 Starkey had stepped up his game -- cranking out a steady stream of his own remixes, bootlegs, and 12" tracks. This past year saw the release of his full-length debut Ephemeral Exhibits (Planet Mu), as well as the appearance of Geissinger's more club-bumpin' tracks under his Moves!!! alias.
Starkey tops the roster at Lava on Friday, taking the headlining slot for what marks his Chicago debut. The opening sets belong to Timid and DJ C -- the latter of whom will be performing with Chicago dancehall mic-masher MC Zulu. 1270 N. Milwaukee. Admission is $7 and it all jumps off at 10 PM.
[audio]: Starkey - "Kick It"
[mp3]: Starkey - XLR8R podcast mix session