Review Fri Feb 06 2009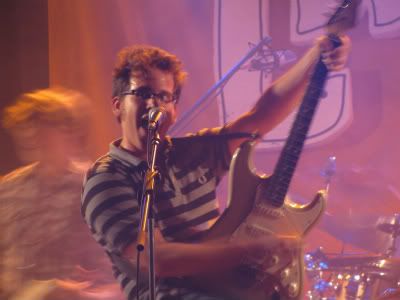 Swamp monsters, zombies, space exploration and pirates are all topics covered in the songs of Ludo, a St. Louis pop rock band whose major label debut, You're Awful, I Love You, was released last year. Their unabashed geekery and heavy use of the moog are reminiscent of The Rentals or Ozma, but what really makes this band shine is their ability to tell a complete story within a four minute song. And Ludo sure does love a good story - their 2005 independently released rock opera Broken Bride takes listeners on an adventure through time as the protagonist tries to change the course of history to keep his true love alive. Wednesday night the band took the stage for an all ages show at Metro to a crowd of well-deserved fans.
They kicked off their set with "Part I" from Broken Bride, and really, any song that includes pterodactyls is bound to put a smile on my face. One thing this band excels at is getting a high energy level in the room. Moog player Tim Convy spends every spare second jumping around or dancing across the stage. Meanwhile, singer Andrew Volpe is a real showman, flailing his arms about wildly and gyrating against his guitar. The band played three of the five tracks on Broken Bride, which is arguably their best and most interesting work. They even threw in a few old gems from their self-titled debut, including "Hum Along" and "Girls on Trampolines", along with a rocking cover of Faith No More's "Epic".
Where the band falters is when they strip away their wit and take a swing at sincerity in tunes like "Topeka" and "Summertime". Unfortunately this is what plagues half of their new album, You're Awful, I Love You. Take away their sarcasm and humor and what's left is bland and cheesy, and you could feel the energy in the room quickly plummet when such songs were performed. When they stick to what they know, they're fun and magnificently sharp, such as songs like "Lake Pontchartrain" and "Love Me Dead".
Ludo is a hard working band with a lot of potential. They've been touring coast to coast for the past four years, and will soon be taking some time off to write new material. I have a feeling this band will go far. Be sure to check out the "Ludo Video Thing" (aka their YouTube channel) if you haven't had the opportunity to hear these guys before. They've got a lot of personality.
Watch episode 16 of The Ludo Video Thing below, in which the band builds an igloo and then practices inside: