Album Wed Feb 18 2009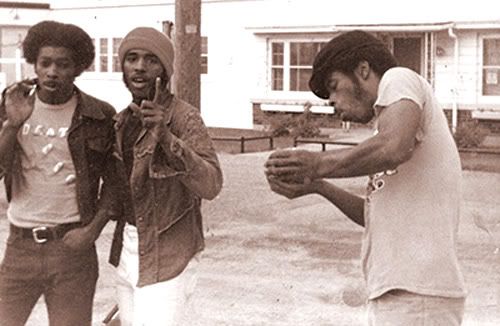 Over the years, the Drag City label has given us a number of remarkable reissues - plucking some undeservedly overlooked or long-forgotten obscurities from the crevices of the musical dustbin. Continuing in that tradition, the label has just released ...For All The World To See, a CD of seven tracks by the Motor City proto-punk band Death.
Hailing from Detroit, Death was formed in the early 1970s by brothers David, Dennis and Bobby Hackney. Like their hometown brethren in the Funkadelic camp, the Hackneys took a huge inspiration from the MC5 and the Stooges and wanted to make music with a strong social message. But whereas the Funkadelic family opted for sonic heaviness and a deeply psychedelic groove, the Hackneys threw their collective muscle into banging at tunes at breakneck velocity -- jettisoning all traces of their prior funk and r & b sound in order to kick out the jams.
In the course of their brief career, the Hackneys only recorded a handful of tracks. Capitol Records came courting the band, but a disagreement with the label over marketing issues scuttled the band's attempt to cut a debut album. From Death's limited (and largely unreleased) discography of seven recorded tracks, the crew at Drag City offers to whole kaboodle on ...For The Whole World To See.
As evidenced on ...For The Whole World To See. Death specialized in the sort of proto-punk noise that began to leak out of various dying Rust Belt and East Coast cities in the early '70s. "Freakin Out" dives straight for pre-Ramones whiplash-inducing chops, while "Rock'n'Roll Victim" kicks off with a rapid 1-2-3-4 count-off before launching into an accelerated glam-rock boogie. The multi-part sprawl and rolling drum solo of "Let The World Turn" falls somewhere in the garage-prog lineage between the Chambers Brothers' "Time Has Come Today" and Pere Ubu's "30 Seconds Over Tokyo." And by the time you reach the CD's closing track "Where Do We Go From Here?" and "Politicians In My Eyes," the listener has an uncanny sense of '80s-style hardcore taking shape years before the fact.
...For The Whole World To See falls just shy of the 30-minute mark -- an EP-length release, effectively. Nonetheless, it's enough to provide a rare glimpse down an obscure offroad of punk's formative years (to say nothing of the history of the black rock and afro-punk undergrounds).
The CD release of ...For The Whole World To See is now available via the Drag City label. (And in light of today's disheartening news, interested parties might want to move quickly to get a copy.)