Event Tue Apr 28 2009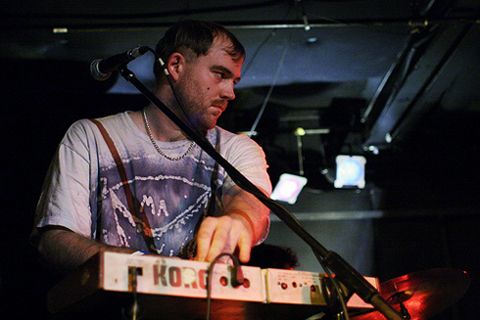 As it happens, the Lumpen-organized Version>09 is winding down for the closing night of its eighth annual arts and media activities this Saturday with the Chicago Art Parade and this year's episode of the Journey To The End Of The Night street-game event. As it happens, all of this coincides the latest cross-country tour from the Olympia-based K Records stable rolling into town, so it looks as if the two parties decided to merge paths for an evening of music at the Co-Prosperity Sphere.
Headlining for the occasion is Chain And The Gang, which effectively makes for the latest musical incarnation of Ian Svenonius -- previously the frontman for Nation of Ulysses, The Make-Up, Weird War, and author of the 2006 subcultural polemicist screed The Psychic Soviet. Also on the bill in a supporting role are the Hive Dwellers. Both bands, reputedly, are more or less the same groups of musicians; an ensemble of various members of bands from the K Records network -- except that as C&G they back Mr. Svenonius and as the Hive Dwellers they accompany K Records founder and former Beat Happening/Dub Narcotic Sound System impresario Calvin Johnson. And if that billing wasn't confusing and incestuous enough, Calvin Johnson is slated to get the evening's show rolling with a set of solo material.
Of local musical interest for the show: Chicago's own Mahjongg are also along for the tour, and they'll be appearing in the second slot. Unsubstantiated rumor has it that the experimental electro-funk quintet have recently started laying down some tracks for a new album, so perhaps fans can expect to hear some new material during tonight's performance.
And as of this writing, story has it that the Brooklyn/Chicago-based trio These Are Powers have recently signed on to play a special "late-night party" set.
Everything's scheduled to get under way at 9 PM at the Co-Prosperity Sphere -- located in the Bridgeport neighborhood on the near South side. Tickets are $10, and it's a 21+ show. 3219-21 South Morgan St.
[video]: Chain And The Gang - "Reparation"
[video]: Mahjongg - "Tell The Police The Truth"
[video]: These Are Powers - "Chipping Ice"