Feature Thu Oct 01 2009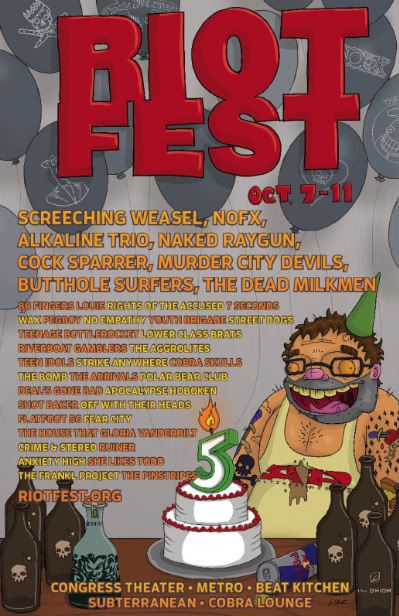 Grab your Chuck Taylors and safety pins, kids -- Riot Fest 2009 is coming to Chicago October 7th. The festival that brought us reunions by the Blue Meanies and Naked Raygun, among many, many others, is back at it again with more reunited punk heroes and local talent. Besides the five days of punk music spanning generations going down at venues around the city, they've also got a bowling tournament and film screenings planned for the week. This year marks Riot Fest's fifth year in Chicago, and each year they've only been expanding and bringing in more and more exceptional acts.
Wednesday
A band with one of my favorite names of all time -- the Butthole Surfers -- will be kicking off the festival over at the Metro. The band's gone through a few line-up changes in the 28 years they've been together, but this show (and their entire fall tour) will have the reunited '80s line-up, still putting on those wild live shows that they're known for. According to their MySpace, this won't be the show to go to if you're hoping to hear "Pepper." My guess is they'll be breaking out some old songs we haven't heard in ages. The Bomb and The House that Gloria Vanderbilt open this all ages show at the Metro.

Thursday
Wax will be opening for Naked Raygun Friday night at the Metro, but if you aren't able to attend that show or are just way too anxious to catch them live, they'll be playing at Liar's Club on Thursday night. This band had a music video banned from MTV -- how punk rock is that? The video, directed by Spike Jonze, features a man running in slow motion while covered in flames. Let's hope they bring the fire to this $5 show at the Liar's Club. Not to mention, this will be their first live performance in over 14 years. No biggie. Tickets will not be available in advance, only at the doors, which open at 8 pm (though I'd suggest arriving early). Sorry underagers, this one's 21+.

Friday
Chicago punk legends Naked Raygun will grace the Metro stage at the festival. Riot Fest reunited them back in 2007 and is doing it again in 2009. The band's just about to release the first 7" in a series of 7"s containing their first newly recorded material in 12 years (which can be purchased here). It's a very exciting time for Naked Raygun fans and this will be the must-see show at Riot Fest, especially if you missed the Riot Fest secret show they played a couple weeks ago (check out some photos from the night over on PunkVinyl.com). Rights of the Accused, No Empathy, and Wax open the all ages show at the Metro. After you're done purchasing your tickets for the show, make sure to check out Transmission's interview with the band last January.

Saturday
The Dead Milkmen's "Stuart" and "Punk Rock Girl" were staples in the countless mix tapes I made for friends in high school. Their bratty humor earned them a cult following back in the late '80s and early '90s, but after the bassist developed tendinitis and their battles with their record label, they decided to call it quits back in 1995. Then in 2008 they reformed (with a new bassist) at Fun Fun Fun Fest in Austin, and have been performing together ever since. They'll be stopping by the Metro Saturday night, along with Teenage Bottlerocket, Teen Idols, and Anxiety High. If you loved Atom & His Package in the late '90s, or are currently digging Totally Michael (less punk, more synth pop -- same bratty songwriting), this will probably be the show for you.
If the Dead Milkmen aren't your thing, luckily Riot Fest offers many Saturday night options. The Congress Theater has a huge line-up that night, including NOFX, Cock Sparrer, 88 Fingers Louie, Street Dogs, Youth Brigade, Shot Baker and Off With Their Heads. The show is all ages with doors at 4pm. The Aggrolites, Beer Nuts and Cobra Skulls will be holding down the fort over at Subterranean with a 17+ show happening at 10 pm. Not to mention Strike Anywhere, Polar Bear Club, Crime in Stereo and Ruiner will be playing an all ages show over at the Beat Kitchen at 2pm.
Sunday
A highly anticipated show at the fest is going down at the Congress Theater on Sunday night. Chicago's own Screeching Weasel have just recently reformed and have had a tumultuous go at it, after founding member John Jughead was not invited to join the reunion. But what would Riot Fest be without a bit of controversy? Whether you're outraged that Ben Weasel is performing under the Screeching Weasel name without John Jughead or you're just happy to see these songs played live, it'll sure be interesting to see a Jughead-less Weasel. Goth punks Alkaline Trio will be sharing the bill. Alk3 have been working on a new album, which they'll be independently releasing sometime near January 2010, according to the band's Twitter. As if the line-up couldn't get any better, Pegboy, The Arrivals, and She Likes Todd will also be performing this night at the Congress.

There are several ticketing options available for Riot Fest. Right now there's still a very limited amount of 5-day wristbands available for sale, which will have to be picked up at the Riot Fest office at 1048 N Ashland. You could also pick up a Congress Theater pass or Metro pass, or just buy individual tickets to the shows you want to attend. Head on over to the Riot Fest ticketing page for all your ticket needs, or buy physical tickets at the Cobra Lounge, Bleeding Heart Bakery, or the Metro box office (for Metro shows only). And don't forget to check out RiotFest.org for the full show schedule. We've only just touched upon the immense amount of awesome shows they've got in store for the festival. I'd also suggest following the Riot Fest Twitter for information on surprise shows and anything else they've got hidden up their sleeves for us. It'll be a crazy week, and you won't want to miss it.