Feature Thu Dec 31 2009
We decided that there was too much going on in Chicago music for a simple Top 10 list. Therefore, what follows (in no particular order) is a compilation of superlatives we'd like to award to our favorite, or at least most memorable, Chicago music tidbits of 2009. Enjoy, and have a safe and happy new year!
Favorite Live Covers
From Metallica covering the Misfits to Karen O's Lux Interior impression to Justin Townes Earle's arsenal (John Prine, the Carter Family, Buck Owens, Mance Lipscomb, etc.) to Soulsavers' brooding "Jesus Just Left Chicago", it was a very good year for the live cover and hearing songs you know by heart in a different manner by someone else who clearly loves them too. Below are my favorites from 2009:
Max Tundra — "So Long, Farewell" (April 2 @ Metro)
It's not every day that a staple from The Sound of Music is covered by a gimmicky electronic musician, but Max Tundra turned it upside down as a spastic closer. The otherwise dead crowd even managed a hearty chorus singalong. Not bad for an opener.
The Thermals — "Basket Case" (July 19 @ Pitchfork)
As soon as Hutch Harris sang, "Do you have the time to listen to me whine, about nothing and everything all at once", the Thermals' hesitancy in covering Green Day at Pitchfork should've been alleviated. With a massive singalong ensuing, there was no doubt that the Thermals did their pop-punk elders justice.
Brendan Benson — "Sucked Out" (Aug. 20 @ Schubas)
Brendan Benson doesn't cover a lot, but he tends to make those few worthwhile. Early during a preview show for his new album, the power-pop singer surprised an audience who all seemed to turn to their friends to smile, nod and say, "I fucking love this song." The hooks were a little more raw than the Superdrag hit and Benson's voice had some trouble hitting John Davis's highs, but the cover kept the mood of the original while adding a few twists and turns. Highly recommended.
— James Ziegenfus
Oddest, Yet Coolest Line-Up
Primus, Saul Williams, Secret Chief 3 and Devotchka (March 21 @ The Riviera)
Frankly, I went into this show with some trepidation. I haven't dug a Primus CD since The Brown Album, and I really didn't understand how Les Claypool's solo gig was going to mesh with Saul Williams' aggro slam-poetry-meets-post-punk, the Secret Chief 3 and their Middle Eastern metal, and Devotchka's bolero- and slavic-infused Americana. And yet Claypool's "The Oddity Faire" tour totally worked: Devotchka was beautifully moody, Secret Chiefs were appropriately droney, Saul morphed into a space-age Sly Stone, and Les surprised me, playing bass with just a percussionist and cellist (all wearing matching masks to freaky effect). Best of all, all the bands came together at the end to play a cover of the Tom Waits stomper "Russian Dance."
— Kara Luger
Top 5 Shows of 2009 in No Particular Order
Shellac @ Jay Pritzker Pavilion
It's hard to sound like a massive band amongst the confines of the huge stage at Millennium park. But Shellac did just that on a cool summer evening, with a no-frills set of just good hard aggressive rock music. The band has swagger, crazy intensity, and are simply thrilling. And really loud, all traits that you don't except to see at some free lazy summer concert series. Young bands take note; this is what raw power sounds like.
Grizzly Bear @ Metro
Amongst twinkling jars of light and a hushed audience, Grizzly Bear floored me with the force of their new material live. A band that I've found soft comfort in before became haunting, intense, brooding, and breathtaking. Their live show made me revisit their entire catalog as soon as I got home, and I didn't stop playing them on repeat for at least a week. It also made me appreciate their latest album even more, and left me with one of my favorite concerts of the year.
Scotland Yard Gospel Choir Secret Show
I've never been a huge fan of the SYGC, but after getting interested in their latest album, I tagged along to a small intimate show at their house for friends, family, a few fans and press. Lead singer Elia welcomed me into his home, handed me a beer, and soon enough led the band through a solid stream of classic favorites and new material in his somewhat small living room. The night was about music, the people who make it, and the fans who love it. Not about record or merch sales, payout at the end of the night, or playing because you have to. It was a reminder just how powerful music can be as a connector, and the strong community it makes.
Dan Deacon Lollapalooza loft show
On one of the hottest nights of the summer, I climbed the stairs of what should have probably been a condemned building, paid in cash and alcohol, and then spent some time laying on the floor while Dan Deacon instructed me on how to feel music. Everyone was hot and sweaty, it stunk of booze, sweat and dust, but it was totally worth it. Deacon played a drone meditative piece, while instructing movements to the crowd to follow, and for a brief period of time a bunch of weird kids tried to reach their inner music nirvana. Thanks guru Deacon.
The Gossip @ Metro
If you need an example of what a die-hard following is, then look no further than Beth Ditto and her posse of fans flooded the Metro. Ditto, who annoyed me the last time I saw her, won me back as a fan with her southern drawl and charm, conversing with others from her home state like she just ran into an old friend at Wal-Mart. She doesn't put up a front, she is who she is, and she is one helluva powerful force when a song starts up. The intensity of her floored me, and proved that when it comes to having the talent to front a band, you've either got it or you don't.
— Lisa White
Greatest Show of Support After Tragedy
Scotland Yard Gospel Choir's Van Accident
Right after their latest album ...And the Horse You Rode In On debuted, the members of Bloodshot band Scotland Yard Gospel Choir were in an amazingly bad van accident. Luckily, all of the members survived, and their injuries are healing (bassist Mark Yoshizumi was recently released from the hospital). What followed was an amazing outpouring of support from the local music community including the donation of instruments to replace those lost in the wreck, benefit concerts, and a sweet video shared online. Help out with medical costs and help the band get back on stage by donating via PayPal.
—Anne Holub
Best Place in Which to Squeeze a 30-Person Marching Band
Mucca Pazza & Detholz! @ Jackhammer, 8/14
My new favorite venue is the Jackhammer, a longtime bastion of gay good times located near the corner of Clark and Devon. Part of this is thanks to The Flesh Hungry Dog Show, who have been bringing Chicago bands to the venue since 2005. The other highlight of the Jackhammer is Barbie, the hostess with the mostest, serving her own special Barbie shots. That August night, the place was packed and it only got crazier when the members of local favorite marching band Mucca Pazza began playing on the stage, through the crowd, and on the bar.
— Kara Luger
#1 Reason to Brave the Rain on Day 1 of Lollapalooza: Hey Champ
Chicago's very own was lucky enough to land a slot on the main stage at noon on Friday and although the rain was pouring down, Hey Champ attracted a pretty large audience to open the festival. The crowd grew as their set went on and muddy dance parties ensued when they played their breakout hit, "Cold Dust Girl." We're looking forward to what 2010 has in store for the trio, including the anticipated release of their debut LP.
— Michelle Meywes
Favorite 2009 Releases That Have Chicago Ties
- Kid Sister, Ultraviolet
Sure, Kid Sis took forever to drop her album, but the wait was worth it when she cranked out track after track of hyperactive "get your ass on the dance floor" jams. It's electronic based hip-hop with a dash of sugary pop, all delivered by one of the sweetest girls working in the music business these days. Thanks to this album I've attempted to juke all over my apartment, and now try to use the term "Coca-cola shake with an onion in the back" in my daily vocabulary.
- The Hood Internet, The Mixtape Volume Four
I'm a huge fan of mash-ups, so it's no surprise that I'm so smitten with The Hood Internet's latest release. Whether I'm keeping beat while running, dancing around my kitchen while cooking dinner, or hard at work on my computer, this mixtape has been the perfect soundtrack to keep me motivated and focused. Sure, I've got my favorites (Drake vs The Rapture-Best Jealous Lover I Ever Had), but put this mixtape on, and I'm ready to go. Hood Internet, you had me at Keyboard Cat vs R. Kelly.
- Ha Ha Tonka, Novel Sounds of the Nouveau South
I've been preaching the gospel of Ha Ha Tonka ever since I saw them perform at Ribfest a few years ago. One of the fine bands on the Bloodshot Records roster, Ha Ha Tonka is originally from Missouri, but they call Chicago their second home (and not just because of Bloodshot being here). They've got friends and family across the city, a rabid fan base, and I know at one point one member of the band was living in his car on our fine streets (or so he told me). They've toned down and explored different techniques and sound on this album, and I love the fact that when comparing it to their debut, you can clearly see they are a band expanding and growing, not just settling for one sound. "Novel Sounds" is the promise of great things to come from Ha Ha Tonka.
— Lisa White
The Best Venue to Catch a Free Show
With the economic troubles that so many in the city faced over the last year, several venues saw and met the need for free shows. However, my favorite venue this year wasn't just free on Monday's, but is free every night. The Whistler in Logan Square never has a cover and also happens to be one of the nicest spaces in the city. If that wasn't enough they strive to book the top local bands and often give stage to bands you don't often see at other venues. So as you ring in the new year make your way to The Whistler, have a fine cocktail, and catch a free show.
— Jason Behrends
Best Reason for a Zombie Walk

Photo by Kirstie Shanley
The Death of Michael Jackson
Zombies were quite popular in '09 as were zombie walks. They were held all over the city (and all over the country for that matter) for no real rhyme or reason other than to descend their bloody corpses on unassuming passersby.
But this summer, The Thriller musician's death shocked everyone and launched many of his albums back to the top of the charts. As a tribute to the King of Pop, hundreds took over Wicker Park on the one month anniversary of his death for the Thriller zombie walk to reenact the famous dance from the music video and remember the man that soundtracked our lives throughout the '80s and '90s. See all of Transmission's intrepid photographer Kirstie Shanley's pics from the walk here.
— Michelle Meywes
Top 5 Under-Appreciated Jobs in the Chicago Music Scene
- The girl who mans the coat check at the Metro. She's friendly, she's good at small talk, and she tends to remember me (or at least pretends to). It's nice to see a friendly face before heading back out into the bitter Chicago cold.
- The box office employee you never see. I'm talking about the guy you call when your ticket printer stops working. I worked the box at a previous job, and the guy we'd call at Ticketweb always got back to us in record time, was cheerful and friendly, and fixed the problem right away. And when you are having a problem printing tickets to a show that opens in an hour, he's your saving grace.
- The indie label intern. They stuff your mailers, they give you insight into their demographic, they update massive databases, and they do it all for free. Sure, they might get school credit, are definitely learning some life lessons, and will probably score some free music, tickets, and merch, but chances are against them getting a job out of it. And if they do get a job, most likely it's starting at the bottom and for little pay. When people say they work in music because they love music and not for the money, they aren't lying. A great intern helps out a lot because they love music, so thank them often and remember it's about the little people. (We had a lot of nice things to say about interns this year in Transmission.)
- The publicists/venue reps/artist/people that add a little extra touch. Hook me up with an extra ticket for a friend, clue me in to the exact set times of each band, or call to let me know a list has changed a few hours before a show and I'm forever grateful and a huge fan of you for life. It's the little things you remember, and I try to thank the people that go above and beyond whenever I can.
- You. As corny as that sounds, it's the truth. Chicago has an amazing music community. Seeing a sea of familiar faces at a show, a nod or a hug hello from another writer or musician that I know, makes me realize that I am home. We're lucky to have some of the best bands, the best venues, and so many other amazing people in the music community in Chicago. I tried New York briefly, and I moved back right away because I missed this place, this community, too much. Sweet Home Chicago indeed.
— Lisa White
Best Kids Shows at Grown Up Places
Little Miss Ann (Nov. 15 @ The Beat Kitchen)
A sweet voice with love in her heart, Ann Torralba who goes by Little Miss Anne is adored by the little ones. I have heard kids say "There she is! That's Little Miss Ann!" Her Beat Kitchen show last month made the day of many children who knew each word of her songs by heart.
Justin Roberts (Dec. 12 @ Martyr's)
I have always seen Justin at The Old Town School of Folk Music, so it was a nice change of pace for him to be at Martyr's even though the setting seems so un-kid friendly, it worked!
The Entire Bloodshot Records 15th Anniversary Beer-B-Q (Sept. 12 @ the Hideout)
I Totally didn't expect there to be as many kids as there were, but they were the ones that made the party happen. Between Jon Langford and Sally Timms, Moonshine Willy and The Scotland Yard Gospel Choir, the kids danced and were an example of how to really have a good time. The rest of us drank beer. Scott H. Biram kinda scared them all away towards the end.
— Aharona Ament
Messages to the Five Worst Concert Crowds of 2009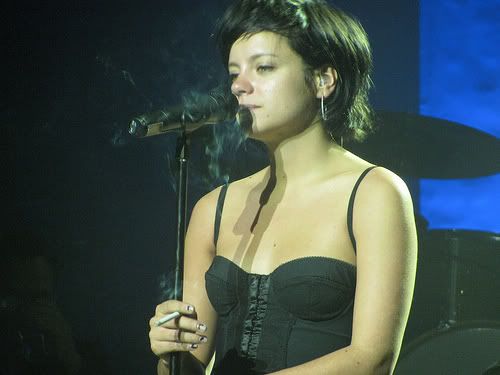 Lily Allen is not amused.
Harvey Danger (Aug. 15 @ Schubas)
For the most part, you guys were great, and this was one of my most memorable shows of the year. Harvey Danger played an excellent set, you all asked the band some hilarious questions and a good time was had by everyone...except the two people who happened to be standing directly in front of me. Look, I understand that you both traveled a long way to get to the show, and therefore don't have a place to go hook up afterward. Girl, I heard you whisper to your friend that you haven't gotten any action in awhile and hey, this guy lives in a different state and you'll never have to see him again. But still, it's pretty sleazy to suggest to this stranger that you two head over to the photobooth for some hanky panky. And then when you get shot down because this guy actually wants to watch the band, that's your cue to head over to the other side of the venue in shame. But no, you had to grind up on him for the rest of the show, distracting me and everyone else around you. Try the alley next time.
Neon Indian @ Kia Soul Collective party (Sept. 10)
I have no complaints about anyone at this show. There was only one problem — there weren't enough of you! With all the buzz this band has gotten in 2009, you'd think more than about 20 people would show up — especially considering this show was free, and had free beer as well. Where was everyone?
Lily Allen (April 12 @ The Riv)
Attention guy punching and shoving everyone in sight: Do you realize you are at a Lily Allen concert? Really, do you know where you are? Do you understand that you are a pretty big dude and most of the people in the crowd are half your size? What, are you trying to mosh or something? Again, do you know what concert you are at? When Lily has to stop the show to tell you to calm the hell down, that doesn't make you cool for getting so much attention, though I'm sure you loved every second of it. It makes you a douchebag.
Andrew Bird (Aug. 6 @ Lollapalooza)
Maybe I've been spoiled. The crowd at any given Andrew Bird concert is usually very respectful and relaxed. Just the night before, I had the pleasure of seeing Andrew in a much more intimate environment at Schubas, and I was already on an Andrew Bird high before the set even started. Lollapalooza was a whole different story. Did any one of you even know who Andrew Bird is? I cannot even count how many "I think he plays violin or something" comments I heard. And hey, big group of frat guys who know nothing about music and are only there to have a place other than the Cubby Bear to get wasted: I'd like to actually hear Andrew play, not you clowns hoot and holler at each other.
Nine Inch Nails (Aug. 28 @ Aragon)
Well hello, backwards Bears baseball hat guy knocking people over to push your way to the front. No need to apologize for headbutting me, it's cool bro. Yeah, this is (supposedly) the last Nine Inch Nails tour, and could very well be the last time everyone in the crowd will get to see this band live. But you know, you're right — we'd all rather hear you loudly joke about the amount of weed you have in your backpack while Trent Reznor is crying onstage during an emotional performance of "Hurt". That's why every other person at the Aragon is completely silent -- we all want to hear every single last word you have to say. Thank you for taking it upon yourself to entertain us.
— Stephanie Griffin
Best Bands I Discovered this Year That are Going to be on the Best of 2010 Lists
Puerto Muerto
Nick Cave and Nina Simone got married. At least that is what this husband and wife want us to think. With sultry vocals and cabaret style madness mixed in with a little punk and old world style gypsy music, we all are going to be at their mercy come February when their album Drumming For Pistols is released.
Do Make Say Think
I just discovered this band not too long ago and was a little upset that sometimes it takes me a while to find bands that I fall in love with. While the name is a bit puzzling, Do Make See Think is becoming one of my favorite in the Post-Rock genre. The jazz inspired Canadians just released their sixth album entitled Other Truths in October.
The Big Pink
I kept hearing about The Big Pink, but it wasn't until I went to their Empty Bottle show that I discovered what exactly I was missing. They are a band preys on all your senses and even if you don't catch them live when they return this spring, you could always light some candles, turn on the smoke machine and let them take you.
— Aharona Ament
Best Long-Awaited Albums
Lee Fields & the Expressions -- My World
Lee Fields has been on Truth & Soul for years with only a few singles as output. It was time for an album. The music is reminiscent of sweet soul in the vein of the Delfonics and Arthur Conley. An all-star band backs the rough yet delicate vocalist for some of the best and innovative soul and funk of the year. (Lee Fields & the Expressions headline an evening of Tomorrow Never Knows with JC Brooks & the Uptown Sound and Shilpa Ray at Lincoln Hall on January 17.)
Kid Sister -- Ultraviolet
Honestly, I thought Dream Date Ultraviolet would be an R&B/rap album. Much to my surprise, it's really more of an electronic album. An array of producers have culminated on this much-anticipated olio from Chicago's latest star and it's not so bad for a debut that's been hyped since 2007 when "Pro Nails" jumped out.
Raekwon -- Only Built 4 Cuban Linx... Pt. II
It's pretty amazing that Raekwon somehow made a good album out of one that'd been in the works for over four years, especially since it was also the sequel to a classic. (At least no one's saying that this is better than the original.) Following along the mafioso rap trajectory that the original implemented, this album's highlighted by Raekwon's rhymes, though his Wu-Tang colleagues make worthwhile guest spots. And the production from numerous icons makes this a top-notch effort worth the wait.
— James Ziegenfus
Best Show for People Watching
Jamie Lidell (July 25 @ Congress Theatre)
Jamie Lidell's show at the Congress this summer was one of the strangest shows I've ever attended audience-wise (which I guess is what you guess when you start passing out tickets on the street to an undersold show, during a Michael Jackson Thriller Zombie Walk no less— see above.) The best part though, was that despite the sparse attendance and shenanigans, Lidell played a great set, complete with a killer encore.
Here we rank the top five strangest of the night:
#5: Girl Talk may have the market cornered when it comes to parties on stage, but the number 5 spot goes to the few who attempted to give him a run for his money and made it past security and onto the stage (which unfortunately made for a strange, sad looking dance party next to Mr. Lidell's equipment table).
#4: The guy who offered me a free bus ride to the show. (Yes, the strange night started before we even got to the venue.) Thanks, but I'll wait for the real bus.
#3: The barefoot dancing hippies in front of the stage. Didn't know a mix of electronic and soul attracted the earth-loving type.
#2: The pregnant girl dancing on stage wearing the Busch Beer knockoff tee, complete with the line "If you like these mountains, you'll love my Busch."
#1: And the number one spot goes to... the girl who lit a sparkler inside the auditorium. Lighting fireworks inside a public building is probably the fastest way to get yourself removed from the premises.
— Michelle Meywes