News Fri Feb 05 2010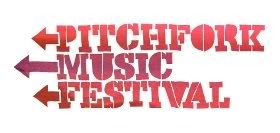 True to their word, our numeric-rating-centric neighbors have announced the first acts for this year's Pitchfork Music Festival. To no one's surprise (thanks to Greg Kot) Stephen Malkmus will be coming back with some band who's not the Jicks. Modest Mouse will be floating through their own Friday night performance (which so far has not been designated as a single-album performance, so keep your eyes peeled). Saturday night brings none other than LCD Soundsystem and Raekwon (who hopefully won't face any mixing board problems - James and the chef would be the last ones I'd want to sonically offend). On the other end, who knows what kind of production notes are given for Lightning Bolt on Sunday - suffice to say there won't be any napping going on at that point. But fear not! The charming St. Vincent, old-timey-but-not-that-old Cass McCombs, and rising duo of Sleigh Bells will be around to soothe you at some point Sunday as well (maybe directly after - Laughing With a Mouth of Blood could reach a whole new level with Brian Chippendale's drums tearing a cameo through it).
Here's the schedule so far:
Friday, July 16th:
Modest Mouse
Saturday, July 17th:
LCD Soundsystem
Raekwon
Sunday, July 18th:
Pavement
St. Vincent
Lightning Bolt
Sleigh Bells
Here We Go Magic
Cass McCombs

Tickets go on sale today at noon, and can be purchased here. The price has gone up a bit this year, but Friday's festival will be starting at 4 pm (much earlier than past years). And hey, unless you scored yourself some Golden Tickets, it's a heck of a lot cheaper than Lollapalooza. Single-day tickets are $40, and a full three-day pass will cost you $90. Weekend passes will not be available this year.
[Stephanie Griffin also contributed to this post.]