Review Mon Oct 18 2010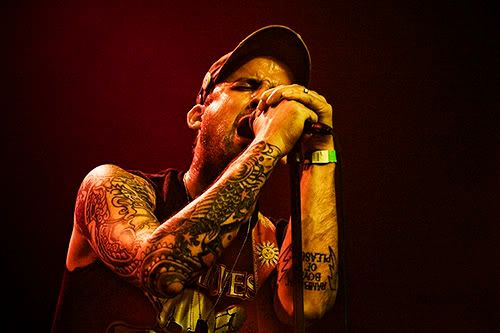 The Lawrence Arms. All photos by Katie Hovland.

For any fan of punk music, Riot Fest is a mecca. If it is not the world's largest punk festival, it is certainly up there, and each year they somehow continue to expand and bring in even more exceptional acts. Now that we've had a full week to recover from Riot Fest (and I've had a week to recover from the massive flu I somehow caught at the festival), let's take a look back at the memorable moments at this year's explosive fest.
Propagandhi
Thursday night brought us Red Oktoberfest, the showcase of Chicago label Red Scare Industries, over at Metro. This yearly event teamed up with Riot Fest for the first time in 2010, featuring Red Scare artists Cobra Skulls, Copyrights, The Brokedowns, and Vultures United along with a band not on Red Scare but who likely inspired many Red Scare artists, Propagandhi.
Lawrence Arms frontman Brendan Kelly began the night with a rare acoustic set. The short set included mostly stripped down versions of Lawrence Arms' songs, but also included a couple originals before the rest of his band joined him on the Metro stage for one last song, a preview of their rocking set at the Congress Theater the next night. The rest of the night was downright rowdy as each band became progressively louder and crazier.
The show was capped off with political punks Propagandhi. As I've gotten older I've become less and less rambunctious, so I had to scoot up to the balcony as moshers completely dominated the downstairs floor at Metro. Propagandhi frequently comprised much of my 'jumping around in my bedroom' soundtrack in high school, but unfortunately I haven't listened to much of the band since those days and they tended to stick to mostly newer material at Metro. They did throw in a few gems from the old days and I was thoroughly impressed with their more recent work, so all in all it was a fantastic night.
The Bouncing Souls

The Congress Theater may not be my favorite venue in the city, but each year the shows at the Congress embody the spirit of Riot Fest moreso than any other venue. From the AP Magazine meet-and-greet booth out in the lobby, to the raging mosh pit on the ground level, to the filthy, enter-at-your-own risk bathrooms, for some reason the Riot Fest shows at Congress always tend to bring in the most diverse crowd in style and age. Friday night was no exception, as Bouncing Souls, Circle Jerks, Lawrence Arms, and the legendary Bad Religion graced the stage.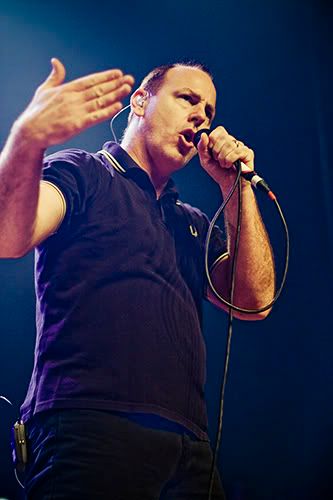 Bad Religion

Sadly, with so many bands jam packed into one night, Bouncing Souls only had a 30 minute set. This, in combination with singer Greg Attonito's injured foot, meant their performance was not as lively as I would have hoped. Due to long washroom lines, I missed a good portion of Circle Jerks' set, but from what I saw, the crowd seemed to be digging it. The Lawrence Arms lit up the venue with some intense, hard-hitting punk rock. The band seemed really happy to be at the festival and even happier to be opening for Bad Religion. Bad Religion marched on stage with "Pomp and Circumstance" blasting through the venue, before bursting into the classic "Do What You Want". The crowd went absolutely nuts for them, and the band completely dominated that stage. The band may be showing clear signs of aging, but they certainly have not lost their ear-splitting intensity.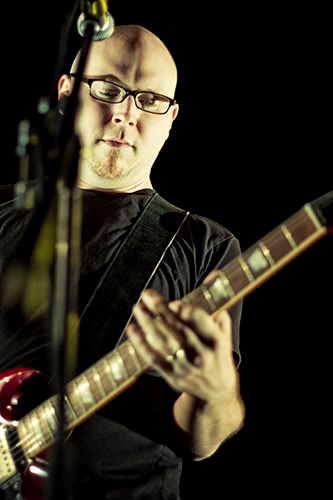 The Smoking Popes

Our wonderful photographer Katie Hovland and I ended up at different venues across the city on Saturday night to cover as much Riot Fest ground as possible. Katie headed over to Metro for what has been announced as Cap'n Jazz's last Chicago performance, as well as a performance by another hometown favorite, The Smoking Popes. Here's what she had to say:
Witnessing two of Chicago's most influential bands on the same bill was historic to say the least. The Smoking Popes delivered a blistering thirty minute set at Metro on Saturday night, which featured a brand new song called Punk Band that will be included on an album of all new material which will be out on Asian Man Records next spring.
Cap'n Jazz frontman Tim Kinsella summer-salted around the stage, played the French Horn, banged a tambourine and jumped into the crowd. They gave one of the most kick ass performances I've ever seen.
Cap'n Jazz

Meanwhile, I spent the night rocking out over at House of Blues for the much poppier sets of fun. and Steel Train. This night at House of Blues was a bit of the show that Riot Fest forgot, seeing as though the show had a completely different vibe than the rest of the festival. Gone were the mohawked, safety pinned audience I saw the night before at the Congress, and in its place I found a much younger, mostly female crowd. While this show was officially a part of Riot Fest, I saw not one Riot Fest banner, none of the musicians mentioned the festival and I have a feeling that a good portion of the audience didn't even realize the show was part of something much larger.
Fun. and Steel Train share member Jack Antonoff, and as I mentioned in my Riot Fest preview, due to conflicting tour schedules it is a rare treat to be able to see fun. as a complete whole. When Jack Antonoff is in the house, the band is an entirely different monster - they're rocking harder, louder, and you can tell they're all having a great time doing it. Fun. usually tend to throw a cover of singer Nate Ruess' former band, The Format, into their sets, and much to my delight Saturday night they covered my favorite Format song, the slightly overly-theatrical "Dog Problems". Fun.'s strength lies in their ability to tell a complete story in one song, only amplified by Nate Reuss' incredible voice. They ended the night with "Be Calm" and "Take Your Time (Coming Home)", two songs that had the entire crowd dancing and singing at the top of their lungs.
The organizers behind Riot Fest are already taking suggestions for the 2011 festival over on Facebook. The Specials? Rancid? Pegboy? I'm sure they'll have tons of surprises in store for us.