Review Sat Nov 13 2010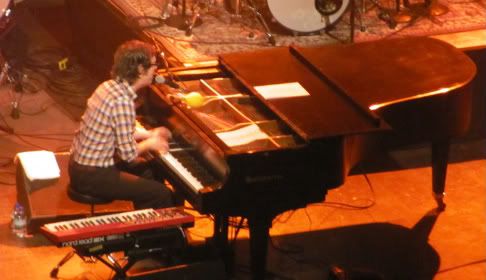 I don't think it is possible to see Ben Folds live and have a bad time. Between his goofy songs, exuberant audience sing-a-longs, dorky sweaters, mopped hair and glasses, he never fails to be entertaining. Ben had a piano and backing band in tow for Friday night's performance at The Riv, and as usual, he delivered.
With Ben playing piano with his feet and constantly joking around with the audience, typically a Ben Folds show is not terribly serious. However, usually he sends away the backing band for a few songs to slow it down with a short solo performance. Friday night's show lacked any such break, with his standard fast-paced piano thrashing dominating the set, so much so that when Ben left the stage at the end of the night, I was completely surprised that it was already over. For me it felt like the show had just begun. While I am not saying that every one of his concerts needs to be formatted in the same fashion, possibly throwing in "The Luckiest" or "Boxing" or any one of his more emotion-filled tracks could have helped break up the set a bit.
A welcome change from his usual fare was the lack of explanation of every song. In my experience, Ben Folds fans seem to be serial Folds concertgoers, and I would guess at least 80% of the audience had seen Ben live before at some point in time. Ben has several songs that require audience participation, and a big complaint of mine in the past has been his long and arduous instructions on how to follow along, when the majority of the audience has heard it time and time again (or at the very least have heard the album Ben Folds Live). By now, everyone knows when to scream "Bah buh buh BAAAAH!" in the middle of "Army", but for the first time he didn't prep the audience on when to "buh" and when to "bah". And guess what? We managed just fine on our own.
Ben has always been up for some interesting collaborations, and his newest album is no exception. Lonely Avenue features the one and only Nick Hornby, who provided all lyrics to Ben's music for the album. I've heard the album, but haven't yet had the chance to really delve into it, so I was anxious to be able to hear these new songs live. Considering Ben already has a certain storytelling quality to his songs, the Hornby-written tracks didn't stray too far from the norm. He played several songs of the latest album, amongst a spattering of older favorites like "Annie Waits" and "Kate". Ben Folds certainly provides the opportunity to let your geek flag fly and scream the lyrics to every song.