Review Mon May 23 2011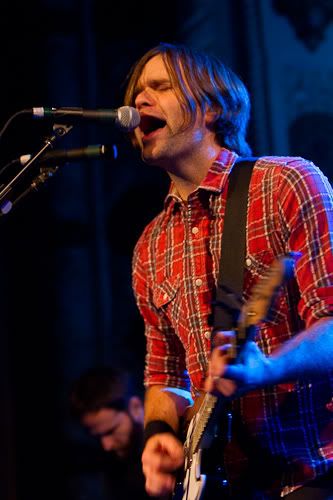 Ben Gibbard (Photos by Steve Stearns)

In anticipation of their upcoming album, Codes and Keys, Seattle indie rock heavyweights Death Cab For Cutie embarked on a small tour of much smaller venues than the band has been accustomed. In a show that sold out almost instantly, the band swung by Metro Friday night to debut their new tracks and play some old favorites. The last few times they've come through our fair city, Death Cab played Aragon and Lollapalooza, making this night at Metro a rare experience for fans.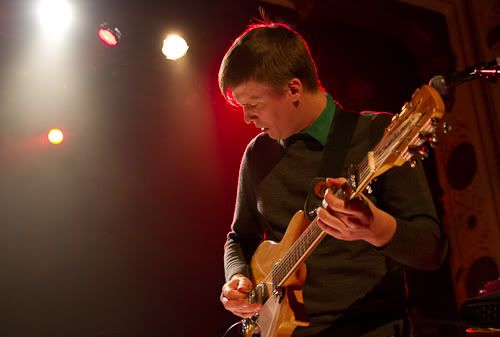 Chris Walla (Photos by Steve Stearns)

While we were treated with a preview of a majority of Codes and Keys, the just under two hour set was filled with songs spanning their over decade-long career. Between the straight-forward pop of "The Sound of Settling" to the lengthened build-up of "I Will Possess Your Heart" to the keyboard-heavy, melodic new tracks, the discernible evolution of the band was showcased in full. The true advantage of seeing Death Cab in such an intimate venue stood out in the softer moments of their set, such as the "I Will Follow You Into the Dark" sing-along and at every point during the night when Ben was seated behind a keyboard instead of rocking out behind a guitar.
The crowd was anything but homogeneous, as I witnessed an older, grey-haired gentleman shove his way to the front of the crowd amongst the typical legion of bespectacled indie rock kids and the almost surprising number of bros. The band pulled out a few surprises for us, including "Photobooth" off The Forbidden Love EP and "Company Calls" off We Have the Facts and We're Voting Yes. However, their closing hit "Transatlanticism" is what really got the crowd riled up, and I was almost knocked off my feet from the frenzied dancing of my nearby concertgoers.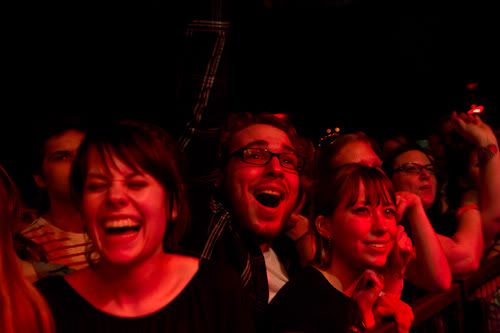 Eager indie rock fans (Photos by Steve Stearns)

While I have been following the band since early in their career, this was my first time experiencing a live Death Cab show, and fortunately for me it was in a venue as small as Metro. The band returns to Chicago later this summer at UIC Pavilion, but they seem far better suited to be playing cozier venues than large arenas. I'd be interested to see how the band performs with all of the fanfare an arena-sized show requires.
Codes and Keys will be released May 31st off Atlantic Records, but the album is currently available for preview over at NPR.