I'll admit, I've never been the biggest Dave Matthews Band fan, but with a handful of not-to-be-missed artists (namely, The Flaming Lips covering Dark Side of the Moon in its entirety), I've been looking forward to the DMB Caravan more than any other music festival this summer. Still, I had my apprehensions.
Upon arriving Saturday afternoon, the first thing I noticed was the dirt. There wasn't any grass to be found, anywhere. Not that music festivals are known for their cleanliness, but large, sharp rocks scattered among the dirt made walking uncomfortable and sitting nearly impossible. The area directly in front of each stage was covered in wood chips, but if you wanted to relax further away from the stage, there were hardly any options, save a bench or two in the middle of the field.
The advantage DMB Caravan has over the other big summer music festivals in Chicago is space. I never had any issue whatsoever walking from one stage to the next in 10 minutes or less. The large festival grounds also afforded room for a plethora of non-music related activities, from the giant ferris wheel in the center of the festival to some sort of off-roading track at the side of the grounds.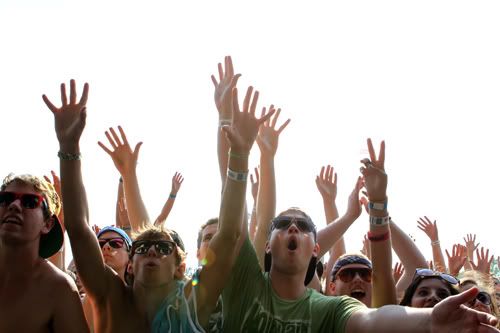 Photos by Rory O'Connor

I had been invited by the good people over at Dos Equis to participate in a competition to find the "Most Interesting Blogger in the World". I had naïvely assumed the competition would consist of blogging about various events at the festival, so I arrived on Saturday prepped with my laptop, extra battery, camera, cords, the whole set-up. The actual competition? Log rolling. For those of you unfamiliar with the sport, log rolling consists of two people standing on opposite ends of a piece of wood, attempting to knock their opponent off by spinning the log.
Now, I have never been known for my physical prowess. I am the kid picked last in gym class. To top it all off, as I was not expecting any sort of physical activity this day, I was wearing a dress and flats. Needless to say I fell on my face. Several times. In front of many spectators. It is with utter shame that I share this video with you, the least embarrassing of my many falls:

After downing a Dos Equis to drown my sorrows over not being named the "Most Interesting Blogger in the World", I headed over to the South Works stage to catch sets from Liz Phair and Ben Folds. Liz Phair is an artist I listened to for a brief period in the 90's, but haven't followed her career since. It might have been the exhaustion or the hot sun beating down on me, but I was a bit bored by her set. And I wasn't alone, as my concert-going companions opted to take a nap on the wood chips rather than listen to her play.

I am fully aware of how unhip it makes me, but I love me some Ben Folds. Sure, he does the exact same hokey schtick at every show, but I still eat it up. And while he played almost every one of his usual crowd-pleaser songs, the set just didn't work here. See, the South Works stage also happened to be where the Dave Matthews Band would be playing later that night, and the majority of the crowd who were standing up front seemed to be simply staking their claim at a decent viewing spot for the headlining act, and couldn't care less about what was going on onstage.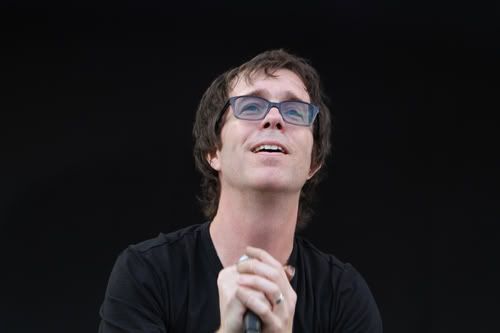 Problem is, most of Ben Folds' set relies on audience participation, and Saturday afternoon this just wasn't going to happen. He tried to get the audience enthused with "Army" and "Not The Same", but after almost no response from the disinterested crowd, he ended up singing the audience participation portions himself. Granted, when you play a festival, you have to take into account that a good percentage of the crowd isn't going to be terribly familiar with your material. Still, I saw Ben play at Lollapalooza back in 2009 to an enthusiastic and participatory audience. I guess Dave Matthews Band fans and Ben Folds just don't mix.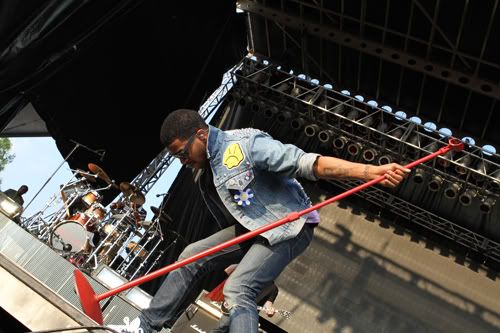 After that total let-down, I headed over to the Lakeside Stage for Kid Cudi. At this point I was exhausted, sore, and covered head-to-toe in dirt, but luckily this ended up being the highlight of the night. For the first time that weekend, I saw people dancing, having a good time and actually enjoying the concert. The enthusiasm of the crowd can really make or break the concert-going experience, and the atmosphere between Ben Folds and Kid Cudi was like two different worlds. Unfortunately, I had to leave the show a bit early to catch my ride home, but judging from reports of nightmare commutes, I made the best decision. We left the festival with zero traffic and I made it all the way to my far north side apartment in less than 45 minutes.