Preview Wed Sep 28 2011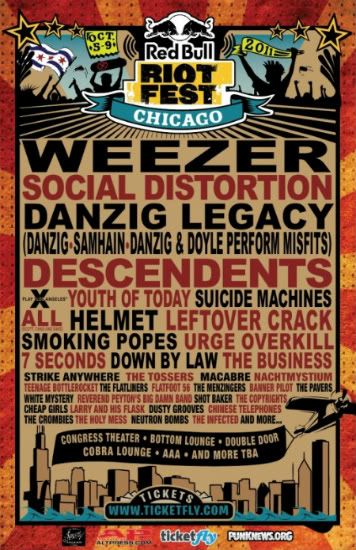 Riot Fest returns for their seventh year in Chicago next week, bringing in a large number of big-name acts to five venues around the city. I've been covering Riot Fest for Transmission for the past couple years, and I've never been as fired up about a line-up as I am for what they have in store for us in 2011. What makes Riot Fest the highlight among the massive list of Chicago music festivals are its almost unheard of reunions of legendary punk acts, its secret shows in tiny venues, along with its exposure for local talent. Keep reading for a Riot Fest 2011 night-by-night run down.


Wednesday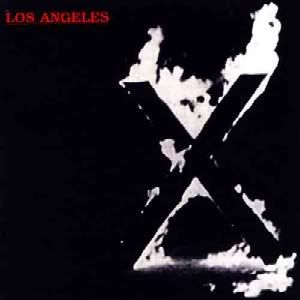 X made a name for themselves in the late 70's and early 80's with their blend of rockabilly and punk. Three decades later, they're coming to Riot Fest to reflect on where they started, playing their seminal album Los Angeles in full. Prior to the band's set, they'll be showing their 1986 documentary X: The Unheard Music, which features live performances and studio footage of the band between 1980 and 1985. This Riot Fest kick-off show at Bottom Lounge is completely sold out, unless you want to try your luck over on Craigslist.
Thursday

Social Distortion will hit the Congress Theater Thursday night in support of their latest release, Hard Times and Nursery Rhymes. Possibly fueled by their newfound younger fanbase after their appearance on Guitar Hero III, the album debuted at #4 on the Billboard 200, the first time the band has ever had a top ten album. However, Social D has pumped out three decades and seven albums of punk rock. Opening the night are Chicago Celtic punk band The Tossers, and a bit of a step away from the usual Riot Fest scene, country blues band Reverend Peyton's Big Damn Band.
Friday

Friday night features the most talked about set of the festival, as Glenn Danzig takes the stage at the Congress Theater. He'll be playing songs spanning his career, starting with his post-Misfits band Samhain, a set of Danzig songs, and a Misfits set, where he'll be joined by none other than Doyle Wolfgang Von Frankenstein on guitar. If you see just one show at Riot Fest 2011, let this be it. Opening the night are Youth of Today, leaders of the straight edge movement in the 80's, hardcore metal acts Macabre and Nachtmystium, and punk band The Infected.
Saturday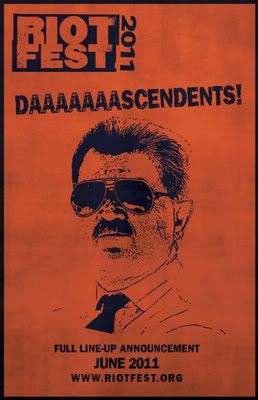 Riot Fest always presents a huge Saturday night line-up at the Congress Theater each year, and this year is no different. The Descendents haven't toured since 2002 (with the exception of a few one-off appearances) due to some health issues within the band, so it was a welcome surprise when Riot Fest announced these punk legends would be headlining Saturday night. Joining them on the bill is another band we haven't seen in quite some time - skacore band The Suicide Machines. The band split half a decade ago and we haven't heard very much from them since. Hell, they haven't even updated the band's website since 2006. This all-day event at the Congress will also feature sets from Leftöver Crack, Strike Anywhere, The Flatliners, Flatfoot 56, The Menzingers, and Shot Baker.
The Smoking Popes play a completely free show Saturday night at Double Door, no Riot Fest wristband required. The show is late enough that you should be able to head there after the Descendents' set and hopefully still make it in the door. This Chicago act is always a good time, so if you're in the mood for songs about love and heartache, this is the spot. The band also recently released their first music video since "I Know You Love Me" in the 90's, which you can check out over on Punk News.
Sunday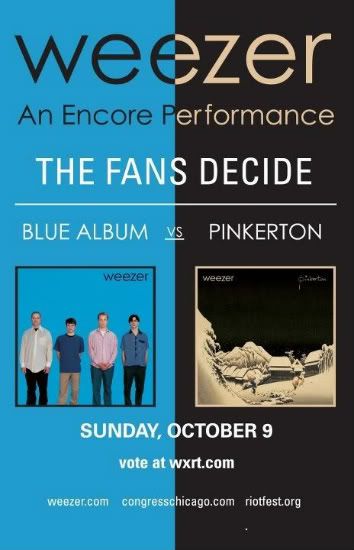 The weekend concludes with much lighter fare than we're accustomed to seeing at the festival as Weezer performs The Blue Album in its entirety at the Congress Theater. You may remember that the band has already performed both The Blue Album and Pinkerton over at the Aragon last January, and we, the fans, were able to vote to decide which album they'd play in this encore performance. Confession: My vote went to Pinkerton, but I'm still jazzed that we'll be hearing "Surf Wax America" and "Only In Dreams" again.
Chicago's own Urge Overkill, who have recently released their first album in sixteen years, will be opening the night along with pop punk band Teenage Bottlerocket and a pair of redheads pretty much every Transmission staff member adores, White Mystery. Rumor has it this show is close to selling out, so pick up your tickets sooner rather than later.
Tickets for all shows are available for purchase here. Prices and age restrictions for individual shows vary, but the festival also offers a $135 pass for all Congress Theater shows, or an $85 "Punk Pass" which includes admission to the Social Distortion, Descendents, and Danzig Legacy shows at the Congress Theater, Oct 6th - 8th. I've only just touched upon the massive amount of shows offered during Riot Fest, but you can check out the complete show listings here. Follow Riot Fest's Facebook and Twitter for updates, and check back here at Transmission for our Riot Fest recaps!