Review Wed Oct 12 2011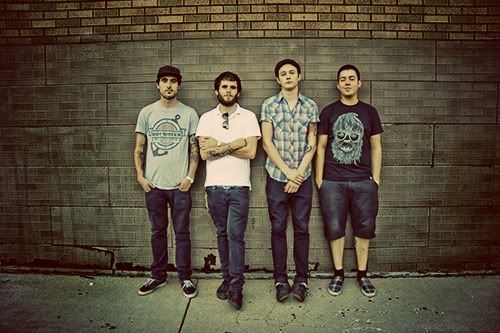 The Flatliners. All photos by Katie Hovland.

Riot Fest returned to Chicago for its seventh year this past weekend, for a full five days of heavy hitting punk rock, some metal, and a bit of power pop. This year Riot Fest brought us sets from X, Danzig, All, Social Distortion, Descendents, and Weezer. I was able to catch the two big shows at the Congress Theater Saturday and Sunday. Riot Fest has gotten a bit of flack for adding "Red Bull" to the title of the festival, with many fans saying it was a sell-out move. However, I was surprised to see that there seemed to be much less advertising as a whole at Riot Fest this year, as I had not gotten bombarded with various booths upon entering the Congress Theater as I have in years past.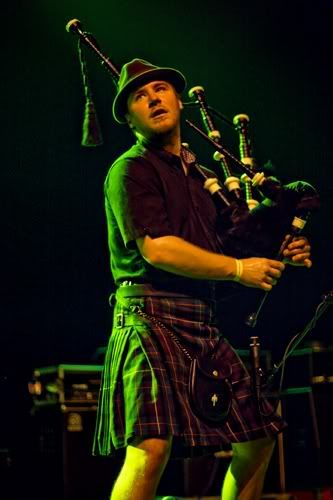 Flatfoot 56

Saturday at the Congress Theater was an all-day affair with 10 bands playing throughout the course of the day, starting at 3 pm. The highlight of the afternoon was Scranton, Pennsylvania's The Menzingers, who I hadn't heard before Saturday but who blew me away with their high energy set. The intensity remained high as Chicago's own Celtic punks Flatfoot 56 took the stage. They draw obvious comparisons to the Dropkick Murphy's or Flogging Molly, but I was impressed with their no-nonsense rabble rousing style.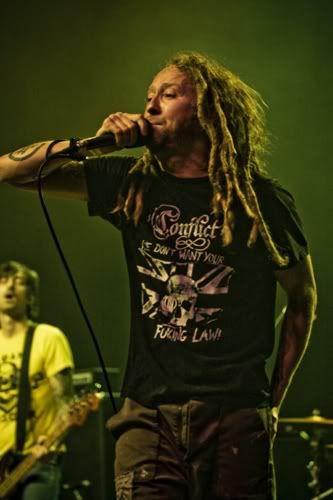 Strike Anywhere

Because, like many of the bands playing Riot Fest, I too am getting older, after Flatfoot 56 I headed up to the balcony to relax with a couple bottles of water. Not very punk rock. Up next were Virginia's Strike Anywhere, whose angry hardcore punk isn't suited to relax to, but what can you do? I've never listened to Leftöver Crack before, but I was a fan of the band a few of its members sprung from, Choking Victim, so I had been looking forward to catching their set. Their fast-paced ska punk convinced me to head back downstairs to dance, so I'd say they'd done their job.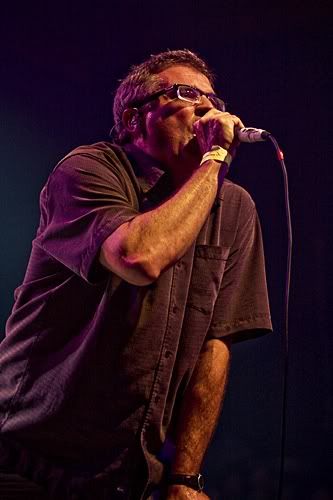 Descendents

Having not even seen a recent photograph of Descendents, I was mildly surprised to see a full head of grey hair atop singer Milo Aukerman. The band may be growing older in age, but they certainly rocked as hard as their younger days. With the exception of a handful of sporadic appearances, the band hasn't toured since 2002, so their set at Riot Fest was a rare treat for fans. They played songs spanning their entire catalog for a full 31 song, two encore set list including "Descendents", "Nothing With You", "I'm Not A Loser", and closing with "Catalina". All in all, it was a pretty successful Saturday night.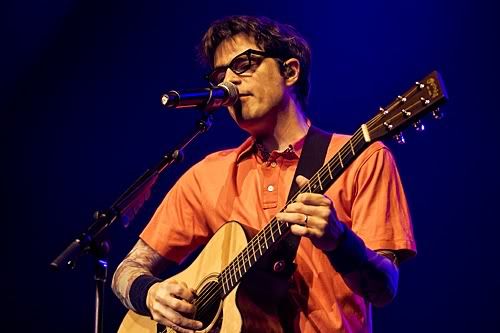 Weezer

Riot Fest Sunday began in a sea of red hair as White Mystery took the stage. Every other band on the bill had many more years under their belt than this brother-and-sister duo, but Alex and Francis White can command a stage like the best of them. It seemed as though the majority of the crowd had never heard any of the opening bands, but that didn't stop Teenage Bottlerocket from demanding the crowd's attention with one of the most energetic sets I'd heard over the weekend, asking the audience to pogo and getting everyone in attendance to dance. Sadly, the same couldn't be said of Urge Overkill, the band almost dressed entirely in black, who bored the audience so much that a sea of Weezer fingers erupted in the middle of their set and stayed until the band was finished.
Sunday morning, the unfortunate news of the passing of former Weezer bassist Mikey Welsh, who had been planning to attend Riot Fest that night, had hit the net. Rivers dedicated the show to Mikey, who he described as "a fun guy, an honest guy, and a kick-ass bass player."
In the weeks preceding Riot Fest, fans voted on which album Weezer would be playing in full, between Weezer (The Blue Album) and Pinkerton. The Blue Album won, but before launching into "My Name is Jonas", the band played a smorgasbord of hits, including "Island in the Sun", "El Scorcho", "Pork and Beans" and "Troublemaker". Surprisingly, they played not one track off their latest release, Hurley, but they did throw in a cover of Radiohead's "Paranoid Android" and old Pinkerton b-side and fan favorite "I Just Threw Out The Love Of My Dreams".
Weezer

The band took a short intermission before returning to the stage as a completely different Weezer to perform The Blue Album. Earlier in the night, Rivers was bouncing around onstage and jumping out into the crowd, but reverting back to his 1994 self, Blue Album Rivers was much more shy and introspective. The entirety of the crowd at the Congress Theater belted out the entire album with the band, starting with "My Name is Jonas" and even through the non-hit tracks like "No One Else", "Holiday", and "Only in Dreams".
As always, Riot Fest delivered on the after-shows, with "secret" sets from Teenage Bottlerocket and Suicide Machines (who played Destruction by Definition in its entirety) on Friday night, Cro-Mags, Mustard Plug, and Strike Anywhere on Saturday, and Marky Ramone on Sunday. If you've got any suggestions for who you'd like to see at Riot Fest next year, let them know over on their Facebook page. I know I can't wait to see how they'll top this year's fest in 2012.