Preview Thu Sep 13 2012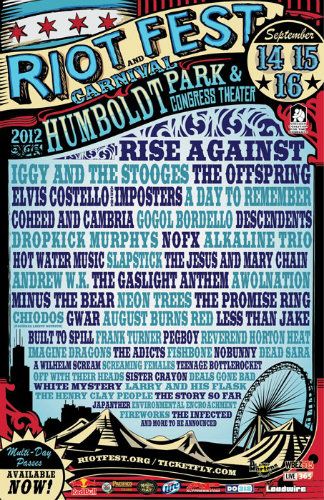 In the past I've never made it out to Riot Fest. It's right up my alley, musically, but running across the city to catch shows at various venues all week just seemed a little overwhelming. Naturally, I was thrilled when I heard that things had centralized this year... without foregoing any quality in the lineup picks. And carnival rides?! Count me in.
Aside from the bands, I'm most excited to see the crowd that this diverse lineup and new location in such an eclectic part of the city will turn out. How will fans of legends like Iggy and the Stooges interact with fans of the younger, more emo bands -- let alone screamo acts like A Day To Remember? Time will tell. But one thing is definitely for sure: whatever you're looking for, you'll probably find it at Humboldt Park this weekend.
—Katie Karpowicz

This is my fourth year attending Riot Fest but with the drastic changes occurring at this year's festival, it feels I'm heading off to an entirely new music festival. I could be a curmudgeon and complain that this type of music is best experienced in dark, dingy clubs, but honestly running back and forth between Metro, Congress Theater, Double Door and Bottom Lounge on public transportation has gotten exhausting in past years. This year the festival is moving outdoors and they're adding a carnival, plus their latest announcement — the addition of luchadores. I'm pretty freaking excited about it. With Brilliant Corners of Popular Amusements shedding the carnival aspect of their festival this year and with DMB Caravan not returning to Chicago for a second year, a Ferris wheel-shaped hole has existed in my summer music festival schedule. This late in the year, it's not exactly like we're going to be boiling in the hot sun all day. I have no complaints.
—Stephanie Griffin
We're not going to tell you why you need to see Iggy & The Stooges, Rise Against, Elvis Costello, or Descendents this year. We're pretty sure you already know. We trust you. Instead, here are our best bet picks for earlier in the festival day:
SATURDAY
If you want things to get a little strange...
I've always had a soft spot for musicians who aren't afraid to get weird while facing the chance of being considered too gimmicky. I can't help but love Nobunny, stage name for garage punk artist Justin Champlin, who performs with his signature bunny mask along with various other eccentric props. This is the act you'll want to wake up early on Saturday to catch, if only for the frenetic dance party that usually occurs at his shows.
—Stephanie Griffin
If you want to find your new favorite Brit...
Frank Turner is quickly making a name for himself here in the States and for good reason. His album England, Keep My Bones made plenty of critics' year end lists last year. His folk-flavored songs are mostly quiet and acoustic-based in nature, but they're so powerful both lyrically and musically that this singer/songwriter has found his way into the hearts of some of the most bold and brash of punk fans.
—Katie Karpowicz
If you want to hear some serious shredding...
After several quiet years, A Wilhem Scream appears to be back in action. The hard working Massachusetts-based hardcore/punk quintet just kicked off a cross-country tour with fellow Riot Fest performers Less Than Jake and there's been some buzz about a new album in the works. Though they had quite a following prior to, the band's blistering third full length album Ruiner earned them the respect of fans and critics across the country. Though they've lost guitarist Christopher Levesque since the Ruiner years, if the self-titled EP they released in 2009 is any indication the guitar work is still light years ahead of many of their contemporaries.
—Katie Karpowicz
If you want to get the party going, party hard, party hard...
Say what you will about Andrew W.K., but he is a guy who is dedicated to making everyone in his audience have a good time. Besides having one of the most entertaining Twitter accounts and the mystique surrounding whether or not he is actually two different people, his ridiculousness extends to his stage performance as well, jumping around the stage and screaming at the top of his lungs. It doesn't matter who you are, Andrew W.K.'s got an all-inclusive party waiting for you. I've seen this guy live a handful of times and he's never disappointed.
—Stephanie Griffin
SUNDAY
If you want to discover your new favorite punk band you've been missing out on...

Almost a decade ago I was down in Pensacola, Florida visiting a friend who, on my last night in town, brought me to a very tiny vegan punk dive bar that he frequented. There were a couple bands playing that night that neither of us had ever heard before, the first of which would end up making it big several years later and the second band was Brooklyn's art punk project Japanther. I was already slightly enamored when I saw that they were using telephones for mics, but then they started playing and completely blew me away. This band has ridiculous amounts of energy and passion. And in case you were wondering... The other band playing that night? The Black Keys.
—Stephanie Griffin
If you're ready to get your skank on...
Aside from Chicago's own Deals Gone Bad, Riot Fest is looking a little light on ska this year, a genre that's inevitably been tied to punk music for decades. Enter Less Than Jake — one of the most enjoyable and fun loving live performances that this blogger has ever experienced. True, they're more ska-punk (skunk, if you will) than more traditional ska artists, hits like "The Science of Selling Yourself Short" let their true roots shine through. The toilet paper guns are pretty fun too.
—Katie Karpowicz
If you want to support some local up-and-comers...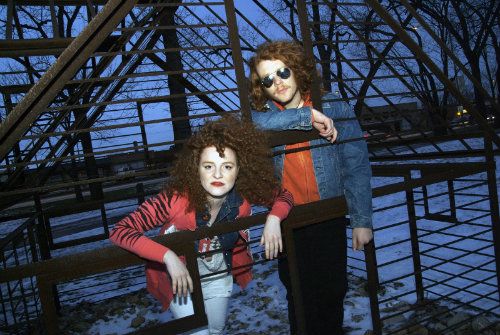 We've gushed about the band on this site several times, so it's safe to say White Mystery is a band pretty much the entire Transmission staff has fallen in love with. Who couldn't help but love a brother-sister duo totally rocking out underneath their headbanging mops of curly red hair? This band works hard and is constantly playing shows, but judging by their performance they never get tired of it. This is why I always look forward to catching them live — you can tell each time they play that they're loving every second of it.
—Stephanie Griffin
If you want to relive Warped Tour circa 2006...
The biggest buzz surrounding Chiodos' performance at Riot Fest this year is that it will be their first in Chicago since reuniting with original frontman Craig Owens. This six piece made it big in the mid-2000s in the screamo/hardcore scene but after the controversial departure of Owens in 2009 fell off a bit. As much as replacement vocalist Brandon Bolmer sought to fill the gap, the classics just don't sound the same when they're being sung by someone else. If you were a fan of Chiodos in their formative years, this will certainly be an interesting performance.
—Katie Karpowicz
If you want to show a little Chicago pride...
The most obvious choice for this option would be Saturday's headliner Rise Against, but seminal punk rockers Alkaline Trio will be holding it down for Chi-Town on Sunday evening. Fifteen years and eight studio albums strong, the three Chicago natives that comprise Alk3 are going stronger than ever.
—Katie Karpowicz

Riot Fest kicks off at Congress Theater Friday night with a line-up that includes The Offspring, Neon Trees, Pegboy, and Dead Sara. The festival continues throughout the weekend with a carnival in Humboldt Park with, well, all of those bands we listed above plus a bunch more. The Congress Theater show is sold out, but Saturday and Sunday tickets are still available to purchase here. As always, after-parties and secret shows will be going down all over the city, so keep an eye out on Riot Fest's Facebook page. We'll be at the festival all weekend, so check back here for our recaps and photos.