Review Mon Sep 24 2012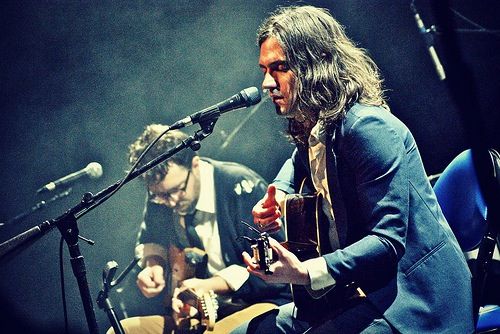 Conor Oberst. Photo by Joshua Mellin.

With circus performances, music acts and comedians, Brilliant Corners of Popular Amusements certainly is a peculiar little music festival. I attended the three-day event last year and had a fantastic time, but what the fest lacked were attendees. That all changed this year, thanks to the devoted fan base of Conor Oberst. Saturday night was the first sold out performance of the festival. I arrived about half an hour before the show started and the place was already packed.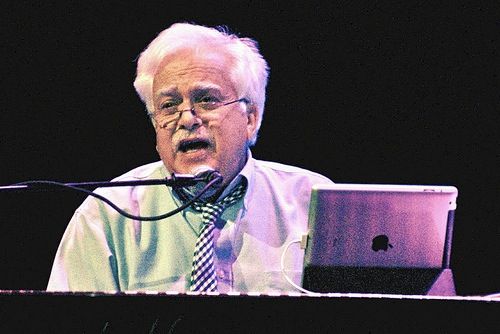 Van Dyke Parks. Photo by Joshua Mellin.

I went into the festival Saturday night admittedly not knowing terribly much about Van Dyke Parks other than that he'd worked with Brian Wilson in the past (I've since discovered that he also provided the orchestrations for Joanna Newsom's Ys, among an impressive list of his several other projects and solo work.) I wasn't sure what to think of him at first, but through his wit and charm, he won me and the entire audience over. Between every one of his pop orchestral songs, he was cracking jokes and poking fun of himself for being old. Before one of his songs he explained, "I wrote this song for Brian Wilson, may he rest in peace..." and then after an awkward pause added, "in due course." He also referred to one of his songs as his own personal Pussy Riot and at several points of his performance he encouraged the audience to head to the polls in November.
<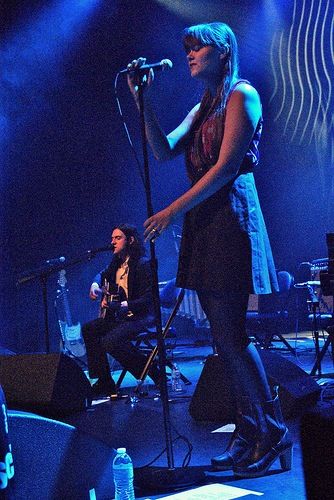 First Aid Kit's Klara Söderberg and Conor Oberst. Photo by Joshua Mellin.

Conor Oberst gets a lot of slack for being part of the emo scene in the early 2000s and almost every music nerd person I know has a rampant disdain for him. Those who love him do so obsessively. Not only did everyone around me know every single word to every song that was played, but the beginning notes of each song sparked screaming and jumping, people grabbing their friends in excitement. He played Bright Eyes favorites "First Day of My Life" and "At the Bottom of Everything" toward the beginning of his performance, so right away you knew there'd be a good set list. He was backed by a variety of musicians throughout the night, including First Aid Kit's Klara Söderberg during "Lua" and "Southern State". My only complaint is that Conor was seated throughout his entire set and would have been nice to see him stand up and rock out a bit, especially during some of his more passionate songs. The majority of his set consisted of old Bright Eyes favorites, but he included a few new songs and some Mystic Valley Band material, as well as the Monsters of Folk song "Map of the World".
Brilliant Corners festival grounds. Photo by Joshua Mellin.
Each night of Brilliant Corners music was preceded with a performance by El Circo Cheapo Cabaret and followed by a late-night comedy show. Both were included with the concert ticket, which was a nice surprise considering my biggest complaint last year was that you had to purchase tickets to each performance separately. The comedy show was held in a separate, smaller tent than the circus and music acts. I'm assuming the festival staff did not realize that the late-night comedy would be as popular as it was because there was seating for about 30 people and a couple hundred people stuck around, which meant most people were sprawled out on the floor or were left standing in the back of the tent.
We're lucky to have such a thriving local comedy scene here in Chicago. The night was hosted by the very talented Brian Babylon, stand-up comic and host of Vocalo 89.5FM's The Morning AMp. Typically in a showcase like this, I'd except to have to sit through a few painfully bad comics until we made it to the good stuff. Luckily that was not the case with the first two performers, locals Megan Gailey and Drew Michael. The night headed south with headliner Jon Benjamin, the voice of Sterling Archer in the animated series Archer and Bob Belcher in the animated series Bob's Burgers. His whole set was awkward and bizarre, and not in the funny sort of way. Groups of people would get up and walk out continually as the night went on, but for those who stayed, an occasional eruption of booing came from the crowd as he blundered through his set. It hit midnight and he asked the crowd if he should end his set with a story or a video. When an audience member shouts out "Neither!" and the rest of the crowd cheers, you know it's a bad night.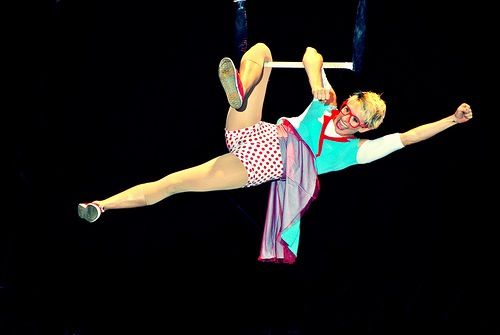 El Circo Cheapo. Photo by Joshua Mellin.

Brilliant Corners of Popular Amusements is one of the most unconventional of Chicago's music festivals and I'm interested to see what direction the festival will take in the future. They certainly don't skimp on talent, and with an eclectic line-up at that. Still, my favorite part of Brilliant Corners is hearing the musicians on stage goof up the festival's name, which hilariously happens quite frequently.