It's not enough to just say you're going to three days of music in Grant Park, you really have to plan your attack. After years of Lollapalooza experience, here are our fresh takes on how to best rock the fest.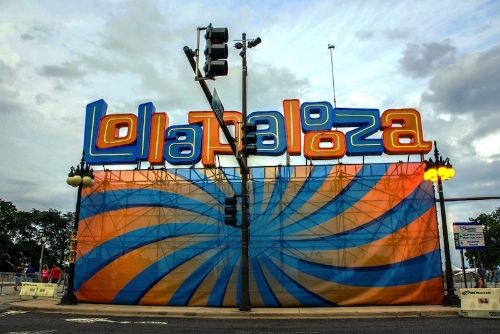 Photo by Joshua Mellin
The Best Reasons to Get There Early
You've recovered from aftershows the prior night. You've had your brunch. You're ready to trek over to Grant Park. But...it's so early; who are these people? It's not like you're getting any value out of that ticket by just sitting around and waiting to go. Lollapalooza may be trending more toward other cookie-cutter festivals each year, but there're still worthwhile acts early in the day.
The So So Glos. One of not many bands who've gone from DIY spaces to Lollapalooza. The Brooklyn band takes on the Clash's approach to broadening punk and pull in a hodgepodge of influences into their spastic style. Friday @ noon, Lake Shore Stage.

Temples. Big-time psychedelic guitar rock, should be on the verge of stardom on the strength of their shows and debut album Sun Structures. Friday @ 1pm, Bud Light Stage.
Into It. Over It. Looking back on emo's heyday, stripping away what doesn't work and adding in new layers, this Chicago band's ready to make a splash. Friday @ 1pm, the Grove.

Courtney Barnett. On the rise in 2014 with a low-key singer-songwriter style; not far from a female version of Kurt Vile's folkier rock. Friday @ 2:15, the Grove.

Jungle. Hypnotic electronic/R&B/soul hybrid should get Saturday started with a bang. A couple Chicago shows earlier this year previewed good things to come. Saturday @ 12:45pm, Samsung Galaxy Stage.
Parquet Courts. Noisy rock'n'roll in the vein of Sonic Youth or Pavement with hints of country-punk. This is the rock band to tide you over until Spoon later in the day. Saturday @ 1:45pm, Palladia Stage.

Bomba Estéreo. Respecting Colombia's rich tropical music history, but tossing in plenty of bouncy electro-pop into the mix. Considering their name is slang for a great party in their home country, they may be one of the most accurately-named bands at Lollapalooza. Sunday @ 1pm, Bud Light Stage.
- James Ziegenfus
Reasons to Sprint Across the Field for Back-to-Back Sets
Bombay Bicycle Club to Hozier
Bombay Bicycle Club is now sitting where Hozier was a few years back. Comprised of two EPs with electrifying folk music and dynamic vocals, Hozier, Irish artist Andrew Hozier-Byre, has made his emerging mark on the music world. A Mumfordesque drawl with a deeper sensibility, Hozier is able to span the human range of emotions and draw us in. First, view Bombay Bicycle Club's set at 2:30pm at the Samsung Galaxy Stage, which is sure to be a retrospective of the group's career hits and new work from 2014's So Long, See You Tomorrow. (Check out the group's latest remix.) After you jam out with this forward-thinking rock group, continuously bringing vibrant rhythms and melodies, run over to Hozier's set at 3:45pm at the Palladia stage to cool down with some introspective folk tunes provided by an up-and-coming crooner.
Spoon to Outkast
If you've been singing "The Way We Get By" since it was released back in 2002, you're going to want to see Spoon's set, which notably will unveil the release of their newest material, emerging this summer. Britt Daniel's distinctive, punchy voice makes for a not-to-miss set, as the group reunites after a recess from making many tour appearances. On the heels of new material, the show at The Bud Light stage at 6:45pm will allow the group to reveal their new material, yet also take the crowd back a decade prior, when summery tunes such as "Don't You Evah" and "I Turn My Camera On" blared from car speakers in the sweltering summer heat. Veteran hip-hop duo Outkast are next to take the stage at 8:15pm, at the other side of the fest at the Samsung Galaxy stage. Godspeed to you, my friends, as you attempt the daring trek. It will be worth it in order to hear both indie crowd pleasers, and to watch the reunion show of the year as Andre 3000 and Big Boi join forces once again for their doting fans, who will no doubt camp out for the appearance of the summer.
Trombone Shorty & Orleans Avenue to Cage The Elephant
Trombone Shorty, playing the Bud Light stage at 2:45pm, is sure to amass a giant crowd within the first ten minutes of his set, with the Orleans Avenue band faithfully by his side. Playing the finest in Southern funk and soul music, Trombone Shorty has paired with many artists in the industry throughout his career, constantly innovating and elevating his musical craft. His music is sure to get you moving and grooving throughout the hour-long set, and you'll feel like you're walking down Bourbon Street, listening to live zydeco without a care in the world. After this set, run clear across the park to the Samsung Galaxy stage at 4pm for Cage The Elephant. Yes, this group is more than their fame induced by "Ain't No Rest For The Wicked." They've upped the ante within their musical career by developing big, brassy rock riffs with fuzzy, shoegaze verses, for the perfect blend of sounds. I've seen them at Lollapalooza before, and the crowd was so lively and energized as the lead singer gave his all to their live performance. Keep the party going by running from Trombone Shorty to Cage The Elephant, and I promise, you won't regret it (but your sore dancing feet just might).
- Sarah Brooks
Best Times to Stay in One Place
The cheers that accompany the annual release of Lollapalooza's lineup are often equaled by the collective groans that are spurred by the festival's scheduling. Someone's two favorite acts may be playing in very similar time slots on opposite sides of the grounds, or may even be in direct conflict. While speeding from act to act is a time-honored tradition for Lollapalooza, there are some times where a few amazing acts follow one after the other on the same stage (or nearby stages), meaning a madcap sprint from the Bud Light Stage on the north side to Samsung Galaxy on the south won't be necessary to hear great music. These are some of my choices of great runs for the three days; it's by no means exhaustive, but they're some of the runs I'm looking forward to the most.
Friday
Roadkill Ghost Choir 12-12:30 (The Grove)
Into It. Over It. 1-1:45 (The Grove)
Courtney Barnett 2:15-3 (The Grove)
The first three acts at The Grove stage are a powerful trio of groups to get the weekend started right. Kicking off the festivities is Roadkill Ghost Choir, hailing from central Florida and exporting a spectral, psychedelic strain of folk. Immediately afterwards is Into It. Over It., the band spearheaded by pop-punk journeyman Evan Weiss. The Chicago native employed famed producer Brian Deck (who also hails from the Windy City) for Into It. Over It's newest work, 2013's Intersections, with revelatory results.
The gem of the afternoon is Australian singer-songwriter Courtney Barnett, who is in the midst of a globe-spanning tour propelled by the buzz generated by her two EPs. She's a fantastic live performer and a sharp songwriter, and it's possible that the comparatively tiny lawn for The Grove may be packed to the brim come her show time. This gives you all the more reason to find a great spot early on.
Saturday
Nas 5:45-6:45 (Palladia Stage)
Spoon 6:45-8 (Bud Light Stage)
Saturday afternoon delivers a killer doubleheader, although seeing both shows will require a tiny bit of hustle; they're on the opposing stages of the northern half of the festival grounds. At the Palladia stage, Nas begins his set at 5:45. Lauded as one of hip-hop's most prominent and distinctive voices, Nas is commemorating the 20th anniversary of his debut Illmatic, while he preps his newest release. Spoon, on the other hand, is days away from the release of their newest record, They Want My Soul (it can already be streamed at iTunes). Following up 2010's Transference and a brief stint by singer Britt Daniel in the side project Divine Fits, the group is celebrating the new record with a 6:45 show at the Bud Light stage.
Sunday
Trombone Shorty 2:45-3:45 (Bud Light Stage)
Run The Jewels 3:45-4:45 (Palladia Stage)
On the last day of the fest, the north side stages are again the place to be in the afternoon. At 2:45 on the Bud Light Stage, New Orleans bandleader Trombone Shorty will steer his ensemble Orleans Avenue through a set of up-tempo, genre-obscuring tunes. Trombone Shorty has touched upon many styles in his career, but he and his band are still considered some of the most popular and exciting evangelists of New Orleans music. Run The Jewels, a collaboration between rappers El-P and Killer Mike, takes the stage on Palladia at 3:45, immediately following Trombone Shorty's set. The duo is nearly finished crafting their follow-up to 2013's self-titled debut (El-P mentioned on Tuesday that the album is almost fully mixed).
With that, I'll forgo any plans to remain in one spot and tear across the grounds to try and make Glen Hansard's set at the Samsung Galaxy stage. But it wouldn't be Lollapalooza without a mad dash across Grant Park, trying in vain to fit in an overwhelming amount of music.
- Pat Donachie