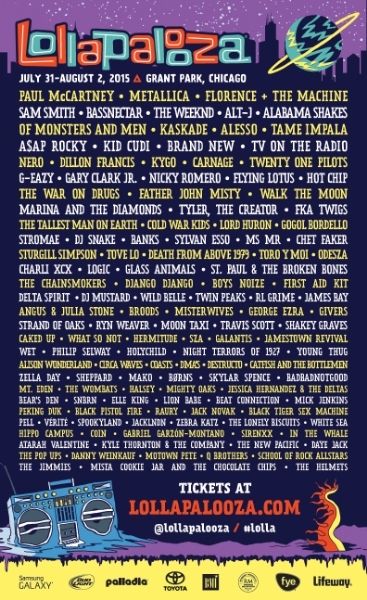 In the wee hours of the morning today the Lollapalooza line-up was finally revealed, containing at least one bucket list performer. Legacy acts Paul McCartney and Metallica headline the festival, along with the relatively younger artists Sam Smith, Florence + the Machine, and Bassnectar.
The afternoon bookings are where Lollapalooza really shines. Locals Twin Peaks and Wild Belle will bring some Chicago flair to the Lolla stages. Pop hitmakers Charli XCX and Marina and the Diamonds are both billed, and we'll see the return of Death From Above 1979, Father John Misty, and Cold War Kids.
Three-day passes have already sold out, but single day tickets will be available this morning at 10 am. Lollapalooza hits Chicago July 31st through August 2nd in Grant Park, with tickets available to purchase here. Any chance you get to see a Beatle live, you take.