Concert Wed Jan 24 2007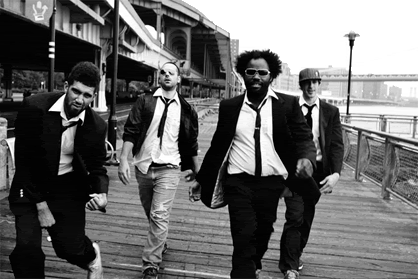 How obnoxious do you have to be to get banned from the pages of Vice magazine? To their credit, the Philly hip-hop crew Plastic Little recently became the first to earn that distinction when they placed a series of prankish ads for their debut full-length LP She's Mature. The first advert, which detailed a hipster's homoerotic fantasies involving Jay-Z, largely passed without comment. But when a follow-up featured a passing dis of hip-hop clothing line Triple5Soul; the mag's editors -- fearing a loss in revenue from a staple sponsor -- pulled the band's card post-haste. And if you've heard anything by Plastic Little, none of this would seem the least bit surprising. They're raw and rambunctious, ironic and "potty-mouthed," and they know how to bring that bump that gets a crowd dancing, laughing, and chanting along. After all, they openly brag, they're only in the rap game for the free drinks.
Despite the underground buzz kicked up by their 2005 EP, Thug Paradise, limited touring has kept Plastic Little a strictly East Coast party phenomenon over the past several years. The new album may very well help them stack a little pocket change, partially thanks to support from higher-profile associates like SpankRock, Diplo, CX Kidtronix, and King Honey. They'll be making their Chicago debut at the Empty Bottle this Friday night, club-bangin' with a set that'll get the crowd "bouncing like bullets off the Popemobile." What's more, in recent weeks the show roster's piled up as a must-catch billing of local comers like includes Kid Sister, "hoodtronic" beatslinger Vyle, and the Gutter Butter DJs. Kid Sister's scheduled to headline, making this a hips-grinding, jawn-hollering evening from start to finish. Show starts at 10pm, tickets are $8 at the door.
[mp3]: Plastic Little "Crambodia (featuring Ghostface Killah & SpankRock)"
[mp3]: Plastic Little "Hi Bitches"
UPDATE: Gawker (thanks for the link, guys) heard back from Vice, who say the ad actually did run. Anyone have proof?