Concert Tue Feb 27 2007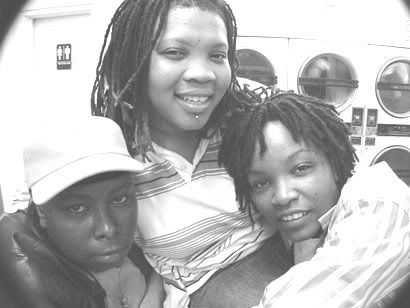 Sheer joyous and unbridled idiocy. There's something to be said for it, seeing how regular doses of it are often the only thing that makes adult life bearable. And the all-femme Floridian trio Yo Majesty delivers the appropriate soundtrack for it like nobody's biz. Case in point: the leave-it-all-behind mantra of "fuck that shit" that serves as the chorus for their current club hit, "Club Action." It's pure, plainspoken transcendence on the most humble of budgets, and the girls deliver it with a hearty abandon that makes me want to start doling out hugs.
Comparisons to the Bronx punk-funk outfit ESG have been numerous, and on some levels, it works. They go to it with an energy that's disarmingly unpolished, if not giddily sloppy, at times. Unlike ESG, they're unrelentingly raunchy and play like they're throwing a party by themselves. "Kryptonite Pussy" is the funniest girl-rap thing since Fannypack's "Camel Toe" -- as salty and sassy, but dropping three times more bounce. And I don't know exactly what they have in mind with that "rub on my monkey" directive, but as far as invitiations go, it's the most intriguing I've heard in some time.
In realtime, Yo Majesty kicks it live as a full-fledged band on drums, keyboards, and guitar. Their debut EP favors a ramshackle electro-crunk sound, and several of their tracks have touched off something of an internet remix frenzy. They'll be performing a set at the Funky Buddha Lounge this Thursday, in what will be one of the few dates they're doing outside of their home turf. They're playing in an opening slot for headliner E6. Deejays Matt Roan and Lee Foss will also be there to keep things bumping.
[mp3]: Yo Majesty - "Club Aktionist" (Duran Duran Duran remix)
[mp3]: Yo Majesty - "Warning"