Concert Mon Mar 05 2007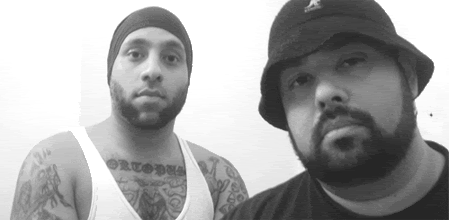 How to make socially-cognizant hip-hop that isn't corny or didactic. Or, better yet, how to bring "the fire this time" when you're already living among the ashes. Such conundrums aren't lost on experimental hip-hop duo Dälek, who hail from the waste-lain interzone that is Newark, Newjerz. On 2004's Absence, emcee Dälek spat narratives of desolation, anger, and psychic violence in a taut, School of Rakim delivery while producer Oktopus cloaked the verses in suffocating washes of guitar noise that sounded like My Bloody Valentine in maximum sandblast mode.
Their new release, Abandoned Language, finds them cooling their jets just a bit. Having weathered a sonic Armaggedon of their own making, the duo now sounds as if they're standing amidst the rubble, surveying the aftermath as toxic clouds receed toward the horizon. Cacophony gives way to a brooding rumble, residual tremors threaded on the most tenuous of musical nuances. Not to say it isn't less dischordant and the beats are any less heavy, but it does allow both the listener and Dälek's rhymes a little room to breathe. A lot of room, at times. Case in point: The title track, which sprawls out over the course of ten-plus minutes, its tonal swells and surges unfurling like a glacial and panoramic symphony.
They're playing at Subterranean tomorrow night. Destructo Swarmbots and local post-rock outfit The Timeout Drawer are scheduled to open. The show starts at 9:00 PM. Tickets are $8 in advance, $10 at the door. 18 and up show. 2011 W. North Ave.
[mp3]: Dälek - "Paragraphs Relentless"