Concert Tue Apr 10 2007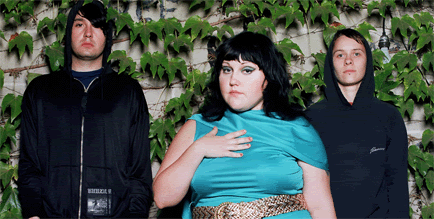 Oh, the unintended irony. That the band who dubbed themselves The Gossip has become so much the center of such, recently. They've learned that when a band has a charismatic and outspoken frontperson, folks end up talking about nearly everything but your music. Such has been the case with the attention swarming around vocalist Beth Ditto recently. Her comments on gender, sexuality, and body-image issues have provoked no shortage of controversy, reactions so bafflingly polarized that they ultimately prove Ditto justified for raising them in the first place. But before all the tabloid-style notoriety, the band initially earned their reputation from their music and performances.
And what about their music? That too has become a contentious topic. Initially, The Gossip attracted an enthusiastic following by kicking out bluesy, gutbucket garage rock — the nuts-and-bolts variety anchored with plenty of loud, yackety, back-yonder geetar and trash-bin drumming. Pretty raucous stuff. The most striking element of all was Ditto's soul-steeped howling and crooning, the sort that deals out more whoop-ass than a grandma who'd send you into the backyard to pick your own switch. But with their 2006 album Standing In The Way of Control, the band switched up their steezy a bit. Produced by Fugazi's Guy Picciotto, the disc showed the band steering toward the dancefloor, filling their tunes with lots of strutty basslines that shoot from a low-holstered center of gravity, and all adorned with plenty of those skittering disco hi-hats that have been so ubiquitous in recent years. For some fans, the effort hallmarked an ill-conceived veer into clichéd dance-punk trendiness. For others, it was a brilliant next move. Whichever the case, rumor has it that a recent trotting-out of some new songs had them returning to their prior roots. And, amidst all of this, the band recently left the Kill Rock Stars stable to sign to the new Columbia offshoot Music With a Twist, a sublabel touting itself as being "the first major record label dedicated to identifying and developing lesbian, gay, bi-sexual, and transgender artists." Huh.
So expectations from fans both new and old may be hard to meet. But perhaps not. After all, the band earned their rep from their onstage intensity and abiltiy to whip the crowd into a frenzy. As one blogger said of Ditto some years back, "She's dancing ten times more than anyone who's watching her." Chicago's 8 Inch Betsy and Flutter open. 18 and over show. 3420 W. Grace, at Elston. Doors open at 8pm, show starts at 9, and tickets are $12.