Concert Thu Apr 12 2007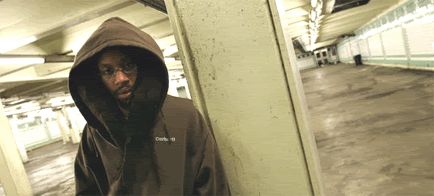 Beantown emcee Mr. Lif is completely on some Noam Chomsky type ish — not just with how he kicks the linguistics, but also with how he flexes on socio-political issues when he's on the mic. His 2002 cut "Home of the Brave" was the first song I heard that fully (and scathingly) addressed post-9/11 American paranoia and foreign policy. As a socially-minded emcee, Lif manages to make such lyrical content work in a manner that other "conscious" hip-hop usually doesn't. His p.o.v. is more off-handedly observational than preachy, more by-the-way than bombastic. Delivery-wise, he's savvy with switching up the meter, doubling-back on the verse with compressed or internalized rhymes. Lif readily admits that his lyrics are as fueled by what he sees in the world that pisses him off as they are by his passion for hip-hop and making music. And it's paid off well for him, judging from how he frequently attracts and collaborates with some of the most respected emcess and producers in the indie rap scene.
Unwilling to be pigeonholed as a strictly political rapper, Lif has spent the past few years proving that there's more to his game than battle rhymes and agitprop. His recent LP Mo' Mega, released this past summer, reveals him finally at ease to branch out and speak his mind on a broader range of topics, resulting in material that was more deeply personal than fans would've previously expected. On "For You," Lif expresses his misgivings about parenthood to an unborn child, wondering if the world as it is today is one he wants to bring another life into. On "Long Distance," he plunges into full-throttle sex-rhyme mode. Narrating the reunion of himself and a lover after a long seperation, he offers a move-by-move account: "Made her wiggle till she almost broke my finger / So I figure lemme see if she can handle what I give her when within her." And then there's "The Fries," in which he returns to tried-and-true form, stepping to Fast Food Nation with an envelope-nudging conspiracy theory that's as killingly hilarious as it is paranoid.
Mr. Lif will be taking the stage at The Abbey this Saturday night, resuming a tour that ended prematurely some months ago when the tour bus that he and The Coup were sharing met with a fiery crash. The tour coincides with the release of Sleepyheads II, a mixtape that compiles tracks of some of Lif's recent collaborations and guest appearances. Stepping up on the supporting bill will be homegrown indie emcees Cap D (of All Natural) and Pugslee Atoms. Kinghellbastard and DJ Intel will also be performing. 3420 W. Grace at Elston. 18 and over show. Doors at 8pm, show at 9pm. Tickets $15 in advance and at the door.
[mp3]: Mr. Lif - "Mo' Mega promo mix"
[mp3]: Edan w/ Mr. Lif - "Making Planets"