Concert Tue Apr 17 2007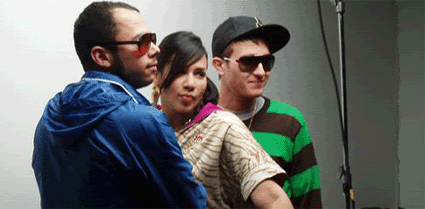 Well, if you're still bummed about the cancellation of last Friday's A-Trak and Flosstradamus show at Smart Bar, you have two chances to catch Flosstradamus this week. Between zipping in and out of town to spark crowds in other cities, they're playing a couple of events in Chicago. They'll be performing with Kid Sister at Subterranean tomorrow night. Kid Sister has also had a busy schedule of late, since both she and the Floss guys have been cited as the next big blow-up for 2007. Having seen Sis tear it up around town a number of times in the past year, I've been amazed at how she keeps getting better each time. Dynamic and adorable, she dances and bounces all over the stage while she raps. Her energy is positively infectuous; and she, in turn, gets likewise amped by the excitement of the crowd. And she's usually at her best when she joins Floss to kick it during one of their sets. If that weren't enough, Brooklyn deejay and remixer Nick Catchdubs is scheduled to man the decks, too — meaning that this party's going to be a monster. (Yep. Looks like Thurday's going to be a low-productivity day for some of us.) The Cool Kids are billed to open. 2011 W. North Ave. 9pm-2pm. Tickets are five dollars.
And, oh yeah...if you can't do Wednesday, Flosstradamus will also be spinning at Sonotheque this Friday evening. Check the club's website for further details.