Concert Fri May 11 2007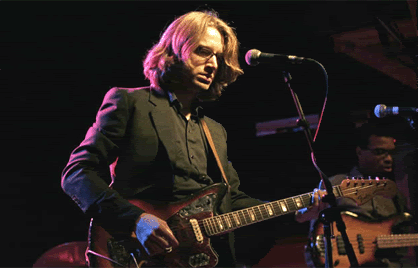 (photo courtesy of Robert Loerzel)
No two ways about it, John Lennox is a singer-slash-songwriter. He's the kind that some might lazily label "alt-country" or some such animal. But for Lennox, such pigeonholing doesn't amount to much. He started out playing guitar in various indie and experimental rock combos in his native Ontario years ago before gravitating toward his current musical modus. Ultimately, for him it's more about the song than any stylistic conceits, and he has sense enough to know that a picture only mumbles if it's craftlessly hung in the dimmest of lighting. Admittedly, the country-blues-folk-etcetera rubric fits for the way Lennox's songs deal with the universalizing stuff — with love, loss, yearning, fond reminiscences, obligation, regret, and of the hard-won emotional insight and perspective gained from such things. In the end, the impression his 2005 album Into The Bull's Shoulder leaves isn't unlike that of a long cross-country drive, the sort you undertake with the purpose of being there for a certain someone in an hour of need. It manages to capture the gravity of those moments when you're aiming through those sparser stretches, when the radio goes laconic and you instead listen inside yourself, briefly allowing yourself to think of the why and whatfor of what you're doing, of the reasons for the journey taken.
Lennox also seems to have an exceptional knack for pulling together a good band. His last album demonstartes as much, and judging from his recent performances around town, he's managed to do it a second time after relocating to Chicago this past year. His current band features a collection of local musicians who usually gig on the local jazz circuit, including drummer Daniel Groll, who can bang out some fat Southern soul-styled licks when the occasion calls for it. On the more uptempo numbers, the crew deals out some country-blues swing that can get your foots scooting and hips swaying. His songs are varied in mood and feature arrangements that are astutely tailored to match. A faint tinge of Blonde on Blonde-vintage Dylan colors some tunes. And on the slower numbers, you sometimes catch a Willie Nelson-ish lilt creeping into his voice. Lyrically, he's fairly plainspoken, but the occasional poetic twist turns up. Such is the case on the aching duet "No One Loves You," with its opening verse: "I can hear voices / I can see devils / and counterfeit rebels in the street. / Chinese flowers / Gloves made of powder / And infrequent showers relieve the heat." Recent material reveals Lennox moving in a slightly more rock-ish direction on some tunes, proving that he's not limiting himself to balladeering and honky-tonkness.
The John Lennox Band will be playing at the Empty Bottle next Tuesday night, so this is a good time to catch him. He's in the opening slot on the bill, warming things up for Merle the Mule and Barely American, meaning that this is one instance when you'll want to get there by opening time. Show starts at 9:30 pm, and admission is $7.
[mp3]: John Lennox - "You Got To Move"
[mp3]: John Lennox - "Pretty Green Eyes"